STORY HIGHLIGHTS
Joshua Napper among 25 miners killed in explosion at West Virginia coal mine

Mother Pam Napper says, "I just think he knew what was going to happen"

Pam Napper grapples with deaths of two other relatives -- her brother and nephew

She says such losses are part of life in a West Virginia mining family
(CNN) -- On Easter Sunday, the day before the explosion that would take his life, Joshua Napper got saved while attending church with his family, his mother said.
When he left her home in Ohio to go work in West Virginia's Upper Big Branch South Mine, Napper left behind letters for his girlfriend and small daughter.
According to his mother, Pam Napper, the letters told them, "If anything happens to me, I'll be looking down from heaven at you all." He told his girlfriend he loved her and asked that "my baby girl" be taken care of, Pam Napper said.
"He grabbed my hand and he said, 'Mom, I love you,' " she said. "I said, 'I love you too, Josh, I'll always love you.' "
Were you and your family affected by the blast? Share your story
Joshua Napper died in the mine Monday, along with his uncle, Timmy Davis, and his cousin, Corey Davis, Timmy Davis' son. At least 22 others are dead following the explosion.

Video: Rescuers pull out of mine

Video: Mining's treacherous legacy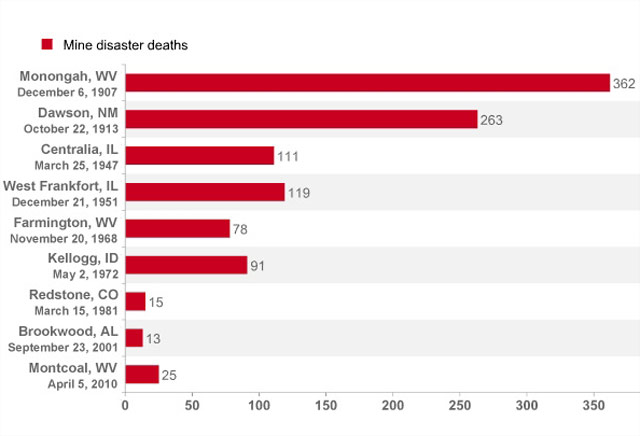 Chart: Mine disasters in the U.S.
"I just think he knew what was going to happen," Pam Napper told CNN's John Roberts.
She said she knew that day that something had gone wrong in the mine. "I was just sitting on the couch that morning, Monday, and I just felt in my heart and my stomach that something was definitely wrong," she said.
Joshua Napper had been working in the mine for eight weeks. When he asked his mother if he could, she initially said no but gave in after he begged her.
"He said, 'Please, mom,' " she said. "I said, 'OK, you're 25. I have to let you go. I have to let you make your own decisions in life.' "
She said her son called her one day last week at 3:30 p.m., long before he should have gotten off work. "Bad ventilation in the mines," he told her. "They sent us home early."
"They sent the whole crew home," Pam Napper told CNN's Roberts. "It scared me, because I've been raised all my life with coal mines. But you know, we've never heard of explosions and things like this, that's going on in the mines now."
In the aftermath of Monday's blast, some have pointed to numerous citations -- including some for ventilation issues -- issued to Massey Energy Co., which owns the mine.
Asked if she had any questions for Massey, however, she said no.
"I just know there were things there that weren't right," she said, but added her brother would never have endangered her son or his son if he believed the work was unsafe.
"I think it was just a freak accident," she said. "I think something just happened. I don't really know."
She is grappling with losing three members of her family.
"I've been in a coal miner family," she said. "This is not the only one we've lost. We've lost younger ones, too."
Such losses are part of life in a West Virginia mining family, she said.
"It's their living; that's how they make a living," she said. "That's just West Virginia, and when something bad happens, we come together."