STORY HIGHLIGHTS
NEW: When able, plan is for rescue teams to head directly to two refuge chambers
Air samples taken from West Virginia mine are no longer explosive
Earlier Wednesday, levels of gases in mine were still too high to let rescuers in
Four bore holes planned to vent dangerous gases; fifth hole will have search camera
Naoma, West Virginia (CNN) -- Air samples from the mine where 25 miners were killed Monday are no longer explosive, and rescuers may soon begin searching for four unaccounted-for miners, a federal official said late Wednesday.
"We've seen a steady drop, a slow drop," Kevin Stricklin, an administrator for the federal Mine Safety and Health Administration, told reporters about the concentrations of the three explosive gases. "The numbers now indicate that we're out of the explosive range."
The decision to send rescue teams inside will be made if samples taken from the bottom of the mine confirm the initial results, he said.
"Our first intent is to look for the four miners that are unaccounted for," he said.
Six five-person rescue teams were on standby and ready to move, he said.
If an explosive mix of air or heavy smoke is discovered inside the mine, the rescue teams would be pulled from the mine and nitrogen gas would be poured into it in an attempt to make the atmosphere inert, he said.
Though the rescue teams will be carrying their own oxygen, "there's a hope that they wouldn't have to use it," Stricklin said. Still, he added, "They have to be prepared to go into bad air."
Do you live near the mine or know one of the victims? Let us know
The seven bodies removed from the coal mine have been identified. They are:

Carl Accord, 52
Jason Atkins, 25
Robert E. Clark, 41
Steven J. Harrah, 40
William R. Lynch, 59
Deward Allan Scott, 58
Benny Ray Willingham, 61
The plan is for the rescue teams to head directly to two refuge chambers about five miles from the mine entrance where any survivors would likely have holed up, he said.
"The only chance ... we still have yet is if they could have made it to the chambers," West Virginia Gov. Joe Manchin said earlier Wednesday.
If that happened, then the miners would have time on their side, since each chamber is equipped with enough air and supplies to keep 15 miners alive for 96 hours, he said.
If the plan fails to materialize, rescuers have a Plan B: They are drilling a hole above one of the refuge chambers with plans to lower cameras to determine if it has been activated, he said.
Besides the one that reached the mine early Wednesday, another drill was set to reach the mine shortly, Stricklin said late Wednesday.
At least 25 miners died in Monday's explosion at the Upper Big Branch South Mine, about 30 miles south of Charleston, West Virginia. Rescue teams were forced to turn back Tuesday because unsafe levels of methane and carbon monoxide posed a risk of a second explosion.

Video: Mine survivor: Eyes 'filled with dirt'

Video: Drill cuts into mine

Video: Mine safety citations on day of blast

Video: Training mine rescuers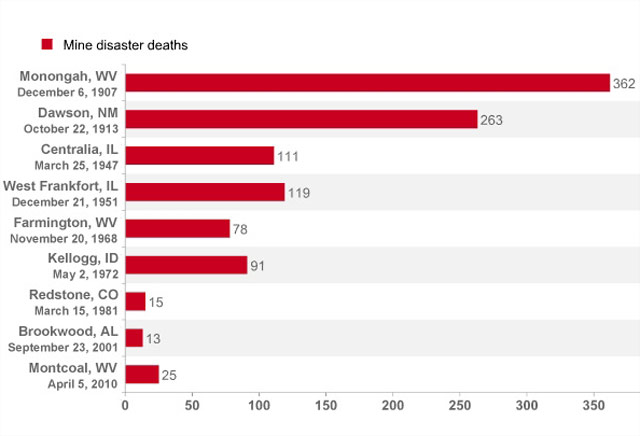 Chart: Mine disasters in the U.S.
Thirty-one men were working in the mine at the time of the blast Monday afternoon, said Chris Adkins, chief operating officer for Massey Energy Co., which owns the mine. The bodies of seven miners were removed and 18 more bodies were found underground, but not removed.
Officials said that was because rescue teams were focused on finding survivors before being turned back.
Two injured miners were hospitalized, with one "doing extremely well" and the other in intensive care, Manchin said. He did not give their names and said their families had requested privacy.
Authorities believe they know where all four of the unaccounted-for miners were working at the time of the blast, officials have said.
Relatives "know the odds are not in our favor" of finding any of the four alive, Manchin said, "... but that's what we're still holding on to."
The group of 18 dead miners was in an area where longwall cutting was taking place. The technique uses a large grinder to extract the coal and creates large amounts of coal dust and methane. Both are explosive.
While the cause of Monday's blast remained unknown, the deaths turned a harsh spotlight on the safety record of Massey, which has paid record fines for safety and environmental violations.
Federal officials cited the mine for two safety violations on Monday, the day of the blast, though the violations occurred in a part of the mine five to six miles from where the blast occurred and were not related, Stricklin said.
Massey CEO Don Blankenship on Tuesday expressed puzzlement about what could have caused the blast.
"I think everyone thought we had proper ventilation," Blankenship told CNN. "Of course, we don't know 100 percent sure what happened yet, so we can't speculate on it."
He said Massey's mines "are typically in better shape than others that are in our area or in the country. ... Our creativity on safety is second to none."
The company operates 44 underground and surface mines and controls 2.2 billion tons of coal reserves in West Virginia, Kentucky, Virginia and Tennessee.
Three other deaths have occurred in the mine over the past 12 years. This year alone, the mine was cited for more than 100 safety violations, including ventilation violations, according to Mine Safety and Health Administration records.
U.S. Rep. Nick Rahall, D-West Virginia,, said the mine appears to be a "bad apple, there's no question about it, because of the history of violations, including as late as March 30 of this year."
He said Massey has a "rather maverick reputation" and has pulled itself out of organizations including the West Virginia Mining Association. But he acknowledged the company's charitable contributions and its community effort in providing jobs and support for the area's economy.
Monday's explosion was the deadliest U.S. mining disaster in 25 years. State and federal officials have pledged a full investigation into its cause.
People associated with Massey Energy, including Blankenship, have donated more than $307,000 to federal candidates since the 1990 election cycle, with 91 percent going to Republican candidates, according to an analysis from the nonpartisan Center for Responsive Politics, a watchdog group.
In 2004, Blankenship spent $3 million to support a campaign by Brent Benjamin, who successfully ran for the West Virginia Supreme Court of Appeals. At the time, Massey was involved in a business dispute with a rival mining company, and a jury in 2002 had awarded the other company, Harman Mining, $50 million.
By the time Massey appealed the decision in 2006, Benjamin was on the court. Benjamin refused to recuse himself from the appeal, and then voted to overturn the jury's verdict. The case made its way to the U.S. Supreme Court, which ruled last year that Benjamin should have recused himself.
CNN's William Mears and Rachel Streitfeld contributed to this report.