STORY HIGHLIGHTS
NEW: Rescue workers begin drilling hole in hopes of reaching trapped miners
NEW: Drill expected to penetrate ceiling of mine between noon and 2 p.m. Wednesday
Some families of the dead say Massey Energy hasn't reached out to them
Coal mine explosion kills 25 miners; four remain unaccounted for
Montcoal, West Virginia (CNN) -- Rescue workers began drilling a hole Tuesday toward where they believe four miners may be located more than a day after a blast killed 25 others in a coal mine here.
"There's a sliver of hope, but we know that the odds are not in our favor," West Virginia Gov. Joe Manchin told CNN.
"Everyone's going to cling to the hope of a miracle," he told reporters. "That is the true agony of this."
One of four drills had already begun its 1,100-foot descent to open a 6-inch hole in a ceiling of the mine, said Chris Adkins, CEO of Massey Energy Co., owner of the Upper Big Branch South Mine where Monday's fatal blast occurred.
Do you live near the mine or know one of the victims? We want to hear your story
The drill was 160 feet down at 4 p.m. and was expected to penetrate the seam between noon and 2 p.m. Wednesday, Adkins said.
When it does enter, there's a risk that the drill bit will ignite another explosion, he said. But rescuers were injecting water into the hole at the same time, lessening those odds, he said.

Video: What caused the mining disaster?

Video: 'He was a very brave man'

Video: CEO defends mine's ventilation plan

Video: Mine rescue efforts 'a slow process'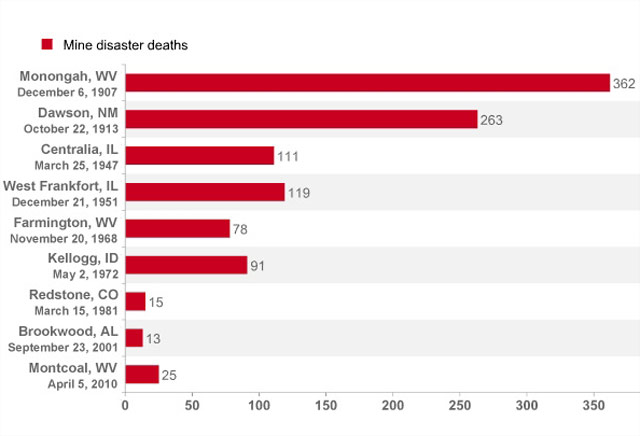 Chart: Mine disasters in the U.S.
Another drill was located next to the first, he said.
"If one misses its mark, hopefully the other one will hit the mark," he said.
The process is made more uncertain because the drill can change direction when it enters a seam that has already been mined, he said.
Two other drills were in place and expected to begin their downward journey by nightfall, he said.
Once the drills have penetrated the mine roof, rescuers will use high-pressure fans to replace the methane gas inside with clean air, he said.
Massey CEO Don Blankenship predicted that could take another couple of days before the air was safe. He expressed puzzlement over what could have caused the blast.
"I think everyone thought we had proper ventilation," he said. "Of course, we don't know 100 percent sure what happened yet so we can't speculate on it."
Blankenship said his company's mines "are typically in better shape than others that are in the area or in the country."
He added, "Our creativity on safety is second to none."
After Monday afternoon's explosion, 50 rescuers entered the mine where 31 miners had been working, Adkins said.
Two miners were taken to a hospital and seven bodies were removed, Manchin said.
The seven were identified Tuesday as Steven J. Harrah, 40; William R. Lynch, 59; Jason Atkins, 25; Benny Ray Willingham, 61; Carl Accord, 52; Deward Allan Scott, 58; and Robert E. Clark, 41, the Health and Human Resources Department said.
The rescuers identified 18 more bodies in the mine but did not remove them because the rescuers were carrying a limited air supply and were focused instead on finding survivors, he said.
"When you come to a place where you have a victim, you stop, you do triage, you check," he said. "If you can render aid, you render aid. If you can't, you denote it on a map and move quickly."
But the rescuers were ordered out of the mine when they came upon high levels of explosive methane gas, he said.
That left four miners unaccounted for, and they will remain that way until the gas concentration has dropped, Adkins said.
Are you a coal miner? Tell CNN what it's like
He said mine officials were 90 percent certain of where the four men are and predicted that it would take rescuers no more than five hours to find them once air levels have become safe.
"It's a very dire situation," said Sen. Jay Rockefeller, D-West Virginia, who said he had spoken with relatives who were waiting for word. "They're almost a little bit numb in their grief, and it's very sad."
Before they were forced back by the dangerous gases, rescue crews had gone into the mine and attempted to reach the mine's airtight rescue chambers, which miners are trained to enter in case of a disaster. The chambers are stocked with four days' worth of food and water.
Crews noticed a number of self-contained rescue breathing devices had been taken from storage areas, fueling hope that any survivors may have taken them en route to the rescue chambers.
WVVA: Rescue halted for missing miners
But Kevin Stricklin of the U.S. Mine Safety and Health Administration was not optimistic.
"Based on what I'm seeing and hearing from the people underground, I don't think they had an opportunity to get to [the rescue chambers]," he said. "All of these things were good to have in place. Unfortunately, this happened so quickly and it was so strong of a force that I don't think they had the opportunity to utilize any of that."
Monday's explosion, the deadliest U.S. mining disaster in 25 years, took place during a shift change. Its cause was unknown, but state and federal officials pledged a thorough investigation. The mine is about 30 miles south of Charleston, West Virginia.
"Twenty-five hardworking men died needlessly in a mine yesterday," U.S. Secretary of Labor Hilda Solis said in a written statement. "I pledge that their deaths will not be in vain."
At the White House, President Obama said prayers were being offered for the safe return of the missing as well as the rescuers.
Obama on mine explosion

Of the miners, he said, "May their families find comfort in the days ahead."
West Virginia's other U.S. senator, Robert Byrd, referenced the mine's safety record.
"At least 25 coal miners have died inside a mine that has over time amassed scores of safety violations, including 57 violations just last month," Byrd said in a written statement. "West Virginia's coal miners are the backbone of a great nation that depends on their work. They deserve nothing less than a safe working environment, and an employer who respects and values their safety."
Three other deaths have occurred in the mine over the past 12 years. This year alone, the mine was cited for more than 100 safety violations, including ventilation violations, according to federal records.
In a statement issued Monday night, the company said, "Our top priority is the safety of our miners and the well-being of their families."
The company operates 44 underground and surface mines and controls 2.2 billion tons of coal reserves in West Virginia, Kentucky, Virginia and Tennessee.
A post on Massey's Web site touts the company's safety record, saying 2009 "marked the sixth consecutive year and the 17th year out of the past 20 years in which Massey's safety performance was stronger than the industry average."
But some relatives of miners were unimpressed with the company's safety record and its handling of the disaster.
"We want to know why we have not been contacted," said Michelle McKinney, whose father, Benny Willingham, was among the dead. "No one from Massey has called my mother or any of us children or his mother. He still has a mother that is home grieving. We don't know where my dad's body is at."
Later Tuesday, Manchin told reporters he and a Massey representative had met with the miners' families. When told that some family members had not been contacted, the representative apologized, Manchin said.
While hope for the remaining four miners may have been dwindling, many people recalled the story of Randal McCloy Jr., a miner in the 2006 blast at the Sago Mine, also in West Virginia.
He and 12 other miners spent more than 40 hours underground before rescue teams reached them. McCloy was the sole survivor. Hospitalized for nearly three months, he underwent treatment for neurological and physical damage caused by carbon monoxide poisoning.
The Sago incident and a blast in Kentucky in 2006 were among those that led to passage of a sweeping safety overhaul of the U.S. mining industry.
The Mine Improvement and New Emergency Response, or MINER Act, requires more oxygen supplies underground; stronger seals on abandoned mine shafts; two-way communication throughout a mine; and the establishment of the rescue chambers, among other things.
Rockefeller said the act may need strengthening.
"I was just rereading that statute as I was coming over, and there are some empty places there," he said. "We have to pull ourselves together and figure out what can you do to make sure this never happens again."
Last year was the U.S. mining industry's safest ever, with 18 deaths. Before Monday's explosion, two miners had died in 2010.
WCHS: 25 miners killed in explosion
Willingham's sister, Jean, said her brother had been a miner for more than 30 years and loved it.
"He said in church the other day ... he thanked the Lord for saving his soul, and he thanked him for watching over him in the mines for over 30 years. And he said, 'If he takes me tomorrow, I've had a good life.' "

CNN's Alta Spells, Brooke Baldwin and John Roberts contributed to this report.