STORY HIGHLIGHTS
"I've come out better," Tiger Woods says after weeks in rehab following infidelity
"It's a closed case," Woods says when asked whether Ambien led to car crash
Wife Elin Nordegren won't attend Masters, Tiger Woods says
Infidelity allegations dogged golf champ after car accident in November
Augusta, Georgia (CNN) -- A humbled Tiger Woods returned Monday to Augusta National Golf Club and told reporters that he has emerged from rehab a better man, if not a better golfer.
"I'm trying as hard as I possibly can each and every day to get my life better and better and stronger, and if I win championships along the way, so be it," said the four-time winner of the Masters, which tees off at Augusta National on Thursday.
Woods' 35-minute news conference came more than four months after he crashed his Cadillac Escalade into a fire hydrant and a tree outside his family's home in a suburb of Orlando, Florida.
Read transcript of Woods' news conference
The November 27 incident, which left him with a sore neck and a cut on his lip that required five stitches, also set in motion the crash of his storybook life.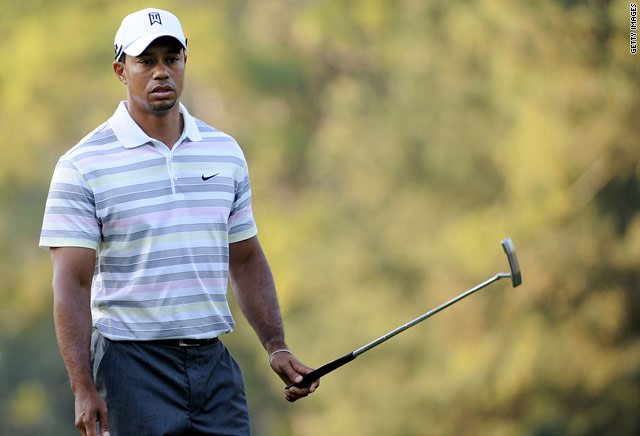 Gallery: Tiger returns

Video: Woods gets ready for Masters

Video: Woods' caddie talks about Masters
A few days beforehand, the National Enquirer had reported he was having an affair with a New York nightclub hostess, who denied it. But that allegation was followed by others, and Woods' tightly controlled world and image soon began to crumble, threatening his five-year marriage to former model Elin Nordegren.
Just after Christmas, he entered a rehabilitation center, where he stayed for 45 days.
"It was to take a hard look at myself, and I did, and I've come out better," he said.
In February, Woods said he had been in therapy for issues, which he did not explain, and he acknowledged multiple extramarital affairs.
He was no more forthcoming on Monday. Asked what the rehab was for, he said, "That's personal, thank you."
Blog: Why Tiger will win The Masters
During his treatment, he said, he missed the first birthday of one of his two children. "That hurt a lot," he said, adding he has vowed never to miss another one.
Woods said he is continuing with treatment, has returned to meditating "religiously" and feels "more centered, more balanced."
He said that, although he has won numerous tournaments in the past few years, he had not been having as much fun as he used to. "When you live a life where you're lying all the time, life is not fun," he said. "Now that's been stripped away, and here I am. It feels fun again."
The 34-year-old golfer indicated that he hopes to woo back sponsors, who have left him in droves.
"Do I understand why they dropped me? Of course," he said. "I've made a lot of mistakes in my life, and I totally understand why they would do that."
He added: "Hopefully, I can prove to the other companies going forward that I am a worthy investment, that I can help their company, help their company grow and represent them well. I felt like I was representing companies well in the past, but then again I wasn't doing it the right way because of what I was engaged in."
But Woods appeared gratified that he remains popular among the golf fans who showed up at Augusta National on Monday morning.
"For them to still cheer for me is just incredible, it really is," he said about the galleries' reaction to his play in a practice round.
Woods started the round at the famed course at 8 a.m., dressed in a striped shirt and dark slacks and flashing an occasional smile.
He promised to show more appreciation for his fans. His failure to have done so in recent years, he said, "was wrong of me."
"Too many kids have looked up to me and so many families have supported me over the past few years. I just want to say 'thank you' to them," he said.
He said that his wife will not attend the Masters. He did not answer a reporter's question about whether this was a sign that she wasn't ready to support him.
Woods apologized to other players, whom he said the news media have "bombarded" with questions about him. "I certainly apologize to all of them for having to endure what they've had to endure over the past few months," he said.
Woods said he will try to play more calmly. "I made a conscious decision to try and tone down my negative outbursts," he said. "Be more respectful of the game."
Woods denied ever having taken any illegal drugs, but said he had received injections of platelet-enriched plasma to help speed the healing of his left knee after he blew out the anterior cruciate ligament in 2008 and subsequently tore his Achilles heel in his right leg.
He said he also underwent treatment in a hyperbaric oxygen chamber to speed the healing process.
Woods also acknowledged having taken Vicodin to help relieve pain and the sedative Ambien to help him sleep when he was concerned about the failing health of his father, Earl, who died in 2006. But he said he had never taken any illegal drugs.
Asked whether Ambien may have played a role in his car wreck, for which he was cited for careless driving, the golfer did not respond directly. "The police investigated the accident and they cited me 166 bucks and it's a closed case," he said.
Woods was unsparing in his self-criticism. "I was rationalizing; I was denying, in total denial, at all times," he said. "I lied to myself; I lied to others."
He added: "The way I was thinking caused so much harm with the people that I loved and cared about the most on this planet."
Woods said he learned during his stint in rehab that he had fooled himself in addition to fooling others. "I take full responsibility for all I have done, and I don't take that lightly," he said.
Asked whether his reckless behavior indicated that he wanted to get caught, Woods said, "I don't know."
"All I know is I acted just terribly poorly, made just incredibly bad decisions and decisions that have hurt so many people close to me. That's enough," he said.
Though Woods projected the image of a changed man, he said his desire to win remains immutable. "Nothing has changed," he said. "I'm going to try and go out there and win this thing."
Though he had delivered a carefully managed statement in February to a small, hand-picked crowd, and given two one-on-one interviews, Monday's news conference was his first in months.
"The mental challenge that is facing Tiger Woods as he returns to Augusta National and then afterwards at other PGA Tour events, we can assume, later on in the 2010 season, is probably something that no other golfer has ever faced before," said David Dusek, deputy editor of Golf.com.
However, Woods' choosing to return to the Masters may be a strategic move as the organizers of the tournament traditionally have kept a tight rein on the media and spectators. Woods, a four-time Masters champion, can expect to be shielded and protected to a certain degree.
"This makes sense," said Chris Verdery, a golf pro at the River Golf Club in the adjacent town of North Augusta, South Carolina. "People really love him here in Augusta. He's been wonderful for the Masters, the city of Augusta, and everybody is excited to have him back."
Woods hopes to claim his 15th victory in a major tournament at the Masters.
His caddie, Steve Williams, has said Woods would not be returning to the game unless he felt he could win. Some leading bookmakers have him as the favorite to prevail.
But Dusek said, "I think it is a little bit much to sort of assume that he is just simply going to walk on, after really not having any competitive play for the better part of four months, walk into the season and be able to physically dominate the way that we assume Tiger Woods always does.
"I would look for him to improve and get better as the season goes on. I would not be surprised if he wins golf tournaments in 2010, but I do not think he can come out and win the Masters right away."
And the focus -- at least for the media -- will be on the spectacle rather than the sport.
"TMZ, Entertainment Weekly and People magazine, along with 'Extra,' are ... typical calls I don't get, come Masters week," said Augusta Mayor Deke Copenhaver.
Still, Woods' devoted fans are looking forward to seeing him play once more.
"I love his golf, and that's what we're here for, that's what I like to see, and I really don't care about his personal life," Masters ticket holder Dick Benck said.

CNN's Adam Anshell, Terry Baddoo and Samantha Hayes contributed to this report.