Unemployment on the rise for veterans of current wars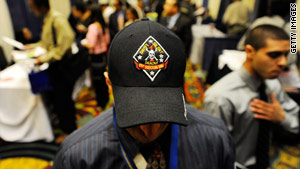 A former Marine attends a job fair in Los Angeles, California, that focused on jobs for veterans.
STORY HIGHLIGHTS
Jobless rate for veterans of Iraq, Afghanistan at 14.7 percent in March
Veterans groups say the figures are unacceptable
Reasons include poor transfer of skills, lack of help from military, group says
Washington (CNN) -- The unemployment rate for veterans of the Iraq and Afghanistan wars reached 14.7 percent in March, according to the latest government statistics.
The number of unemployed veterans increased to more than 250,000, up about 40,000 over the previous month's figures, according to the Department of Labor Statistics.
Veterans groups say the figures are unacceptable.
"It's unforgivable that new veterans are bearing the brunt of the economic downturn," said Tom Tarantino, legislative associate for the Iraq and Afghanistan Veterans of America. "This is no way to welcome a new generation of heroes home."
Unemployment rates for Iraq and Afghanistan war veterans have risen sharply in the past few years, according to Labor Department data. The rate was 10.2 percent in 2009, 7.3 percent in 2008, and 6.1 percent in 2007.
Paul Sullivan, director of Veterans for Common Sense, said these veterans are having difficulty finding work for several reasons.

Video: Unemployment benefits to expire

Video: 'Beginning to turn the corner' on jobs
"Sometimes the skills from the battlefield don't transfer directly to civilian jobs," he said. He added that the military has a "spotty record" of providing transition assistance for soldiers leaving the military and returning to the civilian work force.
Other veterans groups agree.
"The current administration has greatly improved funding for VA programs, but clearly more needs to be done ... to ensure the needs of our veterans are met," said AMVETS National Commander Duane Miskulin.
He said AMVETS will continue to press Congress for more help.
Tarantino said the Defense and Labor Departments "need to work harder with the veterans community to ensure that vocational skills and certifications earned in the military translate into marketable skills and certifications in the civil marketplace."
As an example, he said, "Right now we have combat medics who are doing amazing feats of emergency medical care in the field. When they get out, in most states, they're not qualified to drive an ambulance."
"They make great employees," Sullivan said. "They're loyal, hard-working, and they've worked in the hardest conditions imaginable."