Funeral for 9 Kentucky car wreck victims draws 3,000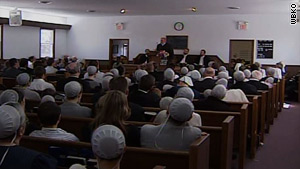 "The amount of people who came is overwhelming to say the least," a community member says.
STORY HIGHLIGHTS
9 family members, friend were in van driving to wedding in Iowa
Tractor-trailer crossed median and hit van; its driver also died
Two boys, age 3 and 5, survived
(CNN) -- Thousands of people gathered Tuesday in Marrowbone, Kentucky, to lay to rest nine people who were killed in a crash in central Kentucky last week.
John and Sadie Esh were killed when a tractor-trailer crossed the median on Interstate 65 and smashed into their van as they traveled to Iowa for a wedding. Four of the couple's children -- Leroy, Rachel, Rose and Anna -- were also killed, according to the Rev. Leroy Kauffman with the Marrowbone Christian Brotherhood. Leroy's wife, Naomi, and a baby the couple adopted were also killed, as was Rachel's fiance, Joel Gingerich, he said. A family friend, also in the van, was killed as well. The driver of the tractor-trailer also died.
Two boys, age 3 and 5, whom Leroy and Naomi adopted, survived.
"They have lived their lives, God seemed fit to take them home, and we rest in that," said Michael Kauffman, a member of the Mennonite community. He said family and friends had traveled from all over the United States to attend the funeral.
CNN affiliate WBKO, quoting a media liaison at the services, said about 3,000 people attended.
"The amount of people who came is overwhelming to say the least," Kauffman said. "We have been very blessed with the amount of people who are here."
The nine were to be buried in a grassy spot where John and Sadie's son Johnny was buried. He died while on a mission trip in the Ukraine three years ago, Leroy Kauffman said last week.
"I have not been to the grave site, but I feel like it's the way it should be," Michael Kauffman said.
The family was traveling to the wedding of a woman who was on the mission trip with Johnny, Leroy Kauffman said.
The National Transportation Safety Board is investigating the crash. No cause has been given.