Pentagon: Sexual assault reporting up among troops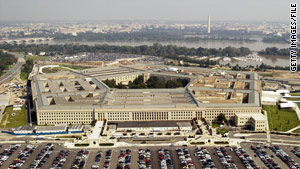 Efforts to increase the reported portion of sexual assaults in the military are working, the Pentagon says.
STORY HIGHLIGHTS
3,230 reports of sexual assaults involving at least one military member made last year
The previous year, 2,923 sexual assaults were reported
Pentagon: Report shows that systems implemented to improve reporting are working
Pentagon estimates 10 percent to 20 percent of victims report the crime
Washington (CNN) -- Reports of sexual assaults among U.S. military service members rose 11 percent last year, according to a study released by the Pentagon on Tuesday.
Some 3,230 reports of sexual assaults across all of the services were made during fiscal year 2009, which ended on September 30, 2009. That was up from the fiscal year 2008 number of 2,923 sexual assaults reported.
"Research in the civilian community shows that sexual assault is widely underreported, and we believe that is the same in the military," said Kaye Whitley, director of the Defense Department's sexual abuse prevention and response office.
"As a result, increasing reporting has been one of our key goals for the department," she said.
The report defines sexual assault as unwanted touching, from groping to rape. The statistics are not comparable to the general U.S. population because the information gathered differs from civilian data, according to Pentagon officials.
But Pentagon spokeswoman Cynthia Smith says what the report does show is that the systems the Pentagon has put in place to improve reporting are working.
One big change implemented in 2005 was a process called "restricted reporting," which allows a victim to report a sexual assault and get medical and mental health help, but not file the case in the criminal justice system, thus keeping the name of the victim anonymous.
"Unrestricted reporting" is often less appealing of an option for victims because the appropriate military command is notified, and a criminal investigation is started, though the victim still receives medical help. When the command is notified, the victim's name is given to the commander, and it is widely believed in the military that victims of sexual assault may be denied promotion for reporting such crimes.
According to the new report, the Department of Defense had two sexual assaults per 1,000 service members in fiscal year 2009. The Army reported 2.6 per 1,000 soldiers; the Navy reported 1.6 per 1,000; the Air Force reported 1.4 per 1,000; and the Marine Corps had 1.3 per 1,000.
Officials said the data is based on sexual assault reports involving at least one person with the active duty military, either as the alleged attacker or the alleged victim.
Pentagon officials have said that even though there have been improvements that allow military personnel to report cases, they estimate that only between 10 percent and 20 percent of people who were sexually assaulted report the crime.