Police tow funeral home van with body inside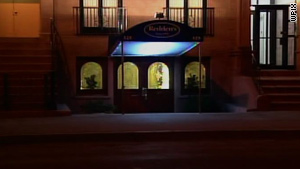 The van was parked outside Redden's Funeral Home. It was recovered about 90 minutes after being towed.
STORY HIGHLIGHTS
Van parked illegally outside funeral home for three hours, police say
Funeral director tells newspaper he left to get paperwork, make phone call
Body was to be transported to Newark for an airplane flight
New York (CNN) -- For one New Yorker, the journey to the Pearly Gates involved a detour to the city's car pound.
On Monday, the New York City Police Department towed an illegally parked van carrying a body. The van, parked outside Redden's Funeral Home on West 14th Street, was to transport the body to Newark for a flight.
Calls and e-mails Friday about the towing to funeral director Paul DeNigris yielded no response.
But according to the New York Daily News, DeNigris said he went inside the funeral home to get paperwork and answer a phone call. When he returned, the van was gone -- along with the body that was in a white cardboard box, the newspaper said.
"I was just a wreck," he told the newspaper. "I was frantic. When something like that happens, you go into panic mode."
DeNigris recovered the van about 90 minutes later, stuck in vehicular purgatory -- the city's pound. The police waived the towing fee, $185, to expedite the vehicle's release, said Paul Browne, deputy commissioner of public information for the police.
Police described the van as an unmarked 2002 Dodge with tinted windows. The first ticket was issued at 9:22 a.m. Three hours later, it was towed, police officials said.
Browne said DeNigris should ask himself why he left a body unattended in an unmarked van, parked illegally for nearly three hours.
"What if the van had had been stolen instead of towed?" he asked in an e-mail to CNN. "Shouldn't he or someone from the funeral home staff have stayed with the body?"
Randy McCullough, deputy director of the New York State Funeral Directors Association, said the state has no rule in place that requires signage to indicate a funeral van.
Hearses may be synonymous with funerals, but minivans and sport utility vehicles often transport bodies, too, said Jessica A. Koth, public relations manager for the National Funeral Directors Association. She called the situation in New York "exceedingly rare."