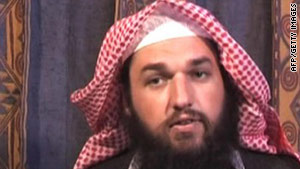 California-born Adam Gadahn praised the shootings at Fort Hood, Texas, in a video.
STORY HIGHLIGHTS
American-born al Qaeda spokesman may have been arrested in Pakistan
Professor's tests on Toyota acceleration challenged by the automaker
Hattie McDaniel, first African-American to win an Oscar, gets tribute from Mo'Nique
Editor's note: Every weekday, CNN focuses on a handful of people in the news. This is a chance to find out more about what they've done -- good or bad -- what they've said or what they believe, and why we think they're intriguing.
(CNN) -- Adam Gadahn: Conflicting reports emerged Sunday about whether the U.S.-born spokesman for al Qaeda has been arrested in Pakistan. The reports came hours after Gadahn, in a newly released videotape, praised Nidal Malik Hasan, the U.S. Army psychiatrist who allegedly killed 13 people and wounded 30 others at the Fort Hood military base in Texas in November. Gadahn, also known as Azzam the American, called in the video for other Muslims to follow Hasan's example.
Gadahn said, "Brother Nidal is the ideal role model for every repentant Muslim in the armies of the unbelievers and apostate regimes. You shouldn't make the mistake of thinking that military bases are the only high-value targets in America and the West. On the contrary, there are countless other strategic places, institutions and installations which, by striking, the Muslim can do major damage. Nidal Hasan is a pioneer, a trailblazer and a role model who has opened a door, lit a path and shown the way forward for every Muslim who finds himself among the unbelievers. I am calling on every honest and vigilant Muslim in the countries of the Zionist-Crusader alliance in general and America, Britain and Israel in particular to prepare to play his due role in responding to and repelling the aggression of the enemies of Islam."
CNN reported in June that Gadahn said in a video that his grandfather was Jewish, as he called on fellow Muslims for "weapons, funds and Jihad against the Jews and their allies everywhere." Gadahn was born in 1978 and grew up in rural California. He embraced Islam in the mid-1990s, moved to Pakistan and began appearing in al Qaeda videos. He was indicted in the United States in 2006 on charges of treason and material support to al Qaeda, according to the FBI. Gadahn is on the FBI's Most Wanted List, with a reward of up to $1 million offered for information leading to his capture.
Mixed reports over whether al Qaeda American arrested in Pakistan
American al Qaeda member acknowledges Jewish ancestry

Video: al Qaeda spokesman arrested

Video: Toyota plays defense

Video: CEO fired for racist email
David Gilbert: The associate professor of auto technology at Southern Illinois University, Carbondale, testified before Congress last month that he had conducted tests of the Toyota Avalon and found a possible flaw in its electronic controls. Rather than pointing to faulty gas pedals, the electrical engineer claimed that he had been able to cause the car to accelerate by producing a short circuit that was not documented by the car's onboard computer.
The Financial Times reports that Toyota plans to refute Gilbert's claims by presenting the results of a technical demonstration of its own on Monday. Toyota has asserted the electronic problems had nothing to do with the acceleration problems that led the company to a massive recall of some 8 million cars.
The newspaper reports that Gilbert did acknowledge that his research was sponsored by the law firms involved in cases against the Japanese automaker. Referring to today's demonstration, Toyota said, "This presentation will show that the sequence and nature of manipulated faults in the Gilbert demonstration are completely unrealistic under real-world conditions and can easily be reproduced on a wide range of vehicles made by other manufacturers."
Financial Times: Toyota to rebut faulty electronics claims
Carly Fiorina: The former CEO of Hewlett-Packard is scheduled to officially file paperwork today and join other Republican candidates running for a Senate seat from California.
Fiorina ran HP between 1999 and 2005 and was the first and, so far, the only woman to run a Fortune 20 company. The biography on her Web site reports that she put herself through Stanford by doing the books for a local hair salon and paid for her MBA from the University of Maryland by teaching undergraduates. She received her Master of Science in business from MIT and began her career in business as a secretary.
One of the most powerful women in corporate America, Fiorina was forced from HP's board of directors in 2005. HP's deal to buy Compaq in 2002 didn't produce the profits Fiorina had promised, as CNNMoney.com reported. "Nobody liked Carly's leadership all that much," Robert Cihra, an analyst with Fulcrum Global Partners, told CNNMoney.com in 2005. "The Street had lost all faith in her and the market's hope is that anyone will be better." In March 2009, Fortune magazine reported that Fiorina underwent surgery for breast cancer.
Fiorina is running for the seat held by Sen. Barbara Boxer. On her Web site, Fiorina says, "I am an optimist and believe that people will make the right choices about their lives and their leaders if they know the issues and are equipped with the facts."
CNNMoney.com: Fiorina out, HP stock soars
Walt Baker: The Nashville Convention & Visitors Bureau dropped Baker's marketing firm over the weekend after Baker, the CEO of the Tennessee Hospitality Association, sent an e-mail comparing first lady Michelle Obama to a chimpanzee.
According to one published report, Baker's e-mail began, "I don't care who you are, this is funny." The Tennessean reports that on Saturday, Baker apologized in a follow-up e-mail message. "Thursday night I spontaneously forwarded -- to a small group of people -- an email that had been sent to me as political humor," Baker wrote. "As I forwarded it, I did not think or consider its implications, other than that it was political humor. I am saddened that anyone misinterpreted the sentiments behind the email. I deeply apologize to anyone who is offended by this action."
The Tennessean found that Baker had sent his e-mail to a dozen hospitality professionals, public relations executives and members of Nashville media. According to his biography at the Mercatus marketing and public relations company Web site, Baker's long career includes such clients as Opryland USA, Odom's Tennessee Pride Country Sausage, and SeaWorld of Texas.
Tennessean: Contract dropped over controversial Obama e-mail
Hattie McDaniel: As Mo'Nique accepted the Oscar for best supporting actress Sunday night for her role in "Precious," she offered thanks to the actress who she says paved the way. Mo'Nique said, "I would like to thank Miss Hattie McDaniel, for enduring what she had to so that I would not have to."
McDaniel won the best supporting actress award for her role of Mammy in the 1939 classic "Gone With the Wind," becoming the first African-American to win an acting Oscar. According to a profile at IMDb.com, the Internet Movie Database, she was also the first African-American to attend the Academy Awards as a guest, not a servant.
The daughter of a slave, McDaniel was born in the mid-1890s and died in 1952. She was honored by the U.S. Postal Service in 2006 on a Black Heritage stamp. As of Sunday night, McDaniel is one of only five African-American actresses to receive the Academy Award. She once said, "Why should I complain about making $700 a week playing a maid? If I didn't, I'd be making $7 a week being one."
What makes a person intriguing?
There are people who enter the news cycle every day because their actions or decisions are new, important or different. Others are in the news because they are the ones those decisions affect. And there are a number of people who are so famous or controversial that anything they say or do becomes news.
Some of these people do what we expect of them: They run for office, pass legislation, start a business, get hired or fired, commit a crime, make an arrest, get in accidents, hit a home run, overthrow a government, fight wars, sue an opponent, put out fires, prepare for hurricanes and cavort with people other than their spouses. They do make news, but the action is usually more important than who is involved in the story.
But every day, there are a number of people who become fascinating to us -- by virtue of their character, how they reached their decision, how they behaved under pressure or because of the remarkable circumstances surrounding the event they are involved in.
They arouse our curiosity. We hear about them and want to know more. What they have done or said stimulates conversations across the country. At times, there is even a mystery about them. What they have done may be unique, heroic, cowardly or ghastly, but they capture our imaginations. We want to know what makes them tick, why they believe what they do, and why they did what they did. They intrigue us.
FOLLOW THIS TOPIC