Bus company involved in fatal Arizona crash shut down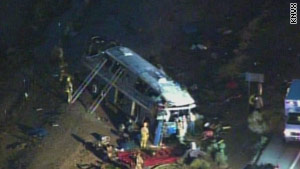 First responders work in and around the crashed bus early Friday along I-10 south of Phoenix, Arizona.
STORY HIGHLIGHTS
Federal court orders Tierra Santa to cease interstate and international operations
Company had been operating illegally when its bus crashed south of Phoenix
Tierra Santa owner Cayetano Martinez signs consent decree
Six people died in the bus crash last week on Interstate 10
(CNN) -- A federal court ordered Tierra Santa Inc., the bus company involved in a wreck that killed six passengers last week, to cease interstate and international operations, the U.S. Department of Transportation said Sunday.
The company had been operating illegally when its bus crashed south of Phoenix, Arizona, on Friday, the DOT said. The transportation department's Federal Motor Carrier Safety Administration had ordered the company shut down Friday, the department said, after the deadly early morning crash.
Tierra Santa owner Cayetano Martinez signed a consent decree that was approved by U.S. District Judge George King on Saturday, officials said. In the decree, Martinez agreed to halt his interstate traveling business, said Thom Mrozek, spokesman for the U.S. Attorney's Office of the Central District of California.
Martinez could face civil and criminal charges if he continues operation despite the decree, said Duane DeBruyne, a transportation department spokesman.
In its complaint against Martinez, the Department of Transportation said Martinez had tried to get operating authority under different company names and had never obtained the right to transport passengers across state lines or into another country. The company transported individuals between Mexico and Los Angeles, California, Mrozek said.
In April 2009, Martinez applied for the authority to operate under Tierra Santa as an interstate carrier, but when the department asked for more information, such as details on how the company would abide by safety regulations, Martinez never responded, DeBruyne said. It was his second attempt at obtaining approval, DeBruyne said.
The application was formally turned down on December 14. The company, based in Los Angeles, was notified of the denial by certified letter, he said.
No one from the company returned calls for comment from CNN on Sunday.
It was unclear whether Martinez would face any penalties for Friday's wreck.
The crash occurred on Interstate 10 about 30 miles south of Phoenix at 5:27 a.m. (7:27 a.m. ET). The bus driver rear-ended a pick-up, veered off the road and rolled over at least once, ejecting several passengers, Arizona police said. Sixteen passengers suffered injuries, said Arizona Public Safety Department spokesman Bart Graves.
It would take at least a week to determine the cause of the crash, Graves said.
The bus had started its trip in central Mexico near Durango and entered the United States at El Paso, Texas, Graves said. The driver had planned to switch with a relief driver in Phoenix, he added.

CNN's Khadijah Rentas contributed to this report.