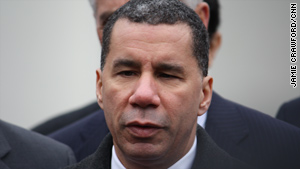 New York Gov. David Paterson's office says he intends to challenge the findings of a state ethics panel.
STORY HIGHLIGHTS
New York Gov. David Paterson's press director resigns; governor also faces ethics charges

Mohegan tribe's council picks new female chief

Christian conservative loses seat on Texas Board of Education

Doctoral student in sociology uses his tattoos for research

Editor's note: Every weekday, CNN focuses on a handful of people in the news. This is a chance to find out more about what they've done -- good or bad -- what they've said or what they believe, and why we think they're intriguing.
(CNN) -- David Paterson: The New York governor's communications director, Peter Kauffman, resigned Thursday.
On Thursday night, three dozen influential black leaders, including the Rev. Al Sharpton, met in Harlem and concluded Paterson should not leave office.
On Wednesday, the New York State Commission on Public Integrity accused Paterson of an ethics violation over accepting free tickets to the first game of last year's World Series. Paterson violated the state's restriction on gifts for public officials in October when he sought free tickets to the game in Yankee Stadium between the New York Yankees and Philadelphia Phillies, the commission said.
The commission also said Paterson lied under oath about intending to pay for the tickets.
"Gov. Paterson maintains his innocence and intends to challenge the findings of the commission both with respect to the law and the facts," the governor's office said.
There are also allegations that Paterson and New York State Police tried to influence a witness in a domestic violence case involving one of the governor's staff members.
Peterson became New York's 55th governor in March 2008 after Eliot Spitzer resigned following a prostitution scandal. Paterson already has announced he will not seek election this November.
In 2004, Paterson, who is legally blind, became the first visually-impaired person to address the Democratic National Convention. He was born in 1954 in to Portia and Basil Paterson, the first non-white secretary of state in New York and the first African-American vice chair of the national Democratic Party.
CNN: Paterson faces ethics charges over World Series tickets
Don McLeroy: The decisions of most boards of educations don't make national headlines. But what the Texas Board of Education decides to do often becomes important news. As the second-largest school system in the nation, the Texas board determines what's in the textbooks that millions of students read in classrooms across the country.
So what happened in Tuesday's Republican primary in the Lone Star State made news.
McLeroy, an outspoken Christian conservative, lost his seat on the board that he has served on since 1999. He told CNN on Thursday, "I have been a controversial figure. It was a highly contested race."
McLeroy said he was candid about speaking up against the "Darwin scientific establishment." He said that he does believe the Earth is less than 10,000 years old but that he has never promoted the teaching of creationism or "intelligent design" in science classes or textbooks.
"But we did argue for scientific integrity," he said, "which is leaning over backward to show both sides. Instead of selling evolution like it was Frosted Flakes -- where you only promote the added vitamins and not the added sugar -- now our new science standards in Texas require the teaching of evolution's strengths and weaknesses."
He said he doesn't believe in the theory of evolution at all, but he does want kids to study it.
This week, the National Center for Science Education, a nonprofit group that defends the teaching of evolution in public schools, gave McLeroy its first annual UpChucky Award "bestowed on the most noisome creationist of the year."

Video: More trouble for Gov. Paterson

Video: Reaction from Oscar nominees
McLeroy, a dentist in Bryan-College Station, Texas, earned a bachelor of science degree in electrical engineering from Texas A&M University and a doctor of dental science degree from University of Texas Dental Branch at Houston. He has also been a fourth-grade Sunday school teacher at Grace Bible Church in College Station for 23 years. McLeroy's term on the Texas Board of Education ends this December 31.
National Center for Science Education: Announcing the first annual UpChucky award
Lynn Malerba: The Council of Elders of the Mohegan Tribe on Thursday announced the selection of Malerba of Uncasville, Connecticut, as the tribe's next chief. It is a lifetime appointment. She becomes the 17th chief in the tribe's history, and USA Today reports that she is the first woman to hold the position since 1723.
According to the council, Malerba grew up with an awareness of the Mohegans' struggle for federal recognition, which did not occur until 1994.
Malerba is a descendent of Burrill Fielding, a Mohegan chief from 1937 until his death in 1952, and she has served on the Tribal Council, the Mohegan's governing body since 2005. She also has been a nurse, a nurse manager and director of cardiology and pulmonary services at a Connecticut hospital.
The tribe has 1,835 members and is mostly known as the operator of the huge Mohegan Sun Casino, which employs nearly 10,000 workers.
Global Gaming Business Magazine named Malerba as one of "25 People to Watch" in its January issue. By the way, the Mohegan and the Mahican (or Mohican -- as novelist James Fenimore Cooper called them) are not the same nation.
Kim Elsesser: Why don't George Clooney and Sandra Bullock compete in the same best actor category? Provocative question. "In the 21st century women contend with men for titles ranging from the American president to the American Idol. Clearly, there is no reason to still segregate acting Oscars by sex."
That's what Kim Elsesser wrote in her op-ed essay in Thursday's New York Times. Elsesser is a research scholar at the Center for Study of Women at the University of California, Los Angeles.
The Academy of Motion Picture Arts and Sciences will honor Hollywood's top artists on Sunday, and Elsesser wrote that, in the case of the Oscars, separate is not equal.
"While it is certainly acceptable for sports competitions like the Olympics to have separate events for male and female athletes, the biological differences do not affect acting performances," she wrote in The New York Times piece. "The divided Oscar categories merely insult women, because they suggest that women would not be victorious if the categories were combined."
Elsesser, 45, has an MBA and a master's degree in operations research (probability and statistics) from MIT. She also helped to manage a hedge fund on Wall Street. She told CNN on Thursday, "My experiences on Wall Street motivated my studies of gender issues in the workplace."
She's interested in the differences between male and female bosses and how women are treated at work. Elsesser, who also has a doctorate is in psychology, said she hopes the academy acts on her suggestion of gender-free categories.
"I think the academy is very slow to change. So it may be many years. But I think eventually it will happen."
She said she will be watching the awards show Sunday, but as the mother of a 6-year-old son, she hasn't been able to see all the movies that she wanted to.
The New York Times: And the gender-neutral Oscar goes to ...
UCLA Center for the Study of Women
Dave Strohecker: The doctoral student studying sociology at the University of Maryland in College Park said he grew up in a conservative Christian household in the Texas suburbs. So the vast collection of tattoos that covers a lot of his body may come as a surprise.
This week, he told The Diamondback campus newspaper, "I started getting tattooed as a way of coping with stress and trauma, particularly that of moving away from home and leaving my family, identity and former life behind. I had a tough transition to college as an undergraduate. Tattooing seemed to help me re-orient myself toward my past, my values and my family."
His skin features images representing feminism, gay rights, faith and his family. He's got a dragon head, a robot, crashing waves, a soaring eagle and a skull with a graduation cap.
He told CNN on Thursday that tattooing is consistent with his sociology degree work, and he's doing research on it with 20- to 40-year-olds.
He said, "I'm trying to figure out if tattooing can be seen not only as deviant behavior, but as beneficial to the individual."
Strohecker received his bachelor's degree in sociology from Texas A&M University and has a special interest in studies of white racism and white privilege; in racial, gender, sexual and ethnic discrimination; and the role media play. He intends to cover most of his skin with tattoos one day, but, he said, not his face.
Diamondback online: Rebel arms
What makes a person intriguing?
There are people who enter the news cycle every day because their actions or decisions are new, important or different. Others are in the news because they are the ones those decisions affect. And there are a number of people who are so famous or controversial that anything they say or do becomes news.
Some of these people do what we expect of them: They run for office, pass legislation, start a business, get hired or fired, commit a crime, make an arrest, get in accidents, hit a home run, overthrow a government, fight wars, sue an opponent, put out fires, prepare for hurricanes and cavort with people other than their spouses. They do make news, but the action is usually more important than who is involved in the story.
But every day, there are a number of people who become fascinating to us -- by virtue of their character, how they reached their decision, how they behaved under pressure or because of the remarkable circumstances surrounding the event they are involved in.
They arouse our curiosity. We hear about them and want to know more. What they have done or said stimulates conversations across the country. At times, there is even a mystery about them. What they have done may be unique, heroic, cowardly or ghastly, but they capture our imaginations. We want to know what makes them tick, why they believe what they do, and why they did what they did. They intrigue us.
FOLLOW THIS TOPIC