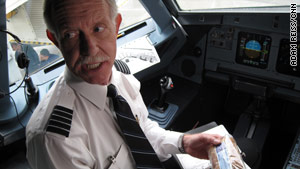 Capt. Chesley "Sully" Sullenberger piloted his last flight for US Airways on Wednesday.
STORY HIGHLIGHTS
'Miracle on Hudson' pilot Chesley "Sully" Sullenberger retires
Whitney Thompson rallies against education funding cuts
Washington Capitals goalie Jose Theodore honors his dead son
Editor's note: Every weekday, CNN focuses on a handful of people in the news. This is a chance to find out more about what they've done -- good or bad -- what they've said or what they believe, and why we think they're intriguing.
(CNN) -- Chesley "Sully" Sullenberger: On January 15, 2009, the airline captain, along with co-pilot Jeff Skiles, guided US Airways Flight 1549 into the Hudson River, saving the lives of all 155 people on board.
In his autobiography, "Highest Duty," the celebrated flier wrote that the landing was not a miracle, but rather the result of decades of practice and training.
On Wednesday, Sullenberger, 59, announced his retirement. In the statement he released, he spoke of his passion for the profession, and he mentioned Skiles by name.
He wrote, "Each generation of pilots hopes that they will leave their profession better off than they found it. In spite of the best efforts of thousands of my colleagues, that is not the case today."
Sullenberger wrote that he would remain an advocate for aviation safety and for piloting.
"I will work to remind the entire industry -- and those who manage and regulate it - that we have a sacred duty to our passengers to do the very best that we know how to do."
Flight attendant Doreen Welsh, who served on Flight 1549 with Sullenberger, also announced her retirement from US Airways yesterday.
Final flight for 'Sully'

'Miracle on Hudson' pilot retires
Whitney Thompson: California's Arnold Schwarzenegger, like many governors across the nation, faces severe budget problems. Schwarzenegger has called for "draconian" spending cuts to deal with a shortfall of nearly $20 billion. The state's public education system has been feeling the pain, and students and teachers are screaming loudly. Last fall, students held a series of protests on the UC Berkeley campus after the announcement last summer of a 32 percent tuition hike throughout the state's university system.
Those protests grew into a movement, and Thursday, rallies, marches, demonstrations and teach-ins are scheduled across the state under a "Day of Action" banner. There are also protests planned in more than 30 other states to fight further budget cuts, layoffs and furloughs.
Whitney Thompson, 23, from Yuma, Arizona, is a "super-senior" at Fresno State University. She plans to get her degree in history next fall. She is part of a statewide organization called Students for a Quality Education. Thompson will be speaking Thursday at a rally on the Fresno State campus.

Video: Final flight for 'Sully'

Video: Woman gives job to co-worker
"We're being denied access to quality affordable, education," she told CNN on Wednesday. It keeps worsening every year. We're paying more and getting less. They eliminated 1000 classes on my campus alone, including four I was enrolled in, and I had already paid for them. And then on top of that, I had to pay 32 percent more in tuition."
Students across U.S. plan to protest education funding cuts
Protests of tuition increase continue on California campuses
Patricia Overy: The 40-year-old accounting technician and mother of four announced Monday at the City of Lathrop, California, council meeting that she was voluntarily giving up her job.
The Manteca Bulletin reported that Overy made the decision in order to save the job of a 60-year-old coworker, Sharon Singleton. The city's budget deficit is $648,000, and Overy told CNN Wednesday that 11 city jobs needed to be eliminated. She had long discussions with her husband, Robert, about her seven years at work and how close she had become with her coworkers.
"There are a lot of mothers with kids," she said. "You know what their favorite crayon colors are. You talk about what you ate for dinner. I thought that I could possibly cope with the loss of a job better than my coworkers."
So her last day was Tuesday, and she's looking forward to spending time with her kids -- ages 14, 7 and 4-year-old twins -- before she looks for work again.
"I feel happy for what I did. I feel that I am so blessed," she said.
"I care about people, and that's how I was raised," she said. "Everyday I live my life and think about what positive influence I could have. I'm not perfect, but I try to do my best."
Singleton's last day on her job would have been Thursday.
The Manteca Bulletin: Worker's unselfish act
Matthew McCabe: Reps. Dana Rohrabacher, R-California, and Dan Burton, R-Indiana, will be joined at a news conference Thursday by accused Navy SEAL Matthew McCabe, as well as more than a dozen retired Navy SEALs, to renew calls for the exoneration of the "Navy SEAL 3."
In September 2009, McCabe, Petty Officer 1st Class Julio Huertas and Petty Officer 2nd Class Jonathan Keefe were part of the SEAL team that captured and allegedly mistreated al-Qaeda leader Ahmed Hashim Abed, considered one of the most wanted terrorists in Iraq.
Abed is the suspected planner behind the 2004 killing, burning and mutilation of four American contractors in Fallujah, Iraq. Abed complained to investigators that the SEALs punched him during his detention. There were arraigned in military court on charges of giving false statements to investigators and abusing Abed.
In January, a judge ruled that Keefe and Huertas will have their cases heard in Iraq next month. Petty Officer 2nd Class McCabe, 24, faces a special court martial on May 3 at the naval base in Norfolk, Virginia. The case against the Navy SEALs sparked outrage that the sailors are being tried at all for handling a suspect in the contractors' murders, one of the most notorious incidents in the war.
The killings got widespread news coverage when the burned bodies of two of the contractors were paraded through the streets of Fallujah and hanged from a bridge as their captors cheered. At today's news conference, Burton and Rohrabacher will present signed petitions of support from more than 100,000 Americans calling for the SEALs' exoneration. If found guilty, the SEALs face a maximum sentence of a year in a military prison, demotion to the lowest Navy rank, a cut in pay and a bad conduct discharge.
Yesterday, McCabe's attorney, Neal Puckett, told CNN that his client is pleading not guilty.
"He continues routine training where he works in the Norfolk area. He's completely supported by the chain of command and all of the other SEALs. He's hoping for a good outcome," Puckett said. "He's in good spirits and believes he'll be acquitted."
2 Navy SEAL cases moved to Iraq
Jose Theodore: The goalie of the Washington Capitals hockey team talked for the first time this week to the Washington Post about the death of his 2-month-old son who died last August from respiratory complications.
Chace Theodore was born five weeks early with a neuromuscular condition that has defied diagnosis. To breathe, he was put on a ventilator. Jose and his wife spent most of their son's 54 days at Washington Children's Hospital Center at a time when Jose was trying to win back his starting position with the Capitals.
The newspaper reports that he had lost the position when he was replaced by a rookie last spring. Sports psychologist Joel Fish says that being a goalie requires "the highest level of concentration and focus."
Theodore, an intensely private athlete, said, "I can remember sometimes, it could be a 2-2 game, and you start thinking about your son, or you start thinking about different stuff." After his son died, Theodore was named No. 1 goalie again, and he started a "Saves for Kids" campaign. He will donate $2 for each save, $100 for each win and $500 for each shutout during the regular season and more during playoffs to a children's medical center.
The Washington Post: Washington Capitals goalie Jose Theodore copes with the pain of his infant son's death
What makes a person intriguing?
There are people who enter the news cycle every day because their actions or decisions are new, important or different. Others are in the news because they are the ones those decisions affect. And there are a number of people who are so famous or controversial that anything they say or do becomes news.
Some of these people do what we expect of them: They run for office, pass legislation, start a business, get hired or fired, commit a crime, make an arrest, get in accidents, hit a home run, overthrow a government, fight wars, sue an opponent, put out fires, prepare for hurricanes and cavort with people other than their spouses. They do make news, but the action is usually more important than who is involved in the story.
But every day, there are a number of people who become fascinating to us -- by virtue of their character, how they reached their decision, how they behaved under pressure or because of the remarkable circumstances surrounding the event they are involved in.
They arouse our curiosity. We hear about them and want to know more. What they have done or said stimulates conversations across the country. At times, there is even a mystery about them. What they have done may be unique, heroic, cowardly or ghastly, but they capture our imaginations. We want to know what makes them tick, why they believe what they do, and why they did what they did. They intrigue us.
FOLLOW THIS TOPIC