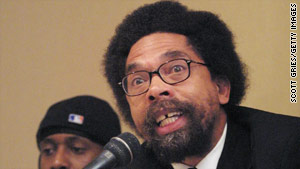 Princeton professor Dr. Cornel West is among the speakers at the Great Gathering in Columbia, South Carolina.
STORY HIGHLIGHTS
Great Gathering is first meeting of these three denominations in more than 45 years
Speakers include Marian Wright Edelman and Dr. Cornel West
Conference ends Wednesday with taped message from President Obama
Columbia, South Carolina (CNN) -- Instead of letting her son spend his spring break at a beach with friends, Sheila Wilson-Freelon took him to another gathering this week: a convention of black church leaders aimed at finding solutions to the problems that plague young African-Americans.
The three-day summit, known as the Great Gathering, is the first time in more than 45 years that the African Methodist Episcopal, the African Methodist Episcopal Zion and Christian Methodist Episcopal churches -- with a combined membership of more than 5 million -- have come together.
The Rev. Staccato Powell, one of the driving forces behind the summit, said one of the main goals of the week is to create a support network for young people, which includes tangible role models like teachers, families, and members of the faith-based community.
"We have to let them know that we have people that have demonstrated character and values, and that can be transmitted," Powell said. "We're saying the greatest role model is the father that's in the home. The greatest role model is somebody you can access everyday."
Powell brought in leaders and speakers who are often considered the backbone of the African-American community, such as Marian Wright Edelman -- the president of the Children's Defense Fund.

Video: The Great Gathering
"A black boy, if he is born today, has a 1-in-3 chance of going to prison in his lifetime; a black girl, a 1-in-18 chance. This is a disastrous figure," Edelman said. "Our prisons are filled with black fathers and black mothers, and we have got to turn it around, and we have got to break this cycle."
The prison trajectory starts before birth and is driven by racial disparities and poverty, Edelman said.
Hundreds of thousands of children each year are destined for unsuccessful adulthood and are "sucked into a pipeline" almost from birth, she said.
She calls it the biggest crisis for African-Americans since slavery.
Princeton professor Dr. Cornel West calls it a matter of life and death.
"We need to cast a limelight on their plight, a limelight on their predicament and recognize it's a state of emergency," he said. "It's a matter of national security. Look at the prison industrial complex. Look at the feeble families, the weak communities. The bullets flowing. "
Churches and communities need to organize a plan of action, West said.
A plan that is based on three aspects, he said: spiritual inspiration, analytical insight and a sense of coming together to organize and to mobilize.
"You have to have some sense of what sustains it. And that's why its church-based," West said.
Wilson-Freelon's son, Jeff Freelon Jr., is a 18-year-old freshman at the University of Michigan.
His father died when he was 3. His mother had to balance a busy career as an attorney to raise him and his older sister in Chicago, Illinois.
"I am relentless, and he knows it," Wilson-Freelon said. "Other parents do need to have a hand in raising their children. It was not easy for me; it was a struggle."
The son said he avoided trouble but it was not easy.
"You see them struggling with two jobs, and you obviously want to help them," he said. "And the easiest way is to go outside your door and sell drugs, and get into the gang life."
The conference at the Carolina Coliseum ends Wednesday with a taped message from President Barack Obama.
Organizers hope that by the time the attendees head home, they will be armed with enough knowledge and conviction to become foot soldiers in a campaign to save young African-Americans.