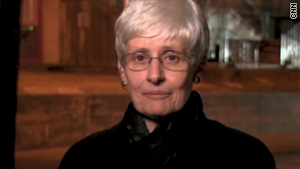 Central Falls School District superintendent Frances Gallo said she's happy with the union's press release.
STORY HIGHLIGHTS
Rhode Island school superintendent Frances Gallo says she's willing to negotiate
She fired all 93 teachers and staffers at Central Falls High over academic failures
Gallo says she'll go back to table now that teachers' union willing to accept changes
Only 7 percent of the school's students are proficient in math
(CNN) -- The Rhode Island school superintendent who last week fired all the teachers and staff from a school whose students were performing poorly said Wednesday she is willing to negotiate now that the union has agreed to support changes.
"It is with great excitement that I read the press release from the Central Falls Teachers' Union referencing their proposed comprehensive reform agenda," said Central Falls Schools Superintendent Frances Gallo in a news release.
"It so closely mirrors my requests for assurances that I am pleased to reassure the union their place in the planning process. I do so with the belief that everyone has come to understand the meaning of comprehensive school reform."
Gallo added the school district will press ahead with its plan for improving Central Falls High School.
In a written statement, American Federation of Teachers President Randi Weingarten said the union was pleased that Gallo has agreed to go back to the table.
"The dedicated teachers and staff want nothing more than to continue and improve upon the progress they have made," Weingarten said. "Real, sustainable change will only happen when all stakeholders work together."
Gallo's statement came a day after the Central Fall Teachers Union recommended a number of changes, including increasing instructional time for students, enhancing their support and increasing teaching quality.
Last week, the school board approved Gallo's plan to discharge 93 people -- classroom teachers, administrators and other personnel -- at the high school. The school is in a low-income area, and many of its students are Latino with English as their second language.
The firings, which were to have become effective at the end of the school year, came after the district failed to reach an agreement with the teachers' union on a plan for teachers to spend more time with students to improve test scores.
A union spokesman said the firings were drastic and cited a 21 percent rise in reading scores and a 3 percent hike in math scores in the past two years. Another official also pointed to progress at the school.
But Rhode Island's Education Commissioner Deborah Gist defended the mass firings, calling them "many years in coming."
Gist pointed out that the school's graduation rate is 48 percent, and "only 7 percent of the students are proficient in mathematics."
"More than half of the ninth-graders are failing more than two classes, which is an indication that they are frustrated, and what we know about student achievement, when students aren't successful in their class, they're much more likely to drop out of school," Gist said.
In remarks Monday to the U.S. Chamber of Commerce, President Obama appeared to express support for the firings.
"If a school continues to fail its students year after year after year, if it doesn't show signs of improvement, then there's got to be a sense of accountability," he said. "And that's what happened in Rhode Island last week at a chronically troubled school, when just 7 percent of 11th graders passed state math tests -- 7 percent."
The AFT said Obama's comments "do not reflect the reality on the ground and completely ignore the teachers' significant commitment to working with others to transform this school."