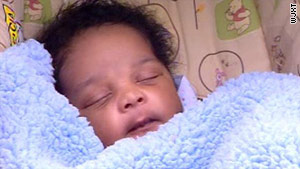 Police say they found Melvin Duclos at the teenage suspect's mother's home Wednesday.
STORY HIGHLIGHTS
Police say teen posed as child welfare worker after following parents from hospital
She convinced parents she was conducting investigation, they say
Fingerprint on paperwork guided authorities to suspect
(CNN) -- A weeks-old baby was found safe Wednesday after he was abducted, police said, by a 19-year-old woman posing as a worker with the Florida Department of Children and Families.
Melvin Duclos was taken from his Jacksonville, Florida, home about 6:50 p.m. Tuesday, Sheriff John Rutherford said. "This was a bona fide abduction."
The abductor showed some credentials and paperwork, Rutherford said, and told the baby's parents she was conducting an investigation. She threatened to call the police if they did not hand over the baby, he said.
The baby and the suspect were found at the teenager's mother's home early Wednesday, Rutherford said. "They were all in bed," he said. Police believe that the suspect's mother was "told a story" and was not involved.
The suspect was arrested on suspicion of kidnapping, Rutherford said.
Jacksonville Sheriff's Office Chief Rick Graham said Tuesday night, in an interview posted on the Web site of CNN affiliate WJXT, that the infant's parents had taken him for a checkup at Shands Jacksonville Hospital, and while there they noticed that a woman kept trying to follow them. The couple left, making a couple of stops on the way home, he said.
When the couple arrived home, a woman also arrived and told them she was with the Department of Children and Families, Graham said.
The suspect is believed to have followed the parents home from the hospital, he said. After she left with the baby, the parents called the Jacksonville Sheriff's Office, sensing that something wasn't right.
The woman left a fingerprint on some of the paperwork she used to persuade the parents she was a child welfare worker, Rutherford said Wednesday.
Authorities ran it through the Automated Fingerprint Identification System and identified it as that of the teenager, who had a previous juvenile arrest, the sheriff said.
They also found several possible addresses for the teen, and authorities went to those addresses simultaneously Wednesday, finding the suspect and baby at one of them, Rutherford said.
Surveillance video from the hospital was helpful in the investigation, Rutherford said, but without the fingerprint, finding her "would have been much more difficult. ... We knew what she looked like. We just didn't know who she was."
Rutherford said the child's mother is Creole and speaks no English, and the father "has great difficulty in communicating in English."
An Amber Alert issued for the child said he is 30 days old, but WJXT reported that he was 3 weeks old. He was reunited with his parents after being recovered by police.
Rutherford would not divulge a motive in the case, saying it would be released later.