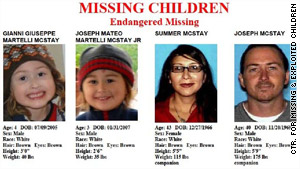 "At this point, it just seems to be a mystery," an official said of the McStay family's disappearance.
STORY HIGHLIGHTS
Parents, two children haven't been seen since February 4
House's condition doesn't suggest a planned vacation, sheriff says
Vehicle found abandoned two blocks from Mexican border
California police seek assistance from authorities in Mexico
(CNN) -- Police in Southern California are working with Mexican authorities in the search for a missing family and poring over hundreds of hours of border security videotapes, hoping to find some clues.
"We are reviewing a lot of surveillance tapes," said Lt. Dennis Brugos of the San Diego County Sheriff's Department. "On a daily basis, there may be up to 100,000 people who cross that border."
The Center for Missing and Exploited Children is also assisting in the scrutinizing of the tapes, he said.
Joseph McStay, 40; his wife, Summer, 43; and their two children, Gianni, 4, and Joseph, 3, have not been seen or heard from since February 4. Concerned relatives contacted authorities, who checked the family's home February 15, the sheriff's department said.
A vehicle belonging to the family was found abandoned near the Mexican border. The McStays' home is in Fallbrook, an unincorporated area about 45 miles north of San Diego.
The sheriff's department said two Mexican liaison detectives are conferring with their counterparts across the border.
"They were on this investigation right from the start," Brugos said. "They check the morgue, the airport, bus terminal, contact the taxi drivers who frequent the border area.
"At this point, it just seems to be a mystery," Brugos added. "There is a chance the family could have voluntarily left and disappeared, but it's unlikely."
Michael McStay, Joseph McStay's brother, fears that they may have been kidnapped.
"My gut feeling is telling me that they are being held against their will in some way," he said.
See a Web site set up for the missing family
Michael McStay said he usually speaks to his older brother at least once a week. "Every Friday, he would call me, and we'd be talking for a while. We were tight. We've always been tight."
The sheriff's office said evidence at the family home "suggested that the family had not left on a planned vacation" and that "the totality of the circumstances surrounding their disappearance was quite out of character for the family."
Brugos said the McStays' two dogs were left at the home unattended and without food or water.
"I think there were some food items left out that should have been refrigerated," Brugos added. "Those types of things sparked our attention, and on the chance that this turns into a criminal investigation, we want to be on the ground floor with this thing."
After the family's SUV was found in San Ysidro, two blocks from the Mexican border, "it was processed with a search warrant," Brugos said. "There was nothing in the car ... suggesting that this was some criminal act."
However, investigators are not ruling out the possibility of foul play and have assigned the case to the sheriff's homicide detail.
They are as close as newlyweds. Everyone needs to be on the lookout for them, because something is wrong.
--Friend of McStay family
"There is nothing illegal about disappearing," Brugos said. "[But] in this particular case, according to relatives, it would be out of character just to disappear without notifying family members."
Brugos also said it was unlikely the McStays were targeted by a Mexican drug cartel.
"There is nothing in Joseph or his wife's life or background that would suggest [or] that would put them in a high risk of any criminal activity," he said.
He said interviews with relatives and friends indicate no internal signs of marital trouble or conflict.
"Everyone has issues in every family, but as far as a family just disappearing, there is nothing to suggest they would do just that," he said.
A good friend of the McStays', who did not want to give her name because she said she feared for her safety, echoed that sentiment.
"They wouldn't have left. They didn't flee," she said. "They are as close as newlyweds. Everyone needs to be on the lookout for them, because something is wrong."
The friend said she spoke with the McStays on February 3 or 4, right before they disappeared.
"Everything was fine. [Summer] was excited. She was painting the kitchen. Everything was good. The kids were playing outside," the friend said. "Nothing out of the ordinary that would give us any reason to think there was a problem."
She also said the couple would not have willingly traveled to Mexico.
"We had talked about a year and a half ago about going on a vacation together and said it would be nice to go to Mexico, but it's too unsafe," she said.
Visit the Center for Missing and Exploited Children site
Michael McStay said his brother is fun-loving and easygoing.
"He's creative, he's just, you know, people like to hang with him, both of them," Michael McStay said. "Summer is very intelligent, very educated, a heck of a mom. ... This doesn't add up."
Joseph McStay is self-employed, creating and installing indoor water features, Brugos said.
Brugos called the disappearance of the McStay family unsettling and unusual.
"We've had cases where there have been incidents, but relatively quickly, we are able to determine what happened," he said. "In this particular case, it's been quite a while."
Joseph McStay is 5 feet 9 inches tall and weighs 175 pounds. He has brown hair and brown eyes. Summer McStay, also known as Lisa Aranda-Martelli, is 5 feet 5 inches tall and 115 pounds, with brown hair and brown eyes.
Anyone with information on the whereabouts of the McStay family is urged to contact Sgt. Dave Martinez of the San Diego County Sheriff's Department at 858-565-5200. Anonymous calls can be made to 888-580-8477.