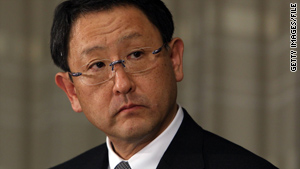 Akio Toyoda, CEO of Toyota Motor Corp., appeared at a congressional hearing on Wednesday.
STORY HIGHLIGHTS
Toyota president faces congressional hearings over car recalls
NAACP honors former White House "green czar" with Image Award
Hip-hop artist Snoop Dogg wants back in to the UK
Editor's note: Every weekday, CNN focuses on a handful of people in the news. This is a chance to find out more about what they've done -- good or bad -- what they've said or what they believe, and why we think they're intriguing.
(CNN) -- Akio Toyoda: Toyota Motor Corp. has recalled more than 8 million vehicles in connection with possible unintended acceleration. Separately, the 2010 Toyota Prius was the subject of a recall due to complaints about its brakes.
Congressional hearings on Toyota's recall problems continue Wednesday as Toyoda, Toyota's 53-year-old chief executive, testifies. In prepared remarks, the grandson of founder Kiichiro Toyoda will say the company grew too fast and safety concerns may have taken a back seat.
"We pursued growth over the speed at which we were able to develop our people and our organization," Toyoda wrote. "I regret that this has resulted in the safety issues described in the recalls we face today, and I am deeply sorry for any accidents that Toyota drivers have experienced."
Toyoda earned his master's degree in business administration from Babson College in Massachusetts in 1982 and joined Toyota two years later, according to the Center for Automotive Research. In 1998, he ran Toyota's production joint venture with General Motors Corp. in California. Before he became Toyota's president in 2009, he was an executive responsible for the company's product management and quality.

Video: New world awaits Toyoda
Toyoda is known within Japan's media as "The Prince" and is a notoriously publicity-shy man -- he has no photos of himself available for public viewing and shuns media requests.
CNN: Japan Inc.'s reputation rides on Toyoda's testimony
CNN: Toyota dealers rally in defense of brand
Center for Automotive Research: Akio Toyoda biography
Van Jones: While Jones may have left the White House under a cloud, the NAACP says that's not his whole story. The group considers him a pioneering hero for the environment and civil rights -- so much so that it is awarding him one of its highest honors Friday: an NAACP Image Award.
In September, Jones resigned from the Council on Environmental Quality under a firestorm of criticism over a petition he had signed and his comments about Republicans. The Obama administration's "green czar" helped coordinate government agencies focused on delivering millions of green jobs to the ailing U.S. economy.
Jones said he was the victim of a "vicious smear campaign" based on "lies and distortions." Benjamin Jealous, NAACP president and CEO, said he's not concerned about criticism his organization might face over honoring Jones.
In an opinion piece on CNN.com, Jealous calls Jones "an American treasure," saying he might be "the most misunderstood man in America."
Jealous writes, "In America, we ultimately judge people on what they are doing today for tomorrow, not for what they did yesterday."
CNN: Ex-White House 'green czar' to receive NAACP Image Award
CNN: Opinion: Van Jones a misunderstood treasure
David Benke: On Tuesday afternoon, a gunman with a high-powered rifle shot and wounded two students outside Deer Creek Middle School in Littleton, Colorado. The school is near Columbine High School, where two seniors killed 12 students and a teacher in 1999.
The Denver Post reports that Benke, a 57-year-old math teacher, heard what he thought were firecrackers and walked toward a man with a rifle filling the chamber with another round. "Unfortunately, I wasn't able to grab him before he got a second shot off," Benke told the newspaper. "I grabbed him, and I think he dropped the gun. Basically we danced around."
A second math teacher, Norm Hanne, also wrestled with the shooter, according to the paper.
Authorities on Wednesday identified the suspect as 32-year-old Bruco Strongeagle Eastwood.
After being subdued, the shooter "said he was going to sue us," Benke told the newspaper.
The Post reports that Benke, a one-time finalist for Colorado Teacher of the Year, became the subject of a Facebook page, some three hours after the shootings. The page is called "Dr. David Benke Is A Hero!!!!" By 11 p.m. Tuesday, the page had more than 7,100 members.
School shooting suspect identified
The Denver Post: Hailed as hero, math teacher leapt to stop attack
Laura Davis: On Tuesday, the National Register of Historic Places added the site of the May 4, 1970, shootings at Kent State University in Ohio to its official list of places worthy of preservation.
Nearly 40 years ago, as students protested the Vietnam War and President Nixon's incursion into Cambodia, members of the Ohio National Guard shot and killed four Kent State students and wounded nine others. Davis was a freshman at the time.
On Tuesday, she said she remembers every detail of the May 4 protest that attracted between 2,000 and 3,000 students and bystanders -- how guardsmen fired tear gas into the crowd but students would not disperse.
"Guards were then told to show force -- to kneel and aim at demonstrators in a parking lot," she said. "I saw guardsman begin to fire. I was about 300 feet away. I curled over as if to assume a fetal position, and I started screaming, 'They're shooting their guns! They're shooing their guns!' A friend pulled me into a nearby building -- and someone came in as said they heard people had been shot."
Davis never really left Kent State. She is an English professor and one of four faculty members who wrote the submission to the National Register to designate the 17.4 acres of the Kent State shootings site.
She said, "An American force opened fired on unarmed students without warning, because they were dissenting. That's an important event for people to know about."
Kent State University: Remember the past, frame the future
Kent State University: May 4 site submitted to historic places register
Snoop Dogg: The hip-hop artist, whose birth name is Calvin Broadus, has not been allowed to set foot in the United Kingdom since an incident at Heathrow Airport in 2006. The Wall Street Journal reports the no-fly situation has cost the performer concert dates. The newspaper reports that a UK Asylum and Immigration Tribunal may rule on the case in the coming weeks.
The dispute began four years ago when police were called to a British Airways first-class lounge after Snoop Dogg's 30-person entourage wanted comfort during a layover, according to the Journal. British authorities detained and released Dogg with a warning, based on his admitted use of "insulting words," the paper said.
According to the Journal, British officials invoked a rule that allows it to deny entry based on questions of character, citing the performer's drug and weapons convictions. Dogg's agent, Brent Smith at William Morris Endeavor Entertainment LLC, told the newspaper, "Snoop has missed out on several arena tour opportunities, many TV and festival opportunities, as well as a few proposed charity events. ... And now the UK taxpayer is financing the court appeals."
Wall Street Journal: Snoop seeks to end his ban in the UK
What makes a person intriguing?
There are people who enter the news cycle every day because their actions or decisions are new, important or different. Others are in the news because they are the ones those decisions affect. And there are a number of people who are so famous or controversial that anything they say or do becomes news.
Some of these people do what we expect of them: They run for office, pass legislation, start a business, get hired or fired, commit a crime, make an arrest, get in accidents, hit a home run, overthrow a government, fight wars, sue an opponent, put out fires, prepare for hurricanes and cavort with people other than their spouses. They do make news, but the action is usually more important than who is involved in the story.
But every day, there are a number of people who become fascinating to us -- by virtue of their character, how they reached their decision, how they behaved under pressure or because of the remarkable circumstances surrounding the event they are involved in.
They arouse our curiosity. We hear about them and want to know more. What they have done or said stimulates conversations across the country. At times, there is even a mystery about them. What they have done may be unique, heroic, cowardly or ghastly, but they capture our imaginations. We want to know what makes them tick, why they believe what they do, and why they did what they did. They intrigue us.
FOLLOW THIS TOPIC