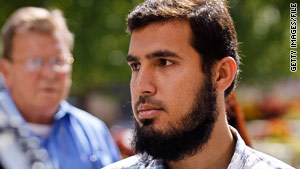 Najibullah Zazi told a court he had discussions with al Qaeda about targets that included the New York subway system.
STORY HIGHLIGHTS
Terror suspect Najibullah Zazi pleads guilty in New York plot
White House health czar influential but remains out of the spotlight
Comic book featuring first appearance of Superman reportedly sells for record price
Editor's note: Every weekday, CNN focuses on a handful of people in the news. This is a chance to find out more about what they've done -- good or bad -- what they've said or what they believe, and why we think they're intriguing.
(CNN) -- Najibullah Zazi: The terrorism suspect, a former Colorado airport shuttle driver from Afghanistan, pleaded guilty Monday to conspiring to detonate explosives in the United States.
In an appearance before a federal judge, Zazi admitted his role in the conspiracy, saying, "In spring 2008, I conspired with others to join the Taliban, to fight along with the Taliban against the United States." He said, "We were recruited to al Qaeda instead."
He pleaded guilty to three counts: conspiring to use weapons of mass destruction, conspiracy to commit murder in a foreign country and providing material support to a terrorist organization. Sentencing is set for June 25.
Zazi was arrested in September in an alleged plot to build and detonate bombs in New York around the anniversary of the September 11, 2001, attacks. While at a terrorist training camp in Pakistan, he "had discussions with al Qaeda about targets including the New York City subway system," Zazi said in court Monday.
Federal officials have said the conspiracy involving Zazi represents the most serious terrorism plot since 9/11 and the investigation is intense and ongoing.
CNN: Terror suspect pleads guilty in New York plot
Nancy-Ann DeParle: President Obama brings together bipartisan congressional health care players for a meeting Thursday where he hopes to discover some common ground. One of the less visible, but influential behind-the-scenes players is DeParle, director of the White House Office of Health Reform.
A Time magazine profile of DeParle said she is "universally known in health-care-policy circles as one of the brightest minds of her generation." In 1994, the magazine named her as one of "America's 50 Most Promising Leaders Under 40."
DeParle went to Harvard Law School, was a Rhodes scholar, watched over health services in Tennessee -- her home state -- oversaw Medicare and Medicaid during the Clinton administration.
She also understands the private sector.
Politico reports that DeParle earned more than $5.8 million for her work on the boards of major medical companies, and her role as managing director of a private equity firm associated with health care firms, citing financial disclosure and public records. Politico reports DeParle stepped down from those boards when she was appointed last March.
Time: Obama's health czar: Behind the scenes but leading the charge
Politico: Health firms paid DeParle $5.8 million
Sen. Joe Lieberman: The push to repeal "don't ask, don't tell" will have an unlikely leader -- the famously centrist senator from Connecticut, who caucuses with Democrats but doesn't always agree with them. On Monday, Lieberman said he would be a sponsor of the legislation to be introduced next week.
"I will be proud to be a sponsor of the important effort to enable patriotic gay Americans to defend our national security and our founding values of freedom and opportunity," Lieberman said in a statement. "I have opposed the current policy of preventing gay Americans from openly serving in the military since its enactment in 1993."
In taking the lead on the legislation, Lieberman is breaking with close friend Sen. John McCain, who opposes rolling back the policy. Lieberman, the Democratic candidate for vice president in 2000, told the New York Daily News he sees repeal of the policy as a civil rights issue.
CNN Political Ticker: Lieberman to take lead on 'don't ask, don't tell' repeal
New York Daily News: Lieberman backs bill repealing 'don't ask, don't tell' policy
Gordon Brown: After the resignation of Tony Blair, Brown became prime minister of the United Kingdom and leader of the Labour Party in June 2007. Under Blair, he was chancellor of the exchequer, presiding over the longest period of economic growth ever, according to his official biography.
He was born in Scotland in 1951, and his father was a minister. Brown said his father was the reason he got into politics, recalling him quoting the Rev. Martin Luther King Jr., "Everyone can be great because everyone can serve."
Brown was elected to Parliament in 1983. He shared his first office in the House of Commons with Blair -- the start of a long and politically powerful friendship.
As a national election nears, Brown is suffering through what British media have called "Bullygate."
"Three or four" of the prime minister's staff called Britain's National Bullying Helpline to complain about his behavior, according to The Globe and Mail of Canada, and a new book by political commentator Andrew Rawnsley describes verbal tirades and lapel-grabbing, allegations that Brown has denied.
CNN: New book casts Brown as bully

Globe and Mail: Brown's no bully, senior aide fumes
Official site of the prime minister's office: Meet the PM
Clark Kent aka Superman: Just before the planet Krypton exploded, Jor-El rocketed his son to Earth, where he was found by Jonathan and Martha Kent of Smallville, Kansas. According to Superherostuff.com, the Kents raised the child as their own -- naming him Clark.
When he turned 18, Kent vowed to use the powers he had developed only for the good of mankind. After studying at Metropolis University, Kent got a job at the Daily Planet, the newspaper where reporter Lois Lane had first named the caped crusader "Superman." As the Man of Steel, Kent had X-ray vision, could move at speeds faster than sound and defy gravity, all in service of Truth, Justice and the American Way.
This week, ComicConnect.com announced that a private seller has sold an extremely rare issue of Action Comics No. 1 to an unnamed buyer for $1 million -- a new record. The issue from 1938 marked Superman's debut and was held in a private collection for more than 15 years.
"It's the single most important event in comic book history," said Vincent Zurzolo, a co-owner of ComicConnect.com. The Web site reports that about 100 copies of Action Comics No. 1 are in existence today. In 1938, an issue sold for a dime.
SuperHeroStuff.com: Superman biography and history
CNNMoney.com: It's a bird, it's a plane ... it's a $1 million comic book
What makes a person intriguing?
There are people who enter the news cycle every day because their actions or decisions are new, important or different. Others are in the news because they are the ones those decisions affect. And there are a number of people who are so famous or controversial that anything they say or do becomes news.
Some of these people do what we expect of them: They run for office, pass legislation, start a business, get hired or fired, commit a crime, make an arrest, get in accidents, hit a home run, overthrow a government, fight wars, sue an opponent, put out fires, prepare for hurricanes and cavort with people other than their spouses. They do make news, but the action is usually more important than who is involved in the story.
But every day, there are a number of people who become fascinating to us -- by virtue of their character, how they reached their decision, how they behaved under pressure or because of the remarkable circumstances surrounding the event they are involved in.
They arouse our curiosity. We hear about them and want to know more. What they have done or said stimulates conversations across the country. At times, there is even a mystery about them. What they have done may be unique, heroic, cowardly or ghastly, but they capture our imaginations. We want to know what makes them tick, why they believe what they do, and why they did what they did. They intrigue us.
FOLLOW THIS TOPIC