Train continues to burn day after derailment in California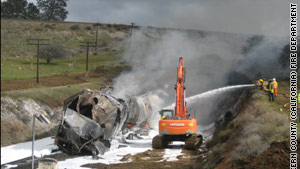 Firefighters work to put out the flames at the site of the train derailment Sunday in Keene, California.
STORY HIGHLIGHTS
Fire prompts evacuations of at least six homes in rural Keene, California
Freight train derailed about 30 miles east of Bakersfield, California, on Saturday night
Plastic pellets inside one of the train's cars fuels fire Sunday
Earlier fire fueled by denatured alcohol is out
(CNN) -- A BNSF freight train that derailed late Saturday night near Bakersfield, California, continued to burn Sunday as firefighters worked to put out flames caused by plastic pellets, a spokeswoman with the train company said.
Thick black smoke filled the air of Keene, about 30 miles east of Bakersfield, causing the evacuations of at least six homes in the rural town, BNSF spokeswoman Lena Kent said.
No serious injuries were reported. The train's conductor and engineer were the only people aboard the train, Kent said.
The train started its trip in Barstow and was destined for Stockton. It derailed around 9:30 p.m. PT Saturday, Kent said.
The derailment happened when two of the long freight train's cars came off the track near a tunnel entrance, she said.

Video: Train derails in California
"The train was carrying freight of all kinds," Kent said. "Unfortunately there was one car of denatured alcohol that burned for a while but is now out, and then there was [a] car of cornmeal, a car of corn syrup and a car of plastic pellets. As we speak, that car is being sprayed down with foam to suppress the fire."

To contain the fire, railroad crews and fire department personnel worked Sunday to remove two of the cars. However, the fire remained burning inside the tunnel.
Firefighters hoped to have the fire out by midnight Sunday, according to the Kern County Fire Department.
The track is owned by Union Pacific, according to spokesman Aaron Hunt.
An evacuation center had been set up by firefighters at a local high school but was closed after no residents showed up, Kent said.
Calls seeking comment from the California Environmental Protection Agency about the air quality in Keene were not immediately returned.