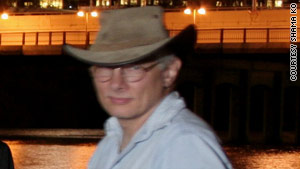 Software engineer Joseph Stack had an apparent grudge against the IRS, federal officials say.
STORY HIGHLIGHTS
Software engineer apparently flies plane into building to settle grudge
Comedian Ellen Karis plans to prove conservatives can by funny
Prince Frederic seeking governorship of California on "good life" platform
Editor's note: Every weekday, CNN focuses on a handful of people in the news. This is a chance to find out more about what they've done -- good or bad -- what they've said or what they believe, and why we think they're intriguing.
(CNN) -- Joseph Andrew Stack III: Federal officials said a 53-year-old Austin resident with an apparent grudge against the Internal Revenue Service set his house on fire Thursday and then crashed a Piper Cherokee PA-28 into an office building, which housed nearly 200 IRS employees.
Witnesses said nearby buildings shook. Fire and smoke could be seen billowing into the sky. The remains of two people were recovered from the building.
Clues about what led to the incident were few, but attention was directed at a message on a Web site registered to Stack, a software engineer, that appears to be a suicide note. "If you're reading this, you're no doubt asking yourself, 'Why did this have to happen?'" the message says. "The simple truth is that it is complicated and has been coming for a long time."
In the lengthy, rambling message, the writer rails against the government and, particularly, the IRS."I saw it written once that the definition of insanity is repeating the same process over and over and expecting the outcome to suddenly be different," the online message says. "I am finally ready to stop this insanity. Well, Mr. Big Brother IRS man, let's try something different; take my pound of flesh and sleep well."
CNN: Crash pilot: 'I have just had enough'
Read the apparent suicide note (PDF)
Elin Nordegren: Golfer Tiger Woods is scheduled to "apologize for his behavior" today when he makes a statement at PGA headquarters in Ponte Vedra Beach, Florida. His agent, Mark Steinberg, said Woods will not answer questions.
It will be the golfer's first public appearance since his November 27 car crash outside his home near Orlando, Florida. Steinberg said he didn't know whether Woods' wife, Elin Nordegren, would appear with her husband. Woods crashed his black Cadillac Escalade into a fire hydrant and then a tree just a few days after the National Enquirer reported he was having an affair with a New York nightclub hostess who denied the relationship.
The New York Times reported that Woods met Nordegren when she was hired as a nanny for the children of Jesper Parnevik, one of Woods's Florida neighbors. Woods and Nordegren were married in 2004. They have two children, Charlie, 1, and Sam Alexi, 2.
The Rev. Ricky Kirton performed the marriage in Barbados. He told People magazine that before Woods and Nordegren said their vows, he offered them premarital counseling, but they opted not to take it. Still, People reported that Kirton talked to them during the ceremony about communication, trust, forgiveness and "putting the past away."
CNN: Tiger Woods set to make public apology
People: Tiger and Elin's wedding pastor says it will work out
New York Times: All eyes on Tiger Woods, the father
Ellen Karis: "Conservatives can be funny people," the Greek-American stand-up comedian told CNN on Thursday. She'll have a chance to prove that Friday at the Conservative Political Action Conference in Washington when she performs for conservative activists and former and current elected officials attending the annual conference.
Karis explained that she jokes about the same subjects as other comedians -- relationships, the oppressive nature of today's pop culture and what's in the news -- but through a conservative lens. She thinks she'll target Janet Reno, John Edwards and President Obama.
Karis told CNN that she was raised in New York, has an MBA and is a certified public accountant who worked for a big Wall Street accounting firm. "I loved all that, but I have a creative side," she said. "When you talk about the present value of an interest rate swap -- I mean, those meetings can be really dry."
She took an improv class 12 years ago, and an acting teacher suggested she try stand-up, which she's been doing for a decade now.
We asked her how she would fix the economy. Karis said, "I'm a very firm believer in tax relief. We need tax cuts. There are a lot of things in the tax code I could talk about, but it wouldn't be funny. And look, we owe all this money to China. I don't know about you, but I'm brushing up on my Mandarin."
Bernard Kerik: The former New York Police commissioner was sentenced to 48 months in jail Thursday after pleading guilty to charges of lying to Bush administration officials who vetted his unsuccessful 2004 nomination for homeland security secretary. The sentence, handed down by U.S. District Judge Stephen Robinson, exceeded the 27- to 33-month prison term federal prosecutors recommended.
"I make no excuses," Kerik said prior to sentencing. "I take full responsibility for my actions. I have learned from this. I know I will be punished, but I only wish you would allow me return to my wife and two little girls as soon as possible." CNN reports that Kerik, 54, pleaded guilty in November to tax fraud and six other felonies and has been under house arrest in Franklin Lakes, New Jersey, since then.
Kerik was New York police commissioner from 1998 to 2002, a tenure that included the September 11, 2001, attacks that destroyed the World Trade Center and killed more than 2,700 people. He spent a brief stint in Iraq training the country's police force after the U.S. invasion in 2003, and President Bush nominated him to be homeland security secretary in 2004.
However, Kerik withdrew from consideration after allegations surfaced that he had employed a nanny with a murky immigration status. In 2006, he pleaded guilty to accepting tens of thousands of dollars in gifts while he working as city corrections commissioner, but under his plea agreement, he paid $221,000 in fines and avoided jail time. His admission dogged the 2008 presidential campaign of his longtime patron, former New York Mayor Rudy Giuliani, who said his endorsement of Kerik had been "a mistake."
CNN: Kerik gets 4 years on felony charges
Prince Frederic Von Anhalt: The Duke of Saxony says on his Web site that he spent an hour and a half at the White House 25 years ago and had a five and a half minute conversation with President Reagan. He remembered that Reagan smiled and said, "Fred, You know a lot about politics. You should run for office one day."
On Wednesday, the 65-year-old filed launched his campaign to run for governor of California. Von Anhalt, who was born in Germany and is the ninth husband of actress Zsa Zsa Gabor, 93, did not reveal a party affiliation.
His platform: Promote the Good Life in California. He wants to legalize marijuana and tax it. He's calling for open borders to Mexico for workers and then he would tax them. He proposes mandatory solar panels on all buildings. He suggests overturning Proposition 8, which bans gay marriage in the state, and says, "Let them (gays) be as miserable as the rest of us." He wants to lift the import ban on Cuban cigars.
According to many news reports, in 2007 Von Anhalt announced he might have fathered a child with model Anna Nicole Smith. DNA testing proved that claim to be false. Later that year, police found him naked in his Rolls Royce. He said he had been robbed of jewelry and clothing by three women.
KCRA: Anger over DMV fees inspires run for governor
What makes a person intriguing?
There are people who enter the news cycle every day because their actions or decisions are new, important or different. Others are in the news because they are the ones those decisions affect. And there are a number of people who are so famous or controversial that anything they say or do becomes news.
Some of these people do what we expect of them: They run for office, pass legislation, start a business, get hired or fired, commit a crime, make an arrest, get in accidents, hit a home run, overthrow a government, fight wars, sue an opponent, put out fires, prepare for hurricanes and cavort with people other than their spouses. They do make news, but the action is usually more important than who is involved in the story.
But every day, there are a number of people who become fascinating to us -- by virtue of their character, how they reached their decision, how they behaved under pressure or because of the remarkable circumstances surrounding the event they are involved in.
They arouse our curiosity. We hear about them and want to know more. What they have done or said stimulates conversations across the country. At times, there is even a mystery about them. What they have done may be unique, heroic, cowardly or ghastly, but they capture our imaginations. We want to know what makes them tick, why they believe what they do, and why they did what they did. They intrigue us.