STORY HIGHLIGHTS
NEW: Remains of two people found in building; identities not released
Pilot appears to have burned his house, then crashed his plane into intentionally
A message on a Web site registered to pilot appears to be a suicide note
Witnesses said nearby buildings shook
(CNN) -- The remains of two people have been found in an Austin, Texas, building where a man crashed a small plane, authorities said.
The identities of the two dead people have not been confirmed, the Austin Fire Department said in a statement. Two other people who were injured in the incident were taken to a hospital, and 11 others were treated for minor injuries, Austin Police Chief Art Acevedo said.
Authorities said Andrew Joseph Stack III, 53, an Austin resident with an apparent grudge against the Internal Revenue Service, set his house on fire Thursday and then crashed a Piper Cherokee PA-28 into the building, which houses an IRS office with nearly 200 employees, federal officials said.
"This appears to be an intentional act by a sole individual," Acevedo said at a news conference.
A fire created by the crash had been put out, save for some small areas, officials said. Fire crews were expected to continue to work through the night.
Pilot: 'I have just had enough'
Clues about what led to Thursday incident were few, but attention was directed at a message on a Web site registered to Stack appears to be a suicide note.
"If you're reading this, you're no doubt asking yourself, 'Why did this have to happen?' " the message says. "The simple truth is that it is complicated and has been coming for a long time."
In the lengthy, rambling message, the writer rails against the government and, particularly, the IRS.
The building into which the airplane crashed is a federal IRS center with 199 employees.
"I saw it written once that the definition of insanity is repeating the same process over and over and expecting the outcome to suddenly be different," the online message says. "I am finally ready to stop this insanity. Well, Mr. Big Brother IRS man, let's try something different; take my pound of flesh and sleep well."
An IRS spokesman said the agency is prohibited by federal law from releasing or talking about any interactions or transactions they have had with Stack.

Video: Plane into Texas building

Video: Man rushes into burning building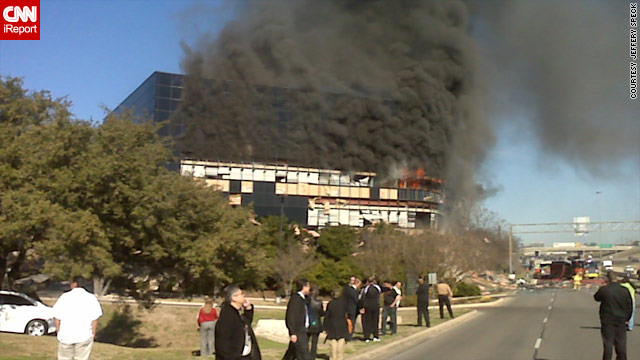 Gallery: Small plane crashes into building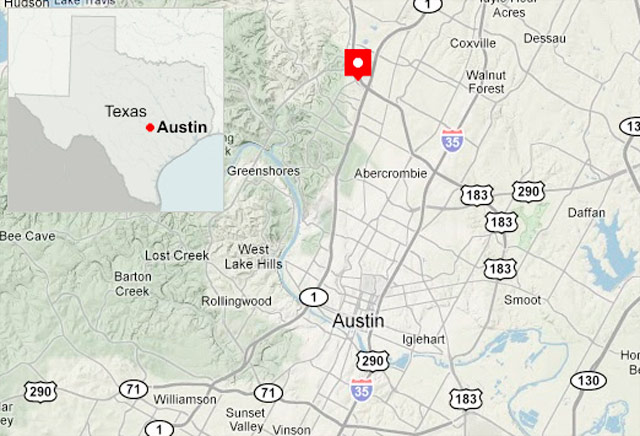 Interactive map of home, crash site
Two people, both males, were taken to University Medical Center Brackenridge, according to Matilda Sanchez, a spokeswoman for Seton Family of Hospitals, which runs the medical center.
One patient was treated and released later Thursday, Sanchez said. The other was transferred to Brooke Army Medical Center in San Antonio, Texas. The transferred patient suffered burns on 20 to 25 percent of his body, mostly on his back, she said. He is in serious and stable condition.
Austin Mayor Lee Leffingwell tried to calm any concerns residents could have about the crash and the huge fire, which he said was mostly contained.
"It is an isolated incident," the mayor said. "The people of Austin, the people of the nation, are in no danger whatsoever."
"There is evidence that the gas tank was just about full. ... That amount of gasoline ... can do a lot of damage," he said.
Witnesses said nearby buildings shook. Fire and smoke could be seen billowing into the sky.
See iReport photos and videos from the scene
"I just saw smoke and flames," said CNN iReporter Mike Ernest. "I could not believe what I was seeing. It was just smoke and flames everywhere."
The crash occurred around 10 a.m.
Firefighters used two ladder trucks and other equipment to hose down the blaze at the Echelon office building, which police said is in the 9400 block of Research Boulevard.
The flames seemed mostly extinguished about 75 minutes later.
The FAA said preliminary information indicated the plane departed Georgetown Municipal Airport north of Austin about 9:40 a.m.
Initial indications are that the flight originated there but there were conflicting reports, said Jack Lillis, an attendant at Georgetown airport.
The pilot evidently did not file a flight plan, the FAAsaid. No flight plan was required because flights Thursday morning were under visual flight rules, or VFR, because of clear weather.
Two F-16 fighter jets were sent from Houston as a precaution, but federal authorities said preliminary information did not indicate any terrorist connection.
"We do not yet know the cause of the plane crash," the Department of Homeland Security said in a release. "At this time, we have no reason to believe there is a nexus to terrorist activity. We continue to gather more information, and are aware there is additional information about the pilot's history."
CNN's Jeanne Meserve and Mallory Simon contributed to this report.