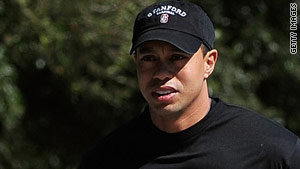 Tiger Woods suspended his golf career in early December after his car accident.
STORY HIGHLIGHTS
Tiger Woods to speak publicly for first time since accident
Lindsey Vonn skis through shin pain to claim downhill gold
125 years ago, readers first followed Huck Finn down the Mississippi
Editor's note: Every weekday, CNN focuses on a handful of people in the news. This is a chance to find out more about what they've done -- good or bad -- what they've said or what they believe, and why we think they're intriguing.
(CNN) -- Tiger Woods: He may be the greatest golfer now -- or ever. According to tigerwoods.com, Woods "has had an unprecedented career since becoming a professional golfer in the late summer of 1996. He has won 95 tournaments, 71 of those on the PGA Tour." This prowess made him one of the planet's most admired and wealthiest athletes. The Web site reports, "Tiger increased his record total on the PGA Tour career money list to $92,862,539, through 2009, and had won $111,433,044 worldwide."
After November 27, the world's relationship with the world's No. 1 golfer changed. The Florida Highway Patrol reported that Woods had lost control of his SUV outside of his home. His car had reportedly hit a fire hydrant and a tree. His wife, Elin Nordegren, said she had used a golf club to smash out the back window to free him. Officers arrived and found Woods on the ground.
A day after he paid his $164 traffic ticket, Woods' seemingly perfect world began to crumble under what would eventually become an avalanche of allegations of infidelity threatening his five-year marriage to Nordegren.
In early December, he posted a statement on his Web site. "I have let my family down and I regret those transgressions with all of my heart. I have not been true to my values and the behavior my family deserves," he wrote. He also posted these words: "Personal sins should not require press releases and problems within a family shouldn't have to mean public confessions."

Video: Woods to break silence

Video: Record day for U.S.
Wednesday, Woods' agent, Mark Steinberg, told CNN, "Tiger Woods will be speaking to a small group of friends, colleagues and close associates at 11 a.m. (EST) Friday at the TPC Sawgrass clubhouse in Ponte Vedra Beach, FL. Tiger plans to discuss his past and his future and he intends to apologize for his behavior."
CNN: Woods to speak publicly for first time since accident
Lindsey Vonn: Living up to her billing as the golden girl of the Winter Olympics, Vonn scored a dominant victory in the women's downhill at Whistler Creek on Wednesday. Vonn had been troubled by a shin injury in the buildup to the Games in Vancouver, British Columbia, but showed no ill effects with a blistering run of 1 minute 44.19 seconds to win her first Olympic medal of any color.
The Minnesotan -- the reigning world champion in the discipline and totally dominant on the World Cup circuit leading up to the Games -- demolished the time set by fellow American and silver medal winner Julia Mancuso by over half a second. "I dreamed about what this would feel like, but it is much better in real life," said the 25-year-old. Vonn is the first American woman ever to win Olympic downhill gold.
Her chances to win at all were put in doubt right before the Winter Games when she suffered a deep bruise during a training accident on February 2 in Austria. The Christian Science Monitor reported that Vonn said she dealt with her "excruciating" pain by applying a dairy product. "I put cheese on it to try to take the swelling out," she said -- specifically a German curd cheese called topfen.
CNN: Golden girl Vonn triumphs in women's downhill
Christian Science Monitor: Vonn's answer to shin injury: cheese
Phyllis Schlafly: The Conservative Political Action Conference begins today in Washington. During the next three days, attendees will hear from such conservative superstars as Rep. Michele Bachmann, Glenn Beck, Liz Cheney, Ann Coulter, Sen. Jim DeMint, Newt Gingrich, Wayne LaPierre, Rep. Ron Paul, Mitt Romney, Marco Rubio, Rick Santorum, J.C. Watts, George F. Will and many others. Today, one of the modern conservative movement's founding mothers, Phyllis Schlafly, will participate in a panel discussion, "Saving Freedom from The Enemies of Our Values."
According to the biography on her Web site, Schlafly started her pro-family volunteer organization -- now called Eagle Forum -- in 1972. She spent ten years battling what she called the "radical feminist movement" and was a main force in defeating the Equal Rights Amendment. At the age of 85, she still produces a monthly newsletter, a syndicated newspaper column, commentaries that air on hundreds of radio stations, and a syndicated radio talk show. And she's written or edited 20 books. The mother of six children, she was named Illinois Mother of the Year in 1992.
In 2009, TIME magazine asked her what her next cause would be. Schlafly said, "Well, I guess the next cause is to keep Obama from taking this country into socialism -- which means the government running everything, which means having everybody believe that the government can solve their problems. And of course I grew up during the Depression. We didn't have any of the handouts and we grew up to be the greatest generation."
Eagle Forum: Phyllis Schlafly bio
TIME: Q&A with Phyllis Schlafly
Alice Fogg: For the past 13 months, Fogg has been at her sewing machine in Naples, Maine, making pillows for U.S. soldiers in Afghanistan hospitals. We saw a report about Fogg by Adrienne Bennett of WABI-TV, so we just had to phone the energetic 82-year-old ourselves on Wednesday.
Fogg told us she has a friend whose son was a nurse in a military hospital in Afghanistan where there were some 1,000 wounded soldiers. So she had an exact address where she could send the pillows she makes by hand, sometimes using a 100-year-old Singer treadle sewing machine.
She has made some 1,600 pillows so far. Many times, the pillows are used to comfort wounded soldiers who must make a 10-hour trip from Afghanistan to a medical facility in West Germany.
Fogg has received many notes and cards from doctors, nurses, chaplains and soldiers. Air Force Lt. Col. Dr. B. Williams wrote, "Your homemade pillows made an experience for many young men and women more tolerable." He closed the letter with these words: "We promise to work hard and do our duty so that you and your family can sleep safely at night and live your lives as you desire as is our privilege as Americans."
Fogg says her father was in the Army, as was a brother. Another brother served in the Marines in World War II and a son was in Vietnam. Fogg says she will make the pillows as long as she is able. "I feel like I am worthwhile. I am doing something that's good, not just sitting around," she said.
WABI: Maine woman sends pillows to troops
Huck Finn: We've known the 14-year-old, pipe-smoking adventurer from the Mississippi Valley for 125 years. On February 18, 1885, "Adventures of Huckleberry Finn" was first published in the United States.
Samuel L. Clemens, writing under the pen name Mark Twain, had introduced readers to Tom Sawyer eight years earlier, and now it was time for Tom's unschooled buddy, Huck, to escape from his alcoholic father by faking his own death and travel the Mississippi River.
He took that journey with Jim, a slave running from his owner, Miss Watson. Twain wrote, in Huck's voice: "It's lovely to live on a raft. We had the sky up there, all speckled with stars, and we used to lay on our backs and look up at them, and discuss about whether they was made or only just happened."
Twain's manuscript -- all of his handwritten pages -- is kept in a vault at the Buffalo and Erie County Public Library in Buffalo, New York. But rare books clerk Peter Scheck told CNN that there's always a page or two on exhibit in the library's Mark Twain Room, and visitors can see Twain's writing -- mostly in black ink -- and the many corrections and notes he made to himself in the margins.
You can also see one of the reasons Huck Finn remains not only one of the greatest American novels, but still a controversial one. Twain refers to Jim by the N-word. Scheck says, "Mark Twain was living in a certain time, and to tell the story to the best of his ability, he needed to have his characters speak as people actually spoke. Twain was not a racist. He was just trying to recapture a dialect used 35 years before the book's action occurs." Not all scholars agree with that interpretation.
Buffalo and Erie County Public Library: Special collections
What makes a person intriguing?
There are people who enter the news cycle every day because their actions or decisions are new, important or different. Others are in the news because they are the ones those decisions affect. And there are a number of people who are so famous or controversial that anything they say or do becomes news.
Some of these people do what we expect of them: They run for office, pass legislation, start a business, get hired or fired, commit a crime, make an arrest, get in accidents, hit a home run, overthrow a government, fight wars, sue an opponent, put out fires, prepare for hurricanes and cavort with people other than their spouses. They do make news, but the action is usually more important than who is involved in the story.
But every day, there are a number of people who become fascinating to us -- by virtue of their character, how they reached their decision, how they behaved under pressure or because of the remarkable circumstances surrounding the event they are involved in.
They arouse our curiosity. We hear about them and want to know more. What they have done or said stimulates conversations across the country. At times, there is even a mystery about them. What they have done may be unique, heroic, cowardly or ghastly, but they capture our imaginations. We want to know what makes them tick, why they believe what they do, and why they did what they did. They intrigue us.
FOLLOW THIS TOPIC