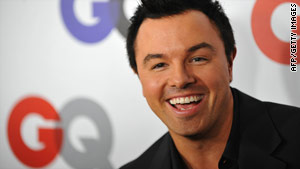 Seth MacFarlane is creator of the animated show "Family Guy," and voices several of its characters.
STORY HIGHLIGHTS
Sarah Palin reacts to 'Family Guy' creator for jokes about Down syndrome
President Obama to meet with Dalai Lama despite protests from China
Carly Simon hosts music video contest, but doesn't reveal who is "so vain"
Editor's note: Every weekday, CNN focuses on a handful of people in the news. This is a chance to find out more about what they've done -- good or bad -- what they've said or what they believe, and why we think they're intriguing.
(CNN) -- Seth MacFarlane: Sarah Palin expressed outrage at a Fox television program, created by MacFarlane, for joking about people with Down syndrome and making an apparent reference to her 22-month-old son, Trig, who has the genetic disorder.
The former Alaska governor said on her Facebook page that she was too angry to offer a coherent response, so she had her daughter Bristol release a full statement on the family's behalf.
The Palins directed their criticism at the prime-time Fox cartoon, "Family Guy." In Sunday's episode, a teenaged female character with Down syndrome told another character that "my mom is the former governor of Alaska." A song and dance routine by another character also used language that ridiculed people with disabilities.
According to the show's Web site, "Family Guy" earned an Emmy nomination in 2009 for Outstanding Comedy Series, "only the second animated series in television history to be honored with such distinction." On the show, MacFarlane performs the voices of the father, Peter Griffin, and his 1-year-old son, Stewie, who is, the Fox Web site reports, "a diabolically clever baby whose heterosexuality is hanging by a thread." MacFarlane is also the voice of the intellectually superior family dog.
The Web site Seth McFarlane Unlimited reports that MacFarlane began drawing cartoons at the age of 2 and is the recipient of two honorary degrees. While receiving the one from Harvard in 2006, he delivered the Class Day Speech playing the roles of several of the characters from "Family Guy." He also received a degree in 2007 from his alma mater, the Rhode Island School of Design.
CNN Political Ticker: Palin slams Fox's 'Family Guy'
Dalai Lama: The Tibetan spiritual leader is on his way to the United States for a number of speaking engagements and is scheduled to meet with President Obama on Thursday, even though China has warned that such a meeting would harm ties between it and the United States, a White House spokesman said on February 2.
"The president told China's leaders during his trip last year that he would meet with the Dalai Lama, and he intends to do so," Bill Burton told reporters earlier this month. China warned that ties between two of the world's superpowers would be strained if Obama met with the Dalai Lama. "It will seriously undermine the foundation of Sino-U.S. political relations," said Zhu Weiqun, a Communist Party official who is in charge of talks with representatives of the Dalai Lama.
Beijing accuses the Dalai Lama of advocating for Tibetan independence from China. In explaining Obama's intention to hold the meeting, Burton said the Dalai Lama "is an internationally respected religious and cultural leader, and the president will meet with him in that capacity." Tibet is technically autonomous from the central Chinese government, but the Dalai Lama and others have said they favor genuine autonomy and resent the slow erosion of their culture amid an influx of Han Chinese, the most numerous ethnic group in China. Zhu said there would be no compromise on China's control of Tibet.
The 14th Dalai Lama was born in July 1935. According to his official biography, the child named Lhamo Dhondup at that time was recognized at the age of 2 as the reincarnation of the 13th Dalai Lama. He went through years of monastic training and assumed political power in 1950, a year after China's invasion. The Dalai Lama ultimately fled China in 1959 after a failed uprising against Chinese rule. He lives in exile in the north Indian town of Dharamsala.
CNN: White House says Obama will meet with Dalai Lama
CNN: Discord over Dalai Lama

DalaiLama.com: A brief biography
Jesse Sullivan: The 25-year-old from Petersburg, Illinois, has been living for two weeks at the corner of Florida and North Capitol Avenues in Washington. He's been living there in a tent to show solidarity with Haitian families in crisis, he says, and to remind people that emergency shelter is still sorely needed for victims of the January 12 earthquake.
When CNN reached him by phone in his tent Tuesday, he explained that he was recently in Washington to figure out how to work in Afghanistan, but realized that the situation in Haiti was a more pressing need. So he went to the Haitian Embassy to volunteer in any way he could. He says a minister at the embassy came up with the official-sounding title "special assistant to the Haitian Embassy for relief and reconstruction," which Sullivan now uses informally.
When he passed a nearby statue of the Indian political and spiritual leader Mahatma Gandhi, Sullivan read the inscription, "My Life is My Message," and the idea of staying in the tent came to him. Sullivan, who has a master's degree in global governance and diplomacy from The University of Oxford in England, says he plans to live in the tent for at least one month. "If I can still be effective, I'll stay there for a year."
The tent is pitched in the private parking lot of a pizza restaurant with the permission of its owner. Sullivan told CNN, "The police stop by to make sure I'm OK and not too crazy." He says his parents are a bit concerned, yet somewhat relieved. "My initial plan was to head to Afghanistan, but for my dad and mom, anything that's not Afghanistan makes them pretty happy."
Next week, Sullivan plans to hold a news conference at his tent to announce his "Live for Haiti" campaign. He said, "It's not about us saving Haiti. This crisis has the opportunity that Haiti is going to save us from a narrow American dream -- one that doesn't recognize that we are connected to people around the world."
Samuel J. Wurzelbacher aka Joe the Plumber: Just when you think someone's 15 minutes of fame are up, politics manages to reset the clock. Wurzelbacher, who gained notoriety during the last presidential campaign as "Joe the Plumber," spoke this past weekend in Harrisburg, Pennsylvania, at an event on behalf of state Rep. Sam Roher, who is running for governor.
Scott Detrow of Pennsylvania's Public Radio Capitol News reports that Wurzelbacher told him that more than 200 politicians wanted his support, but he's backed only five so far. He's now supporting grass-roots Tea Party movements. During his speech, Wurzelbacher said he doesn't support Sarah Palin any more because the former Alaska governor is backing Sen. John McCain's re-election effort. "John McCain is no public servant," he told the room, calling McCain a career politician.
When Detrow pointed out that without McCain, he'd just be plain old Sam Wurzelbacher of Ohio -- Joe the Plumber wouldn't exist -- his response was, "I don't owe him s---. He really screwed my life up, is how I look at it." Wurzelbacher told the reporter, "McCain was trying to use me. I happened to be the face of Middle Americans. It was a ploy." Wurzelbacher first gained fame in 2008 when he told candidate Barack Obama that he was worried that rolling back President Bush's tax breaks would prevent him from buying a plumbing company that would earn between $250,000 and $280,000 a year. Joe the Plumber was born.
State House Sound Bites: A few minutes with Joe the Plumber
Carly Simon: "You're so vain, you probably think this song is about you / You're so vain, I'll bet you think this song is about you / Don't you? Don't you?" Thirty-seven years ago, Simon's song was No. 1 and she had just married singer-songwriter James Taylor. So everyone wanted to know: Who is the subject of the song? Who is that vain?
All these years later, people still want to know. Simon has never revealed the answer. But at Carlysimon.com, she does list some of her former boyfriends: Mick Jagger, Cat Stevens, Warren Beatty, Kris Kristofferson. Simon has also never made a music video of the song. (For purists, Janet Jackson did sample "You're So Vain" in her 2001 music video, "Son of A Gun.")
Simon has just announced a contest on the Web site, inviting fans and filmmakers to create a music video, using the original or new version of her song. She will screen all entries herself, select a winner, and meet the filmmaker -- whose winning entry will also be premiered at the 2010 Tribeca Film Festival.
Simon says she has always been amazed by the attention given to the mystery person in the song. In 2004, she gave hints to CNN: "Well, I guess for those who are interested in clues -- the name of the person it was about had an E in it." That could indicate Jagger, Beatty or James Taylor. She continued, "Maybe I could disclose another letter. OK, it also has an A." In announcing the music video contest, Simon does not indicate that she will ever reveal the name.
What makes a person intriguing?
There are people who enter the news cycle every day because their actions or decisions are new, important or different. Others are in the news because they are the ones those decisions affect. And there are a number of people who are so famous or controversial that anything they say or do becomes news.
Some of these people do what we expect of them: They run for office, pass legislation, start a business, get hired or fired, commit a crime, make an arrest, get in accidents, hit a home run, overthrow a government, fight wars, sue an opponent, put out fires, prepare for hurricanes and cavort with people other than their spouses. They do make news, but the action is usually more important than who is involved in the story.
But every day, there are a number of people who become fascinating to us -- by virtue of their character, how they reached their decision, how they behaved under pressure or because of the remarkable circumstances surrounding the event they are involved in.
They arouse our curiosity. We hear about them and want to know more. What they have done or said stimulates conversations across the country. At times, there is even a mystery about them. What they have done may be unique, heroic, cowardly or ghastly, but they capture our imaginations. We want to know what makes them tick, why they believe what they do, and why they did what they did. They intrigue us.
FOLLOW THIS TOPIC