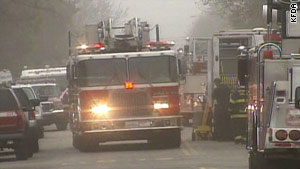 Two houses and several vehicles were damaged by fire after the plane crashed in East Palo Alto, officials say.
STORY HIGHLIGHTS
Plane crashes into East Palo Alto, California, neighborhood, fire chief says

Three deaths on the plane; no one injured on ground, chief says

Plane took off from Palo Alto Airport in foggy conditions before crash, official says

Day care center in one house hit, but no children were there, he says

(CNN) -- All three people on board a twin-engine plane died Wednesday when their aircraft crashed into a residential East Palo Alto, California, neighborhood, a spokesman with the Federal Aviation Administration said.
The victims were employees of Tesla Motors, a luxury electric car company.
"Three Tesla employees were on board a plane that crashed in East Palo Alto early this morning. We are withholding their identities as we work with the relevant authorities to notify the families," said CEO Elon Musk in a statement. "Our thoughts and prayers are with them. Tesla is a small, tightly knit company, and this is a tragic day for us."
The Cessna 310 took off from Palo Alto Airport at 7:53 a.m., FAA spokesman Ian Gregor said. During takeoff, the plane struck 60-foot high power lines, forcing the plane down onto a driveway, said Josh Cawthra, a National Transportation Safety Board aviation accident investigator.
Four homes were affected, and two had fire damage, Menlo Park Fire Chief Harold Schapelhouman said at a press conference.

Video: Neighbors react to plane crash
A day care in a house sustained heavy damage when the plane went down, East Palo Alto Police Capt. Carl Estelle said. No children were there at the time.
The craft's fuselage landed in a house's yard, sparking a fire that destroyed several vehicles, Estelle said. One of the engines fell elsewhere in the neighborhood, apparently hitting the rear overhang of a yard, he said.
"Miraculously, incredibly, no one was injured on the ground," Schapelhouman said.
The crash site was about one mile northeast of the airport, he said. The travelers were headed to Hawthorne Municipal Airport in Hawthorne, California, more than 350 miles south, according to Gregor.
Gregor noted foggy conditions, but said it was not known if the weather played a role in the accident. Gregor said the cause of the crash was unknown.
Patricia Armistad said she lives maybe four or five houses from the impact site.
"I heard a loud bang and when I went to my bedroom window I felt a big hit, like an earthquake," she said.
She ran outside into the thick fog and immediately saw neighbors rushing to help, she said. Residents pulled people from the damaged houses and used their garden hoses to extinguish fires, she said.
iReport: More photos from the scene
The crash triggered a massive power outage in the area.
In addition to transmission lines, the aircraft also struck a transmission tower, Pacific Gas and Electric spokesman Joe Molica said.
The tower and lines run electricity into neighboring Palo Alto, he said.
Some 28,000 customers lost electricity, but power had been restored to all by 6:15 p.m., according to the City of Palo Alto Web site.
CNN's Khadijah Rentas contributed to this report.