Rescuers seek hiker who fell into Mount St. Helens crater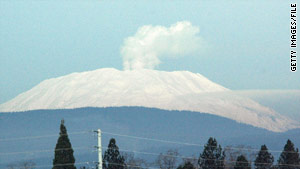 The hiker, 50, fell into Mount St. Helens' crater when a cornice he was standing on gave way, an undersheriff says.
STORY HIGHLIGHTS
NEW: Rescue efforts suspended Monday night, will resume Tuesday
Man was standing on crater's edge when cornice gave way, authorities say
Hiker, 50, believed to have fallen 500 feet onto 45-degree snow slope
Helicopter pilots believe they saw the hiker moving
(CNN) -- Rescue crews in Washington state will try again Tuesday to get to a hiker who fell 500 feet into the crater of Mount St. Helens volcano.
The 50-year-old hiker was with another hiker Monday afternoon at the summit, near the edge of the crater, when the accident happened, according to Dave Cox, public information officer with the Skamania County, Washington, Sheriff's Department.
"The climber was standing on a cornice of snow on the edge of the crater, about 5 feet from the actual edge itself, and the cornice gave way and he fell into the crater," Cox said.
The man did not fall completely down to the crater bottom, Cox said, adding, "He's up on a 45-degree snow slope."
Rescue efforts were suspended Monday night because of darkness, air turbulence and falling rocks, according to Cox.
Helicopter pilots on Monday believe they saw the hiker moving. "They thought they saw his head moving around, and a climber on the rim thought [he] heard an emergency whistle blowing," Cox said.
"We just hope his injuries are such that he can hang on long enough for us to get help to him and get him out of there."
A rescue helicopter with the U.S. Coast Guard in Astoria, Oregon, was called to assist.
Cox said emergency personnel were able to put a medic on the crater floor early in the rescue effort Monday, with the plan that the medic would climb up to the hiker. Falling rocks and high winds prevented the climb, Cox said, and the medic was pulled out for his safety.
Mount St. Helens is an active volcano. The Mount St. Helens climbing update page on the Gifford Pinchot National Forest's Web site warns of unstable cornices on the crater rim. Thousands of climbers make the journey to the crater rim every year, according to the Web site, and people wanting to climb above 4,800 feet are required to get permits.
A major eruption at Mount St. Helens on May 18, 1980, leveled nearly 150 square miles of forest and killed 57 people.