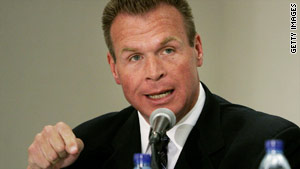 Former Rep. J.D. Hayworth is challenging John McCain for his U.S. Senate seat.
STORY HIGHLIGHTS
Former congressman, current radio host, running against Sen. John McCain
White House staffer named special envoy to Organization of the Islamic Conference
Director Kevin Smith taunts Southwest Airlines on Twitter
Editor's note: Every weekday, CNN focuses on a handful of people in the news. This is a chance to find out more about what they've done -- good or bad -- what they've said or what they believe, and why we think they're intriguing.
(CNN) -- J.D. Hayworth: The Scottsdale, Arizona, radio host and commentator and former congressman is scheduled to announce today that he will challenge 24-year incumbent Sen. John McCain in the Republican primary in August. McCain is running for a fifth Senate term.
According to Hayworth's Web site, he wants "to replace the moderate McCain with his consistent conservatism." The Web site also displays a letter of support for Hayworth from Maricopa County Sheriff Joe Arpaio, who has gained national attention for his views on illegal immigration and has launched a fundraising campaign to help Hayworth.
The New York Times reports that Hayworth campaigned for McCain when he ran for president in 2000, but after the election, they found they had different positions on issues. According to the newspaper, Hayworth, who served six terms in Congress, said of McCain, "We all admire and respect John for his service, but he's been there too long, and it's time to welcome him back home."
New York Times: From right of radio dial, a challenge to McCain
J.D. Hayworth's campaign Web site
Rashad Hussain: On Saturday, President Obama appointed Hussain to serve as his special envoy to the Organization of the Islamic Conference. Whitehouse.gov explains that the OIC is made up of over 50 member states, and is the second-largest intergovernmental organization in the world.
It will be Hussain's job to "deepen and expand the partnerships that the United States has pursued with Muslims around the world since President Obama's speech in Cairo last June." According to the news release, Hussain is currently deputy associate counsel to Obama, and worked on national security, new media, and science and technology issues.
Obama called Hussain "an accomplished lawyer and a close and trusted member of my White House staff." He added, "As a hafiz of the Qur'an, he is a respected member of the American Muslim community." A hafiz -- meaning guardian -- is a Muslim term for those who have completely memorized the Quran, approximately 6,200 verses.
Hussain has degrees from Yale, The Kennedy School of Government, Harvard and the University of North Carolina at Chapel Hill. The Muslim Media Network reports that Hussain received highest honors for his philosophy thesis titled "Assessing the Theistic Implications of Big Bang Cosmological Theory." We're just guessing that has to do with God's role in the creation of the universe, which scientists theorize began as a really tiny, infinitely hot, unbelievably dense hunk of something around 13.7 billion years ago.
White House: Obama announces special envoy to OIC
Muslim Media Network: Profile of Rashad Hussain
Danica Patrick: During one of racing's most anticipated NASCAR debuts this past weekend, Patrick's Nationwide Series race at Daytona International Speedway ended in a 12-car wreck, heavily damaging her Chevrolet. But even though the IndyCar star ended up 35th in the race -- out of 43 -- she has 12 more Nationwide Series races this year, meaning that the frenzy of media attention and the adoration of her fans will likely continue, The Kansas City Star reports.
In a Playboy magazine interview, Patrick explained that when she was 10 years old, she began racing go-karts with lawn mower engines. At 16, she moved to England to prove herself. David Letterman was co-owner of her first Indy team and in her first Indy race in 2005, after another driver caught the rear of her car, she shot straight into the wall and her car caught fire.
According to the interview, Patrick was the fourth woman ever to race in the Indianapolis 500, where she led for 19 laps and finished in fourth place -- both records for a woman driver. "When I was younger I felt uncomfortable because I didn't want people to look at me and think, 'she's just some girl,' and write me off before they gave me a chance. There's nothing I can't do in a race car because I'm a girl," she said. "These days I love being a girl."
Kansas City Star: Patrick's NASCAR debut ends in 12-car wreck
Playboy: Danica Patrick interview
Amy Bishop Anderson: The biology professor -- charged in the shooting deaths Friday of three faculty members at the University of Alabama in Huntsville -- fatally shot her brother more than 23 years ago, police said Saturday. Anderson, who was then known as Amy Bishop, was never charged in her brother's death, said Braintree, Massachusetts, Police Chief Paul Frazier.
Police records detailing the 1986 incident are missing, and a log of the incident lists it as an accidental shooting, he said. It is difficult to determine from various interviews given by family and police whether the shooting in 1986 was the result of an accident or an argument. Adding to the intrigue, The Boston Globe reports that the suspect and her husband, James E. Anderson, were questioned in 1993 after a Harvard Medical School professor received a package at home containing two pipe bombs.
Anderson told The New York Times that he and his wife were "subjects" of the investigation, not "suspects," and were later cleared in that incident. In addition to the three deaths on Friday, three others at the university were wounded. Amy Bishop Anderson had been working there since 2003 and was up for tenure, university spokesman Ray Garner said. However, authorities wouldn't discuss possible motives or whether the issue of tenure may have played a role in the shooting.
CNN: Police say shooting suspect killed her brother in 1986
Boston Globe: Alabama suspect was questioned in bomb case
New York Times: Twists multiply in Alabama shooting case
Kevin Smith: The comically gifted and portly director of such films as "Clerks," "Jay & Silent Bob" and "Chasing Amy" intended to fly from Oakland, California, to Burbank, California, on Saturday night, but the Huffington Post reports that he was ejected from his plane after Southwest Airlines employees judged him a safety risk.
Smith documented his adventure through repeated Twitter messages, including "I'm way fat... But I'm not THERE just yet." He continued, "But if I am why wait til my bag is up, and I'm seated WITH ARM RESTS DOWN. In front of a packed plane with a bunch of folks who'd already I.d.ed me as 'Silent Bob.' "
The Huffington Post reports that Southwest has a "customer size policy" requiring larger passengers to buy two seats if they can't fit between the arm rests of one. The airline put the director on a different flight and gave him a $100 voucher, but he continued to tweet: "Hey @SouthwestAir! Look how fat I am on your plane! Quick! Throw me off!" A customer relations officer from Southwest tweeted an apology and promised to contact Smith.
Huffington Post: Director Kevin Smith 'too fat' to fly Southwest
What makes a person intriguing?
There are people who enter the news cycle every day because their actions or decisions are new, important or different. Others are in the news because they are the ones those decisions affect. And there are a number of people who are so famous or controversial that anything they say or do becomes news.
Some of these people do what we expect of them: They run for office, pass legislation, start a business, get hired or fired, commit a crime, make an arrest, get in accidents, hit a home run, overthrow a government, fight wars, sue an opponent, put out fires, prepare for hurricanes and cavort with people other than their spouses. They do make news, but the action is usually more important than who is involved in the story.
But every day, there are a number of people who become fascinating to us -- by virtue of their character, how they reached their decision, how they behaved under pressure or because of the remarkable circumstances surrounding the event they are involved in.
They arouse our curiosity. We hear about them and want to know more. What they have done or said stimulates conversations across the country. At times, there is even a mystery about them. What they have done may be unique, heroic, cowardly or ghastly, but they capture our imaginations. We want to know what makes them tick, why they believe what they do, and why they did what they did. They intrigue us.
FOLLOW THIS TOPIC