ConocoPhillips Alaska president killed in avalanche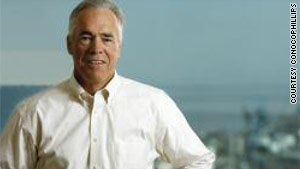 Jim Bowles was killed Saturday in an avalanche.
STORY HIGHLIGHTS
Avalanche that killed Jim Bowles happened near Spencer Glacier
Friends in his snowmobiling party tried to perform CPR
Second avalanche, miles away, buried skier, police said
(CNN) -- The president of ConocoPhillips Alaska was killed in an avalanche and another person in his snowmobiling party is missing, according to Alaska State Troopers.
Rescuers recovered the body of Jim Bowles near Spencer Glacier shortly after police received a 911 call at 12:30 p.m. Saturday, said troopers spokesperson Megan Peters.
"When he was found CPR was attempted but [he] could not be revived," she said.
Bowles, 57, was apparently out with friends snowmobiling in the Grandview wilderness area. Rescuers are trying to find Alan Gage, who is thought to have been buried in the avalanche, Peters said.
Bowles was the head of Alaska operations for the oil company.
"He was a very avid outdoorsman and sportsman, an athlete," said longtime friend Randy Hagenstein, the executive director of Alaska's Nature Conservancy. Bowles served on the board, helping the organization with fundraising and strategy.
"He told me a few weeks ago that he and a bunch of buddies had been doing some snow machining and he was hoping to do more," said Hagenstein. "He loved Alaska. He loved being out there."
Alaska Gov. Sean Parnell issued a statement saying he and his wife Sandy "were deeply saddened" to hear about Bowles' death.
"Jim brought so much to our state: his love of the great outdoors, his leadership of ConocoPhillips Alaska, and his dedication to making Alaska a better place for all of us to call home," the statement read.
In a separate incident, miles from Spencer, another avalanche killed a skier Saturday afternoon. A woman who saw the accident called 911 while her husband was able to locate the skier's body. A dog accompanying the skier survived the avalanche, authorities said.
Between mid-February and mid-March warm temperatures cause layers of snow to become unstable.