Toyota recalls 8,000 Tacoma trucks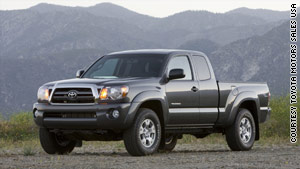 Toyota says 8,000 of its 2010 Tacoma pickups may have a faulty drive shaft.
STORY HIGHLIGHTS
Four-wheel-drive pickups from small production run may have problem
Front drive shaft may develop cracks, company says
Inspection, replacement to be done at no cost to consumer
Company already stung by recalls for accelerator, braking problems
(CNN) -- Toyota announced a voluntary safety recall of about 8,000 four-wheel-drive Tacoma trucks in North America, citing potential production defects in the front drive shaft of certain 2010 models.
The automaker said Friday that the front shaft in a small production run of pickups may include a component that developed cracks during the manufacturing process.
As the vehicles are used, the cracks could lead to "the separation of the drive shaft at the joint portion."
Toyota said the safety inspection and replacement will be performed at no cost.
On Tuesday, Toyota President Akio Toyoda issued an apology with the announcement of a global recall of more than 400,000 hybrid models for 2010, including the widely popular Prius, because of braking problems.
"Quality is our lifeline for Toyota," and the company will work to recover its customers' trust, Toyoda said. The company has recalled about 8 million vehicles worldwide.

Video: Mr. Toyoda goes to Washington

Video: Cars hard to turn off
Experts say Toyota has lost control of its message and needs to try to get it back during Washington hearings. Toyoda will testify before U.S. congressional committees if required, Japan's Kyodo News Agency reported.
The House of Representatives has scheduled committee hearings this month, and Senate hearings are scheduled to begin on March 2. So far, only Yoshimi Inaba, president of Toyota Motor North America, has been invited to testify, according to Kyodo.