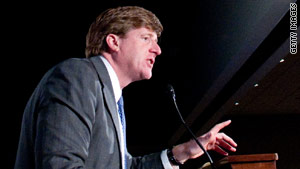 Rep. Patrick Kennedy said he will not run for re-election when his eighth congressional term expires.
STORY HIGHLIGHTS
After eight terms, Rep. Patrick Kennedy says he won't run for re-election
Olympian with most luge medals for U.S. will carry flag at opening ceremonies
Pilot who first broke the sound barrier celebrates 87th birthday tomorrow
Editor's note: Every weekday, CNN focuses on a handful of people in the news. This is a chance to find out more about what they've done -- good or bad -- what they've said or what they believe, and why we think they're intriguing.
(CNN) -- Rep. Patrick Kennedy: The Rhode Island Democrat announced that he is not running for re-election. Kennedy released a video to his constituents on Thursday. "Having spent two decades in politics, my life is taking a new direction, and I will not be a candidate for re-election this year," he said. "Going forward, I will continue many of the fights we've waged together, particularly on behalf of those suffering from depression, addiction, autism and post-traumatic stress disorder. I'm so grateful to the people of Rhode Island. When I made missteps or suffered setbacks, you responded not with contempt but with compassion." The 42-year-old representative is in his eighth term in office. When he retires, it will mark the first time in nearly five decades that a Kennedy will not be serving in Congress. Patrick is the youngest of three children of the late Sen. Edward M. Kennedy. Patrick Kennedy eulogized his father last August, and remembered Ted Kennedy's self-deprecating sense of humor: "When he first got elected and my cousin Joe was a member of Congress and I came to Congress, dad finally celebrated saying: finally after all these years, when someone says, 'Who does that damn Kennedy think he is?'-- there's only a one in three chance they're talking about me."
CNN Political Ticker: Rep. Kennedy not running for re-election
Mark Grimmette: Tonight at the winter games opening ceremonies in Vancouver, Canada, five-time Olympian Mark Grimmette of Muskegon, Michigan, will carry the U.S. flag. The Los Angeles Times reports that the honor usually goes to an athlete "who has persevered through hardship or shown extreme dedication," and that aptly describes Grimmette, who has excelled at the somewhat low-profile and moderately-glamorous sport of luge. He has won more international medals than any other Americans who luge -- 65 medals in all. Among them, a silver medal at the 2002 Olympics in Salt Lake City, Utah, and a bronze at the 1998 Olympics in Nagano, Japan. How Stuff Works explains that luge is one of the most dangerous Olympic sports, involving a race along an icy, high-banked track at speeds up to 90 mph. The sled is usually custom-built for each athlete based on his or her size, and supports the athlete from his or her shoulders to the knees, with no head bracket. The Los Angeles Times also reports that other U.S. Olympians voted to confer the flag-bearing honor on Grimmette. According to his team biography, he was born in January 1971, his favorite television show is "Stargate SG-1" and his favorite book is "Lord of the Rings" by J.R.R. Tolkein.
L.A. Times: Born to luge and carry the flag
USA Luge: Mark Grimette profile
Cheryl Hayashi: Every year, some really smart people gather for four days to hear some 50 talks about the future. Some of the world's leading thinkers, scientists, CEOs and designers--including Microsoft founder Bill Gates and "Avatar" director James Cameron--have gathered in Long Beach, California for this year's invitation-only TED conference -- TED standing for Technology, Entertainment and Design. University of California at Riverside biology professor Cheryl Hayashi spoke this week about spiders and the strength of the silk they produce. According to WIRED magazine, Hayashi received a 2007 John D. and Catherine T. MacArthur "genius" grant for her research into the properties of spider silk and ways to replicate it. She told the magazine, "Some spider silks are really strong, but not all of them are. The ones that are really strong can actually rival steel and approach the tensile strength of Kevlar." She explained that spider silk might one day help safeguard soldiers. "The kinds of products that are possible are bulletproof vests or other kinds of body armor or equipment armor." Hayashi added that this technology is several years away. In an e-mail to CNN yesterday, Hayashi said that after her TED presentation, she faced a number of provocative questions from attendees, such as, "How can spiders be engineered to build different web designs?" and "Do spiders have personalities?" We did not ask if she's a fan of Peter Parker.
Wired: Hayashi: Smooth -- and strong -- as silk
Lee A. Archer, Jr.: The black World War II fighter pilot is scheduled to be buried today at Arlington National Cemetery. According to The New York Times, Archer died on January 27 in Manhattan at the age of 90. While military historians debate whether or not Archer was indeed the first black flying "ace" -- meaning five downed planes -- the newspaper reports that he is credited with bringing down at least four enemy aircraft, which included three German planes on a single day in October 1944. Archer flew with the famed Tuskegee Airmen -- the segregated group of pilots who demonstrated that black fighters were of equal stature and bravery to their white counterparts. "I flew 169 combat missions when most pilots were flying 50," Archer told The Chicago Tribune in 2004. "When I came back to the U.S. and down that gangplank, there was a sign at the bottom: 'Colored Troops to the Right, White Troops to the Left.' "
N.Y. Times: Tuskegee fighter pilot dies at 90
Charles "Chuck" Yeager: The first person to break the sound barrier celebrates his 87th birthday on Saturday. According to the U.S. Centennial of Flight Commission, after flying 64 Air Force missions during World War II, Yeager became a test pilot, evaluating the most advanced experimental planes. On October 14, 1947, he piloted the X-1 past the speed of sound -- or Mach One. On that day, he flew faster than any human being ever had. After years of flying and combat missions, Yeager retired from the Air Force in 1975. A year later, he received the Congressional Medal of Honor for his first record-breaking flight. In 1984, actor Sam Shepard portrayed him in the film, "The Right Stuff." In 1985, President Ronald Reagan gave him the Presidential Medal of Freedom. On the 50th anniversary of his X-1 flight, Yeager broke the sound barrier again in an Air Force F-15. Today, Yeager still flies light planes, hunts, fishes, hikes and manages his timber. Yesterday, Gen. Yeager told CNN, "You know, flying is what I've been doing for 67 years. You look around and when the machinery's working good, I feel good." But he said that the best part of flying is "walking away from the airplane."
U.S. Centennial of Flight Commission: Chuck Yeager
What makes a person intriguing?
There are people who enter the news cycle every day because their actions or decisions are new, important or different. Others are in the news because they are the ones those decisions affect. And there are a number of people who are so famous or controversial that anything they say or do becomes news.
Some of these people do what we expect of them: They run for office, pass legislation, start a business, get hired or fired, commit a crime, make an arrest, get in accidents, hit a home run, overthrow a government, fight wars, sue an opponent, put out fires, prepare for hurricanes and cavort with people other than their spouses. They do make news, but the action is usually more important than who is involved in the story.
But every day, there are a number of people who become fascinating to us -- by virtue of their character, how they reached their decision, how they behaved under pressure or because of the remarkable circumstances surrounding the event they are involved in.
They arouse our curiosity. We hear about them and want to know more. What they have done or said stimulates conversations across the country. At times, there is even a mystery about them. What they have done may be unique, heroic, cowardly or ghastly, but they capture our imaginations. We want to know what makes them tick, why they believe what they do, and why they did what they did. They intrigue us.
FOLLOW THIS TOPIC