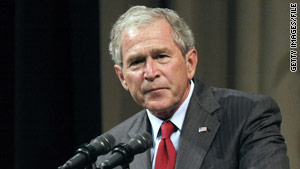 President Bush is the subject of a Minnesota billboard, paid for by anonymous business owners.
STORY HIGHLIGHTS
Minnesota billboard asks if President Bush is missed
Scientist sues Louisiana State University over dismissal
22-year-old is Sports Illustrated swimsuit Issue cover model
Editor's note: Every weekday, CNN focuses on a handful of people in the news. This is a chance to find out more about what they've done -- good or bad -- what they've said or what they believe, and why we think they're intriguing.
(CNN) -- President George W. Bush: The 43rd president of the United States is back -- on a billboard on Interstate 35 near the town of Wyoming, Minnesota.
The smiling and waving president is paired with just three words: "Miss Me Yet?" KARE TV reports that Wyoming Mayor Sheldon Anderson said, "It's really got people's attention. It's making them think."
The Republican mayor also said, "I think it's time government stayed out of the pockets of the people and is this billboard getting that message across? I don't know, but it certainly isn't hurting."
The TV station reached an office manager at Schubert & Hoey Outdoor Advertising in Minneapolis, Minnesota, who said a group of small business owners and others in the Twin Cities area paid for the billboard. They prefer to remain anonymous. It's scheduled to stay up until the end of the month.

Video: Bush billboard mystery
According to his official biography on whitehouse.gov, "President Bush cut taxes for every federal income taxpayer, which helped set off an unprecedented 52 straight months of job creation. And President Bush modernized Medicare by adding a prescription drug benefit, a reform that provided access to needed medicine for 40 million seniors and other beneficiaries."
KARE: George Bush pops up on Minnesota billboard
White House: George W. Bush biography
Dr. Ivor van Heerden: The former deputy director of the LSU Hurricane Center, plans to file a lawsuit against Louisiana State University and school officials.
Baton Rouge, Louisiana's, newspaper The Advocate and WBRZ-TV report that at a news conference today, van Heerden will allege wrongful termination after he claimed the U.S. Army Corps of Engineers had poorly designed levees and floodwalls that failed after Hurricane Katrina. Van Heerden published his findings in 2006 in the book "The Storm: What Went Wrong and Why During Hurricane Katrina -- The Inside Story from One Louisiana Scientist."
In the book, the scientist says LSU attempted to curb his academic freedom and his public appearances. The Times-Picayune reported that van Heerden said LSU planned to terminate him as a research professor in May. According to the newspaper, in November 2005 van Heerden said school officials told him to stop talking to the media because it threatened the university's ability to get research funding from the U.S. government.
But the Times-Picayune reported that it received a letter in June 2006 from former LSU vice chancellor for communications Michael Ruffner with a different explanation. "During fall 2005 an issue with Professor van Heerden arose relating to his technical and professional expertise to comment on levees and construction matters because he is trained in geology and botany, and not civil engineering," Ruffner wrote.
Times-Picayune: Scientist who pointed fingers in levee failures fired
The Advocate: Ex-hurricane center expert plans suit against LSU
Rocher Joseph-Michelet: When the earth started to shake on January 12, Joseph-Michelet was in his tiny, one-room apartment, composing lyrics for the upcoming Carnivale in Port-au-Prince, Haiti. CNN reported that he ran out the door to find a two-story building crumbling and falling in his direction.
In heavily accented English, peppered with American slang, Joseph-Michelet described how he was all but buried under the rubble and then rescued by members of his hip-hop group.
"Thanks to God, thanks to my friends," he said. "I'm so proud it's them come to save me." Joseph-Michelet is better known by his stage name "MRJ." He is a member of a neighborhood hip-hop group Sekte Atis Lib, or S.A.L. They are six childhood friends who rap in Creole. Before the earthquake, only one member of S.A.L. had a full-time job, working at a juice factory. The others were unemployed artists, filming music videos on shoe-string budgets, all victims of Haiti's impoverished economy.
Since the disaster these young men have carried corpses, cared for wounded friends and relatives and become leaders of their displaced and desperate community. They are also trying to write new lyrics to explain this life-changing ordeal.
MRJ told CNN that his group went back into the studio this week to record their next track, "Haiti toujou la" meaning "Haiti will always live." MRJ said his group wants to remain active in the community to calm spirits and use their music to inform and educate. "This is a natural disaster that could have happened anywhere, and the people of Haiti need to remain focused on rebuilding." He said S.A.L. is "upbeat and remain positive about Haiti's future."
CNN: Musicians raise spirits in Haiti disaster
Lt. Dan Choi (update): Last month, President Obama asked Congress to repeal the military's "don't ask, don't tell" policy, which bans military recruiters or authorities from asking about an individual's sexual orientation but also prohibits a service member from revealing that he or she is gay.
Lt. Choi came out on television in 2009. Six years earlier, Choi had graduated from the U.S. Military Academy at West Point, New York, and was an infantry officer for 15 months in Iraq in 2006 and 2007. He told CNN that when fellow soldiers asked about his love life, he would lie and make references to "my girlfriend."
After active duty, the Arab linguist transferred to the New York National Guard. Soon after he came out, Choi received a letter of discharge under the military's "don't ask, don't tell" policy. Later, a Guard panel recommended his discharge. Choi became a visible activist. Yesterday, Jeff Chang of the Bilerico Project -- a lesbian, gay, bisexual, transgender Web site -- reported that Lt. Choi is back in uniform. Choi told CNN that his National Guard commander called and said he wanted him back, and Choi spent the past weekend reviewing basic infantry skills with his unit.
"It's sort of like being home for Thanksgiving, and I got to thank all of the soldiers who wrote letters of support for me," he said. "It's amazing."
The Bilerico Project: Lt. Dan Choi back in service?
Brooklyn Decker: She is blonde, and she is smiling, but not in a naughty way. In an All-American and knowing way. She is standing in perfect blue-green Maldives water, which touches what there is of her yellow bikini bottom. Her skin is unblemished. Her left arm crosses her chest, which is a good thing, as the top of her bikini has somehow come undone, and rests casually untied over her left shoulder.
She is 22-years-old and Sports Illustrated has put her on the cover of its new 2010 Swimsuit Issue. This is the fifth time she's been in the highly anticipated magazine, the annual issue that may or may not have something to do with sports.
The magazine reports that Decker is 22, was born in Middletown, Ohio, and grew up in Charlotte, North Carolina. She was discovered at the age of 16 in a mall and since then has been featured in many fashion magazines, clothing ads and a few music videos. TV Guide reports that her appearance in the 2007 swimsuit Issue caught the attention of tennis great Andy Roddick, and he asked his agent to contact her. Decker and Roddick were married last April.
TV Guide: Brooklyn Decker scores 2010 Sports Illustrated swimsuit cover
What makes a person intriguing?
There are people who enter the news cycle every day because their actions or decisions are new, important or different. Others are in the news because they are the ones those decisions affect. And there are a number of people who are so famous or controversial that anything they say or do becomes news.
Some of these people do what we expect of them: They run for office, pass legislation, start a business, get hired or fired, commit a crime, make an arrest, get in accidents, hit a home run, overthrow a government, fight wars, sue an opponent, put out fires, prepare for hurricanes and cavort with people other than their spouses. They do make news, but the action is usually more important than who is involved in the story.
But every day, there are a number of people who become fascinating to us -- by virtue of their character, how they reached their decision, how they behaved under pressure or because of the remarkable circumstances surrounding the event they are involved in.
They arouse our curiosity. We hear about them and want to know more. What they have done or said stimulates conversations across the country. At times, there is even a mystery about them. What they have done may be unique, heroic, cowardly or ghastly, but they capture our imaginations. We want to know what makes them tick, why they believe what they do, and why they did what they did. They intrigue us.
FOLLOW THIS TOPIC