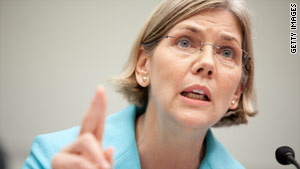 Harvard Law School professor Elizabeth Warren is chair of the oversight panel watching TARP spending.
STORY HIGHLIGHTS
Chairwoman of oversight panel says banks sold "deceptive mortgages" for decades
School superintendent in Mississippi takes pay cut
Former astronaut establishes foundation for math and science education
Editor's note: Every weekday, CNN focuses on a handful of people in the news. This is a chance to find out more about what they've done -- good or bad -- what they've said or what they believe, and why we think they're intriguing.
(CNN) -- Elizabeth Warren: Bankers, shape up! In October 2008, Congress gave the U.S. Treasury the authority to spend $700 billion to help stabilize the economy. To monitor the impact of that Troubled Asset Relief Program, Congress created an oversight panel, and today, in The Wall Street Journal, the chairwoman of that TARP panel socks it to the banks and the business community.
"For years, Wall Street CEOs have thrown away customer trust like so much worthless trash. Banks and brokers have sold deceptive mortgages for more than a decade. Financial wizards made billions by packaging and repackaging those loans into securities. And federal regulators played the role of lookout at a bank robbery, holding back anyone who tried to stop the massive looting from middle-class families," writes Elizabeth Warren. "When they weren't selling deceptive mortgages, Wall Street invented new credit card tricks and clever overdraft fees."
Warren has the bona fides to make those charges. She's a Harvard Law School professor and the author of eight books and more than 100 scholarly articles. According to her official biography, The National Law Journal has repeatedly named Warren as one of its Fifty Most Influential Women Attorneys in America, and she was also one of eight law professors to be named on the Leading Lawyers in America list compiled by Law Dragon.
Wall Street Journal: Warren: Wall Street's race to the bottom
Congressional Oversight Panel: About Elizabeth Warren
Milton Kuykendall: What do you do when your state keeps reducing the amount of money it can spend on education? DeSoto County, Mississippi, schools superintendent Kuykendall came up with a novel idea -- he's taking a pay cut.
"I'll be honest with you, the state of Mississippi is in a mess," he told WMC-TV. "The state of Mississippi doesn't have any money, and the whole issue is we have to cut." He said he felt that he couldn't ask any school employees to take a pay cut unless he took one himself. "I started first," Kuykendall said. "I cut my salary 10 percent, I cut the principals 10 days [off their work schedule], which is about 4.2 percent, assistant superintendents eight percent, and the directors the same as the principals."
There are 31,238 students in DeSoto County schools and the cuts, which take effect July 1, will save millions of dollars. Last November, the Mississippi Association of School Administrators named Kuykendall its 2010 Mississippi Superintendent of the Year. He's been in education for 40 years and started as a teacher and a basketball coach. At the end of the school year, Kuykendall will be inducted into the Mississippi Coaches Hall of Fame. "But now we're looking at one thing, is being able to keep the doors open," he said.
WMC-TV: DeSoto County superintendent to take pay cut
Jonathan Krohn: "I am a realist. I am a conservative realist. I cling to logic, morality, and history, and I apply them consistently. I find no reason not to apply them; after all, if something is true, then is it not wise to give it proper credence? It is not only proper, but it is also in our best interest. To know the truth leads to a more potent and effective solution."
So writes the columnist, author, speaker and political analyst from Duluth, Georgia, on his Web site. By the way, he's 14 years old.
Today, his new book is published. He describes "Defining Conservatism: The Principles That Will Bring Our Country Back" as a "timeless book of facts and logic." Krohn spoke at the 2009 Conservative Political Action Conference, and since then, at many Republican and Tea Party events. The four basic principles he advocates are respect for the Constitution and the rule of law upon which it is based; respect for life as an inherent and inalienable right for all individuals at all stages; insistence on a government in its most limited form so it does not conflict with an individual's rights and freedoms; and taking personal responsibility and working toward a system of government that makes individuals accountable for all his or her actions.
Did I mention that he is 14?
CNN: Republican wonder kid

Defining Conservatism: About the author
Joseph McCarthy: On February 9, 1950, the junior senator from Wisconsin addressed the Women's Republican Club in his home state. He said, "Today we are engaged in a final, all-out battle between communistic atheism and Christianity. The modern champions of communism have selected this as the time. And, ladies and gentlemen, the chips are down -- they are truly down."
In his speech, which the U.S. Senate historical Web site names among the most significant in American political history, McCarthy warned that the U.S. was losing the Cold War due to homegrown traitors. According to the Senate Web site, he said while he could not take the time "to name all the men in the State Department who had been named as members of the Communist Party and members of a spy ring, I have here in my hand a list of 205." Until he was censured by the senate in 1954, the senator's various investigations and committee hearings ruined considerably more lives.
U.S. Senate: Historical minutes
Bernard A. Harris, Jr.: As the space shuttle Endeavour heads to the international space station, today also marks a first in space exploration. Five years ago today, Harris became the first African-American to walk in space.
According to his official NASA biography, Harris was born in 1956 in Temple, Texas, received his doctorate in medicine from Texas Tech University School of Medicine, and completed his residency at the Mayo Clinic. Harris became an astronaut in July 1991 and on February 9, 1995, he was the Payload Commander on STS-63, the first flight of the new joint Russian-American Space Program. During the mission, the shuttle Discovery rendezvoused with the Russian space station Mir, and Harris made his historic spacewalk.
While an astronaut, he logged 198 hours, 29 minutes in space, completed 129 orbits, and traveled over 2.9 million miles. NASA reports that his favorite quote is, "The key to achievement is education and the ability to dream." Harris left NASA in 1996 and two years later, established The Harris Foundation, Inc., a nonprofit organization to develop math/science education and crime prevention programs for America's young people.
What makes a person intriguing?
There are people who enter the news cycle every day because their actions or decisions are new, important or different. Others are in the news because they are the ones those decisions affect. And there are a number of people who are so famous or controversial that anything they say or do becomes news.
Some of these people do what we expect of them: They run for office, pass legislation, start a business, get hired or fired, commit a crime, make an arrest, get in accidents, hit a home run, overthrow a government, fight wars, sue an opponent, put out fires, prepare for hurricanes and cavort with people other than their spouses. They do make news, but the action is usually more important than who is involved in the story.
But every day, there are a number of people who become fascinating to us -- by virtue of their character, how they reached their decision, how they behaved under pressure or because of the remarkable circumstances surrounding the event they are involved in.
They arouse our curiosity. We hear about them and want to know more. What they have done or said stimulates conversations across the country. At times, there is even a mystery about them. What they have done may be unique, heroic, cowardly or ghastly, but they capture our imaginations. We want to know what makes them tick, why they believe what they do, and why they did what they did. They intrigue us.
FOLLOW THIS TOPIC