STORY HIGHLIGHTS
About 162 million people saw at least part of last year's Super Bowl, according to a report
Super Bowl valued as brand ahead of Summer Olympics, World Cup, World Series
However, soccer, tennis and Formula 1 draw wider international audience
CBS reportedly charging up to $2.8 million for 30-second ad spot, despite economy
(CNN) -- The word "billion" is thrown around a lot come Super Bowl time, but much like the big game, the potential audience and ad revenues don't always live up to expectations.
It's indisputable that the National Football League's last hurrah each season dwarfs all other single sporting events in terms of ad sales, but it's far from the most-watched game in the world.
"Outside the U.S., Canada and Mexico, only a couple million people see the Super Bowl -- and probably a lot of them are expatriate Americans," said Simon Kuper, co-author of "Soccernomics."
Soccer, tennis and Formula 1 racing are among the most popular draws beyond North America, according to Initiative Sports Futures, an independent global sports consultancy. The NFL, however, has been making a push into Europe for years and has staged regular-season games in London since 2007.
Kuper, who spoke in a phone interview from Paris, France, said he was surprised to see NFL clips on local television recently, but noted that in the age of Internet and satellite television, audiences can find tractor-pulling highlights if they want.
"Something is on somewhere," he said.
According to Initiative, even-numbered years have never been the Super Bowl's. Quadrennial events such as soccer's World Cup and European Championship finals, as well as the opening ceremonies of the summer and winter Olympics, routinely top the Super Bowl in global audience.
The Super Bowl lost its foothold on odd-numbered years in 2009, when the UEFA Champions League final, a contest for European soccer clubs, edged out the Super Bowl in viewership.
About 109 million people watched from beginning to end as Barcelona beat Manchester United, while 106 million watched the Pittsburgh Steelers squeak by the Arizona Cardinals, reported Initiative, which bases its numbers on 55 markets representing 90 percent of the world's ad expenditures and gross domestic product.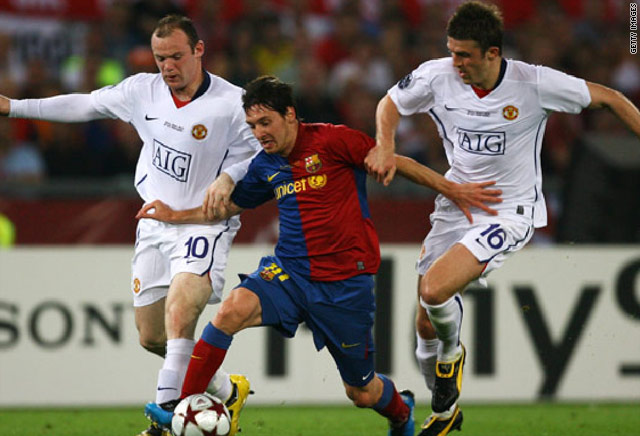 Most-watched sports events in 2009

Video: Super Bowl ads: What women want

Video: Which ads topped Super Bowl?
While many sports leagues have struggled lately to keep their viewership static, the Super Bowl has enjoyed 7 percent growth since 2003, said Kevin Alavy, Initiative Sports Futures' director. But the Champions League is growing faster -- thanks to a budding Asian audience -- and international soccer's allure trounces that of the Super Bowl.
To put the audiences in perspective, the final for the 2008 European Championship, the world's second-biggest soccer contest, boasted 166 million viewers (57 percent higher than the 2009 Super Bowl's). About 287 million people caught at least part of the game, compared with 162 million for the Super Bowl, Alavy said.
See the five most-watched sporting events of 2009
How, then, is the Super Bowl the bastion of ad revenue when it comes to world sports?
"It's giving you a huge audience in the world's richest country," Alavy said.
John Mossawir, research director for Initiative Sports Futures, said about 40 percent of homes in the U.S. tuned in to last year's Super Bowl and 63 percent of all homes with a television had Pittsburgh and Arizona on the tube.
Forbes magazine, which uses gameday media, sponsor, ticketing and merchandise revenue to rank the world's most lucrative sporting events, hailed the Super Bowl this week as the top sports-event brand with a value of $420 million. The Summer Olympics ($230 million), World Cup ($120 million), the Euros ($110 million) and the World Series ($106 million) rounded out the top five.
The 2006 World Cup snared gross revenues of about $3 billion, while the 2008 Beijing Games pulled $3.9 billion, said Peter Schwartz, who compiled the rankings for Forbes. The Super Bowl's business model makes it harder to nail down revenue streams, but the NFL's ability to monetize its gridiron grand finale is unparalleled, he said.
$311.8M -- Anheuser-Busch
$254.2M -- PepsiCo
$80.5M -- General Motors
$71.6M -- Walt Disney
$64.8M -- Time Warner

Source: TNS Media Intelligence
"The Super Bowl is by far the largest driver of media spending in the United States," Schwartz said. "[Other events] might have more viewers, but the revenue generated by the Super Bowl on a single-day basis is still much greater than anything else."
Schwartz said to also consider the peripheral economic effects -- the food, the bar tabs, the hotels, the grand soirees.
"It's become a de facto national holiday," he said. "Super Bowl Sunday and New Year's Eve are the two biggest party days in the United States, and probably in that order."
In 2009, NBC charged $3 million each for 69 ad spots during the Super Bowl, generating a record $206 million for the game (and $261 million for the entire day).
Watch what women want in a Super Bowl ad
TNS Media Intelligence, an analysis firm, reported that the cost for 30 seconds of airtime has more than quadrupled in the last 20 years. Despite troubling economic times, the agency said, CBS this year is still able to charge up to $2.8 million for a half-minute.
Since 2005, Super Bowl ad revenues have rivaled and sometimes topped those of the World Series and the NCAA men's basketball Final Four, both of which consist of multiple games, TNS reported.
The reason is simple, Mossawir said: Commercials are an inextricable part of Super Bowl culture.
Sharing early figures from an ongoing study, Mossawir said four in five people say the commercials can sometimes be more entertaining than the game. About one in four say they go online to view commercials they've already seen, and about 70 percent say they talk about the ads during the game, he said.
"Those numbers are massive," he said. "Making commercials part of the discussion is not something that typically goes on."
Super Bowl Sunday and New Year's Eve are the two biggest party days in the United States, and probably in that order.
--Peter Schwartz, Forbes
Cracking a truly international market will be tricky, though, and the complicated nature of football is partly to blame.
"To watch it without a knowledge of what's going on, the sense of strategies are hard to tell if you haven't experienced them for a long time," Mossawir said.
Consider that football has 83 penalties in its rule book, compared with soccer's 17 fouls, and it's easy to see why football -- like cricket -- is tough to export.
Kuper of "Soccernomics" said that as late as 1950, broadcasters were still explaining football's rules to the American audience, and still do today to a lesser degree.
Less complex sports like soccer and basketball more easily permeate markets, as evidenced by the rapid popularity surge of both sports in China, Kuper added.
Soccer has a promising future in the states because of the robust youth leagues, Kuper and Mossawir said, but there is little threat that the Beautiful Game will displace America's beloved football, baseball and basketball.
Read SI's take on the future of American soccer
On the flip side, football may have a tougher time in the international market, Kuper said. The NFL is going in the right direction by increasing its regular-season offerings across the pond, which Kuper said is a better game plan than foisting an inferior NFL Europe upon the continent (the league folded in 2007).
"You have an international market where only the best is interesting," Kuper said. "It's not really that useful to put second-rate stuff out."
FOLLOW THIS TOPIC