Mardi Gras pups celebrate Saints' place in Super Bowl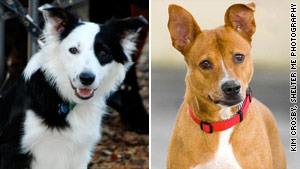 King Bleu, left, and Queen Puppee dined at a high-end New Orleans restaurant Friday.
STORY HIGHLIGHTS
Krewe of Barkus holds 18th annual parade in New Orleans this weekend
The theme is "The Dogs Go Barking In," in honor of Saints
King Barkus is "rabid" football fan, owner says
Queen is Hurricane Katrina survivor
(CNN) -- The Mystic Krewe of Barkus celebrates its 18th annual parade this weekend. The event helps fund animal shelters in New Orleans and on the Mississippi Gulf Coast.
This year, the big "pawty" takes place Super Bowl Sunday, with the theme of "Barkus Goes Tailgating: The Dogs Go Barking In." It honors the New Orleans Saints, who are playing in their first Super Bowl.
The K-9 Who Dats will get decked out in their costumes and parade through the French Quarter.
"A few humans are allowed the privilege of walking these animals," said Gregory Curtis, president of the Krewe of Barkus.
A king and queen are crowned, and they even have their own courts of four-legged friends.
The Queen of Barkus made a grand entrance to New Orleans on Friday, with a procession on a steamboat down the Mississippi River. She and the king dined on a traditional meal of very large lamb chops at the upscale Galatoire's. It's the only time of year dogs can enter the restaurant.
This year's King Barkus is a "rabid Saints fan," a border collie named Bleu. He's owned by WDSU weathercaster Margaret Orr, a supporter of Barkus since its inception.
Queen Barkus is always a rescue animal.
"The story is usually one of life on the streets to life with a family," according to Barkus Krewe Vice President Charlotte Bass-Lilly.
That's where Puppee comes in. She survived Hurricane Katrina and was found inside a ruined home in New Orleans. Because of overcrowding in area shelters, Puppee was shipped to a shelter in Denver, Colorado.
Her elderly owner also ended up in Denver after her home was destroyed by Katrina. Thinking her dog was dead, she decided to adopt a new one. Coincidentally, when she went to the shelter in Denver, there sat her very own Puppee.
The pooch and her owner made it back to New Orleans in 2007, but the woman has since died.
Puppee now has a new owner, a woman who volunteers at Animal Rescue of New Orleans.
Puppee went from homeless hurricane victim to royalty in the Crescent City. It's definitely a tale of "wags" to riches.