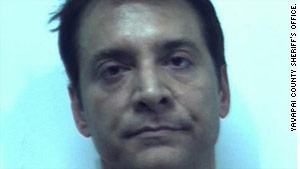 James Ray faces charges of manslaughter in the deaths of three people who attended a sweat lodge ceremony.
STORY HIGHLIGHTS
Leader of "Spiritual Warrior" program faces manslaughter charges
Cincinnati Tea Party members to go politicking locally, stay home from convention
Schizophrenic musician reportedly to release first CD
Editor's note: Every weekday, CNN focuses on a handful of people in the news. This is a chance to find out more about what they've done -- good or bad -- what they've said or what they believe, and why we think they're intriguing.
(CNN) -- James Ray: The self-help guru appeared in court Thursday to face manslaughter charges in the deaths of three participants at an Arizona sweat lodge ceremony he organized last year.
CNN reports that as many as 65 visitors, ranging in age from 30 to 60, attended Ray's "Spiritual Warrior" program in October at the Angel Valley Retreat Center near Sedona, Arizona. They spent as long as two hours inside a domelike structure called a sweat lodge, which was covered with tarps and blankets, and had hot rocks and water inside to create steam.
Ray, whose charges stem from the deaths of Kirby Brown, James Shore and Liz Neuman, was arrested Wednesday at his attorney's office in Prescott, Arizona, said Yavapai County Sheriff Steve Waugh. "This was a terrible accident, but it was an accident, not a criminal act," attorney Luis Li said.
Native Americans used sweat lodges in spiritual and physical purification ceremonies. Ray is widely known for programs that claim to teach people how to create wealth from all aspects of their lives -- financially, mentally, physically and spiritually.
CNN: Sweat lodge guru faces manslaughter charges

Video: Guru arrested in sweat lodge case

Video: Tea Party organizer sounds off

Video: Two pandas leave for China
Mike Wilson: The founder of the Cincinnati Tea Party "is a concerned citizen and taxpayer who decided it was time to step forward and get involved," according to the group's Web site. Wilson's biography reveals that he has followed politics and economics as a hobby but has no prior political experience. A manager of an IT services company "that competes in the free market on a daily basis," Wilson adds that his firm is "a small business that succeeds or fails based only on their merits and doesn't ask for government favoritism at the expense of others."
Wilson, a former president of the Cincinnati Tea Party, says he organized the group to oppose wasteful government spending and to have an impact on the outcome of elections. He told The Cincinnati Enquirer that he knows of at least 300 Tea Party members who plan to run for local office in southwest Ohio. "We're asking people to run, regardless of which party they choose,'' Wilson told the newspaper. "Both parties need reforming."
The Middletown (Ohio) Journal reports that Wilson on Wednesday declared himself the first Tea Party candidate for the Ohio General Assembly. The first National Tea Party Convention begins Thursday in Nashville, Tennessee. Former Alaska Gov. Sarah Palin addresses the gathering Saturday.
Cincinnati.com: Tea Partiers aim to remake local GOP
Middletown Journal: Local Tea Party stays home from convention
Cincinnati Tea Party: Member bios
CNN: Fractures emerge as Tea Party convenes
Zeituni Onyango: President Obama's aunt, who has been in the U.S. illegally for years, testified for 2½ hours Thursday at an immigration hearing seeking to stay in the country, said her representative, Amy Cohn.
But Onyango won't learn the results of the hearing Thursday, Cohn said.
Both parties in the case are to give closing written briefs within 30 days, said Lauren Alder Reid of the Justice Department. Another hearing is set for May 25, which will not occur if the judge renders a decision before then, Reid added.
Onyango, 57, is the half sister of the Obama's late father. She applied for political asylum in 2002, citing violence in her native Kenya. She was a legal resident of the U.S. at the time and had received a Social Security card a year earlier. However, Onyango's asylum request was turned down in 2004. She appealed and was ordered to leave, but she has lived in the U.S. illegally since.
Onyango's immigration status came to light in the final days of the 2008 presidential race. The president called her "Auntie Zeituni" in his best-selling memoir "Dreams From My Father." Britain's The Guardian newspaper reports the Obama administration has "kept a scrupulous distance from the case." In his book, Onyango is first of Obama's relatives to greet him during his 1988 visit to Kenya, kissing him on both cheeks and saying, "Welcome home."
CNN: Judge delays ruling in case of Obama's aunt
The Guardian: Obama's aunt faces crucial immigration hearing
Frances Nguyen: Tai Shan, the giant panda cub so many people have come to know and love, flew to China on Thursday. Photographer Frances Nguyen, who has photographed him thousands of times, told The Washington Post, "Tai has brought so much good karma."
Tai Shan was born at the National Zoo on July 9, 2005. The panda goes to China, under an agreement between the two nations, to help replenish the endangered species' numbers in the wild.
Tai Shan left for China with Mei Lan, a 3-year-old panda born at Georgia's Zoo Atlanta. Eventually, they will take part in a breeding program aimed at increasing the panda population. Giant pandas are on the endangered species list, and the National Zoo estimates that about 1,600 giant pandas are currently in the wild.
The Washington Post reports that Nguyen has photographed Tai Shan for four years, taking as many as 1,500 shots on some days. Born in Saigon, Vietnam, and separated from her parents as a child, Nguyen is a Web designer for the U.S. government. She told the Post, "There's a lot of things in life that are precious, that you cannot see or you cannot speak of, but it is there in front of you." Nguyen founded Pandas Unlimited in 2006, and the Web site has 2,700 panda-loving members, the Post reports.
CNN: U.S. zoos sending pandas to China
The Washington Post: Fans of panda Tai Shan say goodbye before he flies to China
Nathaniel Ayers: There's a good chance you've heard or read about Ayers. Los Angeles Times columnist Steve Lopez continues to report on the talented schizophrenic musician he befriended in 2005. The story of The Juilliard School scholarship winner who faced institutionalization, electroshock therapy and homelessness became Lopez's book "The Soloist: A Lost Dream, an Unlikely Friendship, and the Redemptive Power of Music," the 2009 movie "The Soloist" starring Jamie Foxx and Robert Downey Jr., a "60 Minutes" profile of the relationship the two men had developed, and a foundation dedicated to the contributions that the arts make to mental health treatment.
In a column this week, Lopez answered a question that people have been asking for a few years now: Will Ayers ever record a CD? "Some days Mr. Ayers is fine," writes Lopez, "Some days not."
But a few weeks ago, with a bad case of nerves, Ayers -- who plays a number of instruments from bass to trumpet to keyboards -- went into a recording studio with two performers from the Los Angeles Philharmonic and Michael Balzary, the bass player for the Red Hot Chili Peppers otherwise known as Flea, according to the columnist. Lopez writes that the resulting CD should be released in several weeks. It will be titled, "Putting on Ayers."
Los Angeles Times: Mr. Ayers -- recording artist
'60 Minutes': How Mr. Ayers and Mr. Lopez became friends
Nathaniel Anthony Ayers Foundation
What makes a person intriguing?
There are people who enter the news cycle every day because their actions or decisions are new, important or different. Others are in the news because they are the ones those decisions affect. And there are a number of people who are so famous or controversial that anything they say or do becomes news.
Some of these people do what we expect of them: They run for office, pass legislation, start a business, get hired or fired, commit a crime, make an arrest, get in accidents, hit a home run, overthrow a government, fight wars, sue an opponent, put out fires, prepare for hurricanes and cavort with people other than their spouses. They do make news, but the action is usually more important than who is involved in the story.
But every day, there are a number of people who become fascinating to us -- by virtue of their character, how they reached their decision, how they behaved under pressure or because of the remarkable circumstances surrounding the event they are involved in.
They arouse our curiosity. We hear about them and want to know more. What they have done or said stimulates conversations across the country. At times, there is even a mystery about them. What they have done may be unique, heroic, cowardly or ghastly, but they capture our imaginations. We want to know what makes them tick, why they believe what they do, and why they did what they did. They intrigue us.
FOLLOW THIS TOPIC