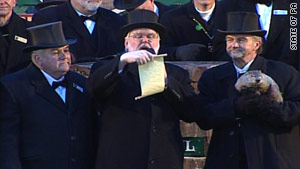 Bill Deeley, center, is president of the Inner Circle of the Punxsutawney Groundhog Club
STORY HIGHLIGHTS
PETA suggests replacing groundhog with robot
Former Marine says "don't ask, don't tell" selectively enforced
Director Kathryn Bigelow adds Director's Guild award to mantle
Editor's note: Every weekday, CNN focuses on a handful of people in the news. This is a chance to find out more about what they've done -- good or bad -- what they've said or what they believe, and why we think they're intriguing.
(CNN) -- Bill Deeley
The existence of Santa Claus, the Easter Bunny and The Great Pumpkin is debated every year by great minds and sidewalk philosophers. But without fail, every year since February 2, 1887, Punxsutawney Phil has emerged from his burrow on Gobbler's Knob to face very cold human beings. According to legend, if the world-famous Pennsylvania groundhog sees his shadow, there will be six more weeks of winter weather. If he does not, there will be an early spring.
Today, Phil predicted more winter. Deeley is president of the Inner Circle of the Punxsutawney Groundhog Club. In late January, People for the Ethical Treatment of Animals sent Deeley a letter urging the club to replace the real Phil with an animatronic one -- a robot. In the letter, the animal activists wrote, "Groundhogs are typically shy animals and are likely to feel fear and stress when they are out of their burrows. Each year on February 2, Punxsutawney Phil is trotted out to face human handling and hundreds of noisy people, flashing lights, and cameras. The animals used for Groundhog Day events are deprived of their natural hibernation periods."
Deeley told the Erie Times-News that he agrees with PETA and what they stand for on most issues, "but you have to see what we do with Phil....he's treated better than the average child in Pennsylvania. He lives in an air-conditioned home in the summer and a heated building at the zoo in the winter. He has running water, someone who feeds him, and he even gets an annual physical. I don't think it was fair for PETA to do what they did to us."
PETA: Letter requesting animatronic groundhog
Julianne Sohn
Today, Defense Secretary Robert Gates and Adm. Mike Mullen, the chairman of the Joint Chiefs of Staff, are scheduled to testify before Congress on the Pentagon's plans for repealing "don't ask, don't tell," the law that bans openly gay people from serving in the military. Sohn, a Marine Corps veteran, told CNN she will be watching closely. When she was first in the Marines on active duty in 1999, she said there were rumors that she was gay. She did come out to her peers, but there was no retribution. "A lot of my friends they knew that I was a good Marine, and I accomplished my mission, and for them it didn't matter," she said. "So, I would like to point out that a lot of times 'Don't Ask, Don't Tell' is one of those policies that's just selectively enforced."
She left active duty, went to graduate school and then got called up to go to Iraq in 2005, where she served in the Al Anbar Province of Iraq as a public affairs officer. Then in 2007, while working for the Los Angeles Police Department, she received a phone call from a random reserve colonel based in Georgia who read her military "Miranda rights." She was told that she was being investigated for being a lesbian. She could either get a military attorney and go through a separation hearing or resign her commission. She resigned rather than face investigation.
Sohn told CNN Monday that she is hopeful that change will come, but she wants to see the promises acted on. "It's one thing to say you're going to do something, another to actually do it. For me, the reason I first wanted to share my story was knowing that there were so many gay men and women serving in uniform. People don't realize the toll the law has on military readiness, as well as on individuals -- the amount of sacrifice it takes to serve your country, while being gay. For instance, if you are in a relationship, most people don't have a second thought about it. But gay soldiers have to be extremely cautious about what they say to another person. Who do you trust? Say the wrong thing, and you could be separated from military service."
Gay Military Signal: The few, the proud, one less
Mary J. Kight
California Gov. Arnold Schwarzenegger announced Monday the appointment of Brig. Gen. Kight as the first female adjutant general of the California National Guard. If appointed by the state Senate, Kight will become the first African-American female National Guard adjutant general in the nation, according to a news release from the governor's office.
"I am confident that with Gen. Kight's leadership, the California National Guard will continue to be fully prepared, standing ready and able to assist our local communities and our country when called upon in times of emergency," Schwarzenegger said. The governor's office reports that Kight, a Republican, has served in the California National Guard for almost 25 years. She would earn $180,201 in the position.
Office of Gov. Schwarzenegger: Kight appointed Adjutant General of National Guard
Brandon Longcrier
The U.S. Air Force Academy in Colorado Springs, Colorado, has sacred spaces for Protestants, Catholics, Jews, Muslims and Buddhists to pray. Beginning on March 10, the Academy's press office reports that followers of Earth-centered religions will have a new place to worship, a circle of stones near the Academy's Cadet Chapel and Visitor Center.
Sgt. Longcrier, a non-commissioned officer in charge of the Academy's astronautics labs, helped create the worship area with the campus chapel. He explains that Earth-centered spirituality includes traditions such as Wicca, Druidism and several other religious paths.
According to the Academy, Longcrier became Pagan after arriving in 2006, at a time when religious tolerance had improved dramatically there. "There really haven't been any obstacles for the new circle," he said. "The chaplain's office has been 100 percent supportive." Chaplain (Lt. Col.) William Ziegler, Cadet Wing chaplain, said, "Every service member is charged with defending freedom for all Americans, and that includes freedom to practice our religion of choice or, for that matter, not to practice any faith at all."
U.S. Air Force Academy: Chapel to add outdoor circle to worship areas
Kathryn Bigelow (update)
Bigelow has won the Directors Guild of America award for feature film direction for "The Hurt Locker," her film about a team of bomb disposal experts in Iraq . Bigelow became the first woman to win the honor. EW.com reports that she took the stage to a rousing ovation and was clearly overwhelmed when she said, "This is the most incredible moment of my life."
Her movie also won top film and director awards from the Los Angeles Film Critics Association, the New York Film Critics Circle, the Boston Society of Film Critics, the American Film Institute and other critics groups. Bigelow is known for "Blue Steel," starring Jamie Lee Curtis; "Point Break," with Keanu Reeves and Patrick Swayze; and "K-19: The Widowmaker," with Harrison Ford. Awards-watchers are now focused on the Oscars to see how Bigelow's war drama will compete against her ex-husband James Cameron's fantasy blockbuster "Avatar." Bigelow and Cameron were married from 1989 to 1991.
EW: Bigelow wins Director's Guild award
What makes a person intriguing?
There are people who enter the news cycle every day because their actions or decisions are new, important or different. Others are in the news because they are the ones those decisions affect. And there are a number of people who are so famous or controversial that anything they say or do becomes news.
Some of these people do what we expect of them: They run for office, pass legislation, start a business, get hired or fired, commit a crime, make an arrest, get in accidents, hit a home run, overthrow a government, fight wars, sue an opponent, put out fires, prepare for hurricanes and cavort with people other than their spouses. They do make news, but the action is usually more important than who is involved in the story.
But every day, there are a number of people who become fascinating to us -- by virtue of their character, how they reached their decision, how they behaved under pressure or because of the remarkable circumstances surrounding the event they are involved in.
They arouse our curiosity. We hear about them and want to know more. What they have done or said stimulates conversations across the country. At times, there is even a mystery about them. What they have done may be unique, heroic, cowardly or ghastly, but they capture our imaginations. We want to know what makes them tick, why they believe what they do, and why they did what they did. They intrigue us.
FOLLOW THIS TOPIC