No identifiable, credible threats for Super Bowl, agencies say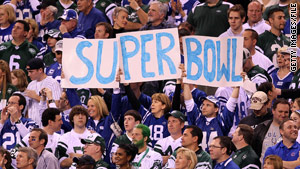 An assessment warns that while there are no known threats, the Super Bowl and nearby locations could be terror targets.
STORY HIGHLIGHTS
Agencies say despite lack of credible threats, event is "a desirable target" for terrorists
Assessment warns improvised explosive devices are the most likely mode of attack
Sunday's game will be 10th Super Bowl in Miami area; heavy security may deter attacks
Washington (CNN) -- Law enforcement and intelligence agencies have not identified any credible terrorist threat to this Sunday's Super Bowl, according to an assessment prepared by the Federal Bureau of Investigation, the Department of Homeland Security and other agencies.
The assessment, however, warns that the game -- which will be played in Miami, Florida, and is expected to attract 800 million television viewers worldwide -- could be "a desirable target for violent organizations or individuals seeking to take advantage of intense media coverage."
The document, distributed to law enforcement units and others, warns that improvised explosive devices are the most likely mode of attack, but notes that in 2006 a jihadist Web site provided instructions on how to conduct multiple suicide bombings at a sporting event. The assessment says there is no indication that terrorists have attempted to act on those instructions.
Because of the large numbers of contractors, media and others with special access to the game, the assessment warns of the possibility of insider operatives, and says security could be breached by people with stolen or counterfeit credentials.
This will be the 10th Super Bowl in the Miami area, and security will be heavy. That may deter terrorists from attacking the game, but the assessment says nearby hotels, restaurants, racetracks and airports may be more feasible targets.
The document includes a warning that lone wolf terrorists pose special challenges for law enforcement agencies, because their isolated and limited preparations are often difficult to detect.