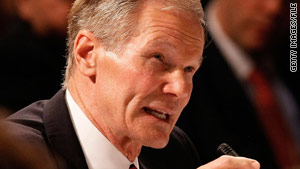 Sen. Bill Nelson of Florida orbited Earth for six days in the space shuttle Columbia as a payload specialist in 1986.
STORY HIGHLIGHTS
Senator from Florida opposes reported NASA cutbacks
Small-town mayor invites trial of alleged 9/11 planner to local courthouse
Michael Jackson's children accept lifetime achievement Grammy for late father
Editor's note: Every weekday, CNN focuses on a handful of people in the news. This is a chance to find out more about what they've done -- good or bad -- what they've said or what they believe, and why we think they're intriguing.
(CNN) -- Sen. Bill Nelson
President Obama on Monday unveiled his annual budget for fiscal year 2011. Obama is proposing to cancel the Constellation Program that President Bush launched in 2004. Such a move would make it impossible to return to the moon in the next 10 years, although it would extend the mission of the international space station to 2020. There are also incentives for private companies to provide rides for astronauts.
Democratic Sen. Bill Nelson of Florida, who spent six days orbiting Earth as a payload specialist aboard the space shuttle Columbia in 1986, disagrees with a proposed cutback of NASA funds. Nelson made this statement on his official Web site: "Based on initial reports about the administration's plan for NASA, they are replacing lost shuttle jobs in Florida too slowly, risking U.S. leadership in space to China and Russia, and relying too heavily on unproven commercial companies. ... We need a plan that provides America with uninterrupted access to space while also funding exploration to expand the boundaries of our knowledge."
On this date in 2003, Columbia returned from 17 days in space and exploded about 15 minutes before its scheduled touchdown at the Kennedy Space Center, resulting in the deaths of all seven crew members: Rick D. Husband, William C. McCool, David Brown, Laurel Blair Salton Clark, Michael P. Anderson, Ilan Ramon and Kalpana Chawla.
Obama budget would cut moon exploration program
Office of Sen. Nelson: Biography

Video: Obama unveils budget

Video: Budget: Paying for promises

Video: Budget director discusses Obama plan
Nicholas Valentine
No decision has been made on whether or not to change the plan to hold the September 11 terrorist attack trial in a civilian court in Lower Manhattan, White House officials said Sunday. Last week, New York Mayor Michael Bloomberg and other politicians expressed concern over the costs and disruption of holding the trial of alleged 9/11 planner Khalid Sheikh Mohammed and four accomplices at a New York City courthouse.
Valentine, mayor of the small city of Newburgh -- some 60 miles up the Hudson River from New York -- told CNN on Monday his new state-of-the art courthouse would be an ideal location, but that all of the costs of the trial "would need to be borne by the federal government." New York police estimated the cost to their city would be more than $200 million per year in a trial that could last years and that 2,000-plus checkpoints would need to be installed around Lower Manhattan.
CNN: No decision yet on moving 9/11 trial
Stephanie Schriock
The former chief of staff to Sen. Jon Tester, D-Montana, begins her new job Monday as president of EMILY's List. Schriock succeeds Ellen R. Malcolm, who in 1985, founded what has become one of the largest political actions committees in the country.
According to the organization's Web site, it has raised millions of dollars to help elect 15 abortion-rights, Democratic women U.S. senators, 80 U.S. representatives and nine state governors. Schriock also managed the closely watched campaign and recount efforts of Sen. Al Franken, D-Minnesota.
EMILY is an acronym for "Early Money Is Like Yeast," selected by the group because it "makes the dough rise."
Schriock said Sunday that she "couldn't wait to get to work to elect more pro-choice women to office. EMILY's List has really been changing the face of power in Washington, D.C., and around the country for 25 years now and helping women run for office at all levels."
Shriock explained that her work goes beyond the issue of abortion rights. "These campaigns talk about jobs and the economy, and we help women make the case that they should be elected to office. There are now 17 women serving in the U.S. Senate, 13 Democrats. That's out of 100. The doors have been open, but we have a ways to go."
EMILY's List: About incoming president Stephanie Schriock
Frank Buckles
The last surviving U.S. veteran of World War I turns 109 on Monday and is still hoping for a national memorial in Washington for his comrades. Buckles, a former corporal, was a soldier in the U.S. Army and drove ambulances for U.S. forces in Europe.
He is expected to deliver remarks during a quiet celebration Monday afternoon at his home in Charles Town, West Virginia. But the old "doughboy" -- as World War I American infantry troops were called -- already has been outspoken in recent years, urging congressional lawmakers to give federal recognition and a facelift to a rundown memorial in an overgrown, wooded area along the National Mall.
In December, Buckles testified on Capitol Hill as lawmakers considered whether to fund renovation and give the site national monument status. But rival legislation seeks the national designation for a 1920s-era memorial in Kansas City, Missouri. Congress has not decided yet on the legislation.
CNN: Last U.S. veteran of WWI turns 109
Prince Michael
Yes, Beyoncé won a record six awards, but many critics and bloggers write that the most memorable moment of Sunday's 52nd annual Grammy Awards was the onstage appearance of Michael Jackson's two eldest children who accepted their father's lifetime achievement award to a standing ovation.
"To all his songs, his message was simple, love," 12-year-old Prince Michael said. "Through all his songs his message was simple: love. We will continue to spread his message and help spread the word. Thank you. We love you, Daddy." With a voice that sounded more mature than his age, he also thanked "God for watching over us these last seven months and our grandma and grandpa for their love and support."
Katherine Jackson was granted custody of her son's three children -- Prince Michael, Paris and, Prince Michael II, known as Blanket -- soon after Jackson's death last year. She and the children were named beneficiaries, along with unnamed charities, in Jackson's 2002 will.
CNN: Jackson kids steal show at Grammys
What makes a person intriguing?
There are people who enter the news cycle every day because their actions or decisions are new, important or different. Others are in the news because they are the ones those decisions affect. And there are a number of people who are so famous or controversial that anything they say or do becomes news.
Some of these people do what we expect of them: They run for office, pass legislation, start a business, get hired or fired, commit a crime, make an arrest, get in accidents, hit a home run, overthrow a government, fight wars, sue an opponent, put out fires, prepare for hurricanes and cavort with people other than their spouses. They do make news, but the action is usually more important than who is involved in the story.
But every day, there are a number of people who become fascinating to us -- by virtue of their character, how they reached their decision, how they behaved under pressure or because of the remarkable circumstances surrounding the event they are involved in.
They arouse our curiosity. We hear about them and want to know more. What they have done or said stimulates conversations across the country. At times, there is even a mystery about them. What they have done may be unique, heroic, cowardly or ghastly, but they capture our imaginations. We want to know what makes them tick, why they believe what they do, and why they did what they did. They intrigue us.
FOLLOW THIS TOPIC