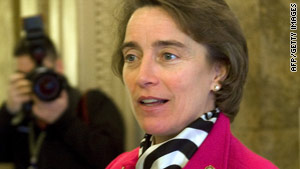 Sen. Blanche Lincoln made history in 1998 as the youngest woman elected to the Senate at age 38.
STORY HIGHLIGHTS
Arkansas senator defends environmental record
Reclusive "Catcher in the Rye" author dies at 91
5-year-old cystic fibrosis patient gets treatment thanks to anonymous donor
Editor's note: Every weekday, CNN focuses on a handful of people in the news. This is a chance to find out more about what they've done -- good or bad -- what they've said or what they believe, and why we think they're intriguing.
(CNN) -- Blanche Lincoln
The League of Conservation Voters has targeted the senator from Arkansas by placing her name on the "Dirty Dozen" list of candidates it hopes to defeat in mid-term elections. Politico.com reports that the environmentalist advocacy group selected Lincoln, a Democrat up for re-election this year, because she opposed passing comprehensive climate legislation and for supporting Alaska Republican Sen. Lisa Murkowski's resolution that would prevent the Environmental Protection Agency from regulating greenhouse gas emissions. According to Politico, the League raised more than $1.5 million to topple candidates in the last election. The Hill reports that Lincoln is fighting back. "I have built a practical, common-sense record on energy and environmental issues while working closely with Arkansas environmental advocates," Lincoln said in a released statement. "Threats from extremist groups from outside our state tell me I'm doing something right for Arkansas." In 1998, Lincoln made history when she became the youngest woman ever elected to the U.S. Senate at the age of 38.
Politico: Environmentalists target Blanche Lincoln
The Hill: Lincoln responds to 'dirty dozen' designation
J.D. Salinger
The famously reclusive author whose 1951 novel, "The Catcher in the Rye," became a touchstone for generations of readers, has died. He was 91. Salinger never gave interviews or appeared in public, and "in keeping with his lifelong, uncompromising desire to protect and defend his privacy there will be no service," according to a family statement that his literary agent, Phyllis Westberg, provided Thursday. He wrote more than 30 short stories and a handful of novellas, many published in The New Yorker and collected in works such as "Nine Stories" and "Seymour: An Introduction." But Salinger's fame rests on "Catcher," his only novel. The book is narrated by a teenage boy, Holden Caulfield, who is expelled from fictional Pencey Prep, a private school in Pennsylvania. He then spends the next three days wandering around New York, railing against corrupt adults and "phonies." Holden Caulfield says, "It's funny. All you have to do is say something nobody understands and they'll do practically anything you want them to." Lots of Pencey Prep merchandise is for sale online today.
CNN: Author J.D. Salinger dies at 91
Matthew Belmonte
Not all stimulus money goes to building bridges. The Recovery Act is funding a lot of research, too. For example: Why do some children become autistic when others do not? How can understanding what goes wrong in autistic brain development help us to understand what goes right in normal brain development? Matthew Belmonte, an assistant professor of human development at Cornell University, received a National Science Foundation award of $700,000 -- funded by stimulus dollars -- to study the differences in autistic and non-autistic brains. To do this, children in both categories are undergoing experiments embedded within video games with science fiction themes. Once the kids learn the games, Belmonte and his team will study their brains using magnetic resonance imaging (MRI) and high-density electroencephalography (EEG). Belmonte says that his research is driven by personal circumstances. He told the Science Works for U.S. Web site, "I was always fascinated by order and regularity," and as a child, he shared that fascination with his older brother, who has autism. "There was always a certain empathy between me and my brother," Belmont said. It was always clear to me, even before I had words for it, that he and I thought in the same way and saw the same things."
Charlie Wilson
The 57-year-old R&B singer was once homeless, living on the streets of Los Angeles, California, between 1993 and 1995. This Sunday, Wilson will find out if he's won a Grammy Award -- or two. He's been nominated for best R&B album for "Uncle Charlie" and best R&B vocal for his hit single, "There Goes My Baby." USA Today reports that Wilson and his two brothers, Robert and Ronnie, had great success in the 1970s and 1980s as The Gap Band. But unable to cope with the financial side of the business, his life took a spiral downward. "I had no home, no money," he says. "You could still hear my records on the radio. People gave me drugs because they thought I was still on top. Nobody knew I was down and out." Wilson eventually got into rehab and married the director of the treatment program he was in. Then, in 1996, Snoop Dogg asked him to be part of his recordings and his career -- this time in hip-hop -- blossomed again "My blessings are ahead of me," Wilson told USA Today. "I've cleaned out the garbage can. I don't have fear of anybody taking anything anymore. You can't steal my joy." Wilson has also been nominated for an NAACP Image Award.
USA Today: Charlie Wilson fills the gap in his life's winding road
Nathan Contreras
The Tucson 5-year-old has cystic fibrosis, an inherited chronic disease that can lead to life-threatening lung infections. KVOA-TV reports that Nathan's parents, Leslie and Patrick Contreras, were not able to keep up with the cost of the expensive prescription drugs needed to treat their son. So they turned to Facebook for help, and people started making donations. The TV station reports that on Wednesday -- Nathan's birthday -- an anonymous donor met the family at a local Walgreen's and gave them $2,300 for his medications. According to the Cystic Fibrosis Foundation, the disease affects some 30,000 children and adults in the United States.
KVOA: Anonymous donor helps pay for child's medication
Cystic Fibrosis Foundation: What you need to know
What makes a person intriguing?
There are people who enter the news cycle every day because their actions or decisions are new, important or different. Others are in the news because they are the ones those decisions affect. And there are a number of people who are so famous or controversial that anything they say or do becomes news.
Some of these people do what we expect of them: They run for office, pass legislation, start a business, get hired or fired, commit a crime, make an arrest, get in accidents, hit a home run, overthrow a government, fight wars, sue an opponent, put out fires, prepare for hurricanes and cavort with people other than their spouses. They do make news, but the action is usually more important than who is involved in the story.
But every day, there are a number of people who become fascinating to us -- by virtue of their character, how they reached their decision, how they behaved under pressure or because of the remarkable circumstances surrounding the event they are involved in.
They arouse our curiosity. We hear about them and want to know more. What they have done or said stimulates conversations across the country. At times, there is even a mystery about them. What they have done may be unique, heroic, cowardly or ghastly, but they capture our imaginations. We want to know what makes them tick, why they believe what they do, and why they did what they did. They intrigue us.
FOLLOW THIS TOPIC