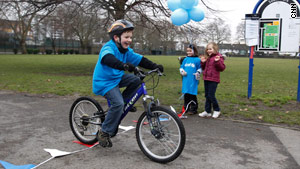 Charlie Simpson rode his bike five miles to raise money for UNICEF.
STORY HIGHLIGHTS
Seven-year-old bicyclist raises $220,000 for Haiti relief
"Bonanza" star who marched with Martin Luther King Jr. dies at 81
Baseball prospect on "verge of fame and fortune" will become a priest instead
Editor's note: Every weekday, CNN focuses on a handful of people in the news. This is a chance to find out more about what they've done -- good or bad -- what they've said or what they believe, and why we think they're intriguing.
(CNN) -- Charlie Simpson
He's no Wyclef Jean or George Clooney, but that hasn't stopped the British 7-year-old from raising more than £136,000 ($220,000) for victims of the Haiti earthquake.
Simpson, who's from Fulham, West London, started out hoping to raise just £500 -- around $800 -- for UNICEF's earthquake appeal by cycling five miles around a local park.
"My name is Charlie Simpson. I want to do a sponsored bike ride for Haiti because there was a big earthquake and loads of people have lost their lives," said Simpson on his JustGiving page, a fundraising site which launched his efforts. And with that simple call, messages of support flooded the site. Even British Prime Minister Gordon Brown helped to spread the message. His "Downing Street" Twitter alias said, "Amazed by response to the great fundraising efforts of 7 yr old Charlie Simpson for the people of Haiti."
Money raised by Simpson will go towards UNICEF's Haiti Earthquake Children's Appeal, which provides water, sanitation, education and nutrition as well as supporting child protection.
CNN: Boy, 7, raises $200,000 for Haiti appeal
Pernell Roberts
The actor, who played the eldest Cartwright brother on NBC's "Bonanza," died at his Malibu, California, home Sunday at 81, his lawyer said. Roberts is also remembered as "Trapper John, M.D.," the main character in a medical drama that aired on CBS for seven years, ending in 1986.
Roberts spent the first decade of his acting career on stage, including Broadway, before he moved to Hollywood to act in movies. His first film was "Desire Under the Elms," starring Sophia Loren and Burl Ives.
In 1959, he landed the role of Adam Cartwright, the handsome and smart son of rancher Ben Cartwright, played by Lorne Greene. Roberts left the long-running Western series after the end of the sixth season in 1965, although "Bonanza" stayed in production for another eight years. While the storyline kept open the possibility of his returning to the Ponderosa ranch, he never did.
Roberts, a native of Waycross, Georgia, spent much of his adult life "pursuing his dream of equality for all," according to a family statement released by his lawyer, Richard Stone. Roberts walked alongside the Rev. Martin Luther King Jr. in the historic 1965 march from Selma to Montgomery in Alabama, the family said. "On the set of 'Bonanza,' he protested the use of all-white crews and guest stars, finding some support but never enough to satisfy his sense of outrage," the statement said.
CNN: 'Bonanza' and 'Trapper John' star dies
Tom Coburn
One of the more vocal critics of the $787 billion stimulus legislation is the senator from Oklahoma, who, along with Sen. John McCain of Arizona, released a report in December identifying the top 100 projects they considered to be wasteful, mismanaged or "silly and shortsighted."
When Congress was debating the American Recovery and Reinvestment Act, as the stimulus plan is officially known, Sen. Coburn said, "When the American people learn what this bill contains they will reject it. This bill is about spending money we don't have on things we don't need. We got into this mess by spending and investing money that didn't exist. We won't get out of this mess by doing more of the same."
In their report, Coburn and McCain criticized projects such as a $2 million plan to build a replica railroad in Nevada as a tourist attraction; $13.8 million for two rest stops along Texas highways, where travelers can relieve themselves and surf the Internet; and a $219,000 National Institutes of Health study to determine if female college students are more likely to engage in casual sex after drinking alcohol.
According to the senator's Web site, Tom Coburn was elected to the U.S. Senate in November 2004 and served in the House between 1995 and 2001. After a successful business career, he received his medical degree from the University of Oklahoma Medical School. His official biography also notes that Coburn is a two-time cancer survivor who has delivered more than 4,000 babies.
Wall Street Journal: McCain, Coburn target 100 stimulus projects
Coburn.senate.gov: About Sen. Coburn
Jammie Thomas-Rasset
Last June, a federal jury found the 32-year-old Minnesota woman guilty of illegally downloading music from the Internet and fined her $80,000 each for 24 songs -- a total of $1.92 million. Thomas-Rasset's case was the first such copyright infringement case to go to trial in the United States, her attorney said.
Attorney Joe Sibley said that the price tag on the songs his client downloaded was 99 cents. Wired.com reports that Friday, federal Judge Michael Davis reduced Thomas-Rasset's fine to $54,000 and said that the Recording Industry Association of America, which pursued the case against her, may have a retrial if it does not accept his ruling. Davis wrote that $1.92 million in damages "for stealing 24 songs for personal use is simply shocking."
Thomas-Rasset, who is married with four children and works for a Native American tribe in Minnesota, told Wired that she doesn't have the money to pay even the reduced fine, and that her house in Brainerd, Minnesota, is homesteaded and protected from a judgment. The RIAA said it was reviewing the decision.
Wired: Court reduces 'shocking' file sharing award
Grant Desme
The former Arizona Fall League's Most Valuable Player was scheduled to report for the first day of practice at the Oakland A's training camp next month. Instead, The San Francisco Chronicle reports, Desme has decided to join another team -- the priesthood.
Desme, a lifelong Catholic, said on a conference call, "I love the game, but I'm going to aspire to higher things." The Chronicle said his decision shocked A's managers, who asked Desme to have a conversation with the director of player development, Keith Lieppman, before making the announcement.
"He was right on the verge of fame and fortune and glamour, and he's denying all that," Lieppman said. "He's going in a totally different direction. Grant said it was a very powerful call, and that's much more important." Desme got a $432,000 signing bonus in 2007, and the team thought he'd become a starting outfielder in time. Desme said it will take ten years to become a priest, a process he compared to re-entering the minor leagues.
San Francisco Chronicle: Oakland A's prospect to enter seminary
What makes a person intriguing?
There are people who enter the news cycle every day because their actions or decisions are new, important or different. Others are in the news because they are the ones those decisions affect. And there are a number of people who are so famous or controversial that anything they say or do becomes news.
Some of these people do what we expect of them: They run for office, pass legislation, start a business, get hired or fired, commit a crime, make an arrest, get in accidents, hit a home run, overthrow a government, fight wars, sue an opponent, put out fires, prepare for hurricanes and cavort with people other than their spouses. They do make news, but the action is usually more important than who is involved in the story.
But every day, there are a number of people who become fascinating to us -- by virtue of their character, how they reached their decision, how they behaved under pressure or because of the remarkable circumstances surrounding the event they are involved in.
They arouse our curiosity. We hear about them and want to know more. What they have done or said stimulates conversations across the country. At times, there is even a mystery about them. What they have done may be unique, heroic, cowardly or ghastly, but they capture our imaginations. We want to know what makes them tick, why they believe what they do, and why they did what they did. They intrigue us.
FOLLOW THIS TOPIC