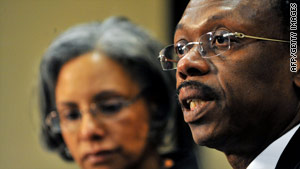 Jean-Bertrande Aristide, the former president of Haiti, says he is ready to return to his native country.
STORY HIGHLIGHTS
Exiled Haitian president looks to return to help aid efforts
One-year anniversary of Capt. Sullenberger's "Miracle on the Hudson" landing
Scientists warned of potential earthquake disaster in Haiti
Editor's note: Every weekday, CNN focuses on a handful of people in the news. This is a chance to find out more about what they've done -- good or bad -- what they've said or what they believe, and why we think they're intriguing.
(CNN) -- Jean-Bertrand Aristide
The former Haitian president, exiled in South Africa since 2004, said Friday that he is ready to return to his native country. The Telegraph reports that Aristide called reporters to a hotel near Johannesburg's international airport and said, "As far as we are concerned, we are ready to leave today, tomorrow, at any time to join the people of Haiti, to share in their suffering, help rebuild the country, moving from misery to poverty with dignity."
Aristide, Haiti's first democratically elected leader, was installed by a multinational force led by U.S. soldiers in 1994. But by 2004, the former Roman Catholic parish priest was accused of corruption. U.S. Marines came to the country to maintain order, and South Africa offered him safe haven.
Haiti's current president, Rene Preval, was a long-time associate of Aristide, who appointed him prime minister and minister of defense in 1991.
Telegraph: Exiled Haitian president offers to return
Jimmy Jean-Louis (UPDATE)
Yesterday, CNN reported that the Haitian native and cast member of the TV series "Heroes" was searching for his elderly parents in Haiti. Adding to his desperation to find them was the knowledge that the house he had grown up in had collapsed during the disaster, killing several of his relatives.
On Thursday, Jean-Louis spoke with his mother in Haiti. "I got a phone call from my sister who said she was able to reach home," he said. "So I picked up the phone and my mom answered. The first reaction from both of us was simply to cry."
His parents are sleeping outdoors for fear that their damaged home is not safe, and they are emotionally and mentally in rough shape, Jean-Louis said. He said there is still no word on many of the relatives and friends he has in Haiti.
Jean-Louis was born in Petionville, Haiti, and grew up without electricity or running water. He moved to Paris, France, when he was 12 to pursue a modeling career and has been supporting his parents by sending money home since he started acting nearly 20 years ago.
He is the founder of Hollywood Unites for Haiti, a nonprofit organization whose original mission was to provide sports and cultural education to underprivileged youth in the country. The group is now mobilizing for disaster relief.
CNN: 'Heroes' actor contacts parents in Haiti
Chesley "Sully" Sullenberger
On January 15, 2009, the airline captain, along with co-pilot Jeff Skiles, guided the stricken U.S. Airways Flight 1549 into the Hudson River, saving the lives of all 155 people on board.
In his autobiography, "Highest Duty," Sullenberger wrote that the landing was not a miracle, but rather the result of decades of practice and training. Nonetheless, immediately after the six-minute flight, Sullenberger was described as a true American hero and was invited to such events as President Obama's inauguration and the Super Bowl. He also was picked as the grand marshal of the 121st Rose Parade.
"These new pilots may have exceptional training, and they may have a higher degree of ability. But it takes time, hour after hour, to master the science and art of flying a commercial jet," he wrote. Today marks the one year anniversary of the Hudson landing. Passengers and rescuers are scheduled to take a boat out to the spot where the plane landed. At 3:31 p.m., the time of the impact, the passengers will raise a toast to life.
CNN: Sully had 208 seconds to land

Eric Calais
The professor of geophysics at Purdue University was among a group of scientists who warned Haitian officials two years ago that a devastating earthquake was likely to occur. In March 2008, Calais and others presented their findings on the major quake risk along the Enriquillo fault during a conference in the Dominican Republic.
The Canadian Press reports that Calais and his fellow scientists again in May 2008 warned that hospitals, schools and key government buildings should be the first to be reinforced to withstand an earthquake, which they predicted to reach as high as 7.2.
"We were taken very seriously, but unfortunately it didn't translate into action," he said. "The reality is that it was too short of a timeframe to really do something, particularly for a country like Haiti struggling with so many problems."
Canadian Press: Scientists warned Haitian officials in 2008 that the country was ripe for a major earthquake
Lt. Col. Gregory Gadson
Today in Atlanta, Georgia, the NCAA will honor the former Army football player and Iraq War veteran, along with the 2007 Bluffton baseball team, as 2010 Inspiration Award winners.
According to Collegebaseball360.com, "The Inspiration award is presented to a current coach or administrator or to a current or former varsity student-athlete who, when confronted with a life-altering situation, used perseverance, dedication and determination to overcome the event and now serves as a role model to give hope and inspiration to others in similar situations."
In March 2007, five Bluffton baseball players were killed in a bus crash, and the surviving team members went on to play the rest of the season. In May 2007, Gadson's patrol in Baghdad encountered an improvised explosive device, and he lost almost 70 pints of blood.
Doctors at Walter Reed Medical Center in Washington amputated both of Gadson's legs. He went on to earn a degree from Georgetown University and still serves in the Army at the Army War College. He also helps researchers test prosthetic knee technology.
CollegeBaseball360: Bluffton Baseball Team To Receive NCAA Honor
NY Daily News: Lt. Col. Greg Gadson is Giants' inspirational co-captain
What makes a person intriguing?
There are people who enter the news cycle every day because their actions or decisions are new, important or different. Others are in the news because they are the ones those decisions affect. And there are a number of people who are so famous or controversial that anything they say or do becomes news.
Some of these people do what we expect of them: They run for office, pass legislation, start a business, get hired or fired, commit a crime, make an arrest, get in accidents, hit a home run, overthrow a government, fight wars, sue an opponent, put out fires, prepare for hurricanes and cavort with people other than their spouses. They do make news, but the action is usually more important than who is involved in the story.
But every day, there are a number of people who become fascinating to us -- by virtue of their character, how they reached their decision, how they behaved under pressure or because of the remarkable circumstances surrounding the event they are involved in.
They arouse our curiosity. We hear about them and want to know more. What they have done or said stimulates conversations across the country. At times, there is even a mystery about them. What they have done may be unique, heroic, cowardly or ghastly, but they capture our imaginations. We want to know what makes them tick, why they believe what they do, and why they did what they did. They intrigue us.
FOLLOW THIS TOPIC