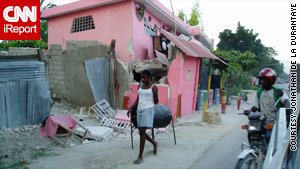 A damaged house in Haiti. Many Americans from Haiti are anxiously awaiting word from relatives.
STORY HIGHLIGHTS
NEW: State Department line for those seeking information about loved ones: 1-888-407-4747
With phone lines down, Haitians in U.S. fret about loved ones on island
"We're watching the news unfold, and I just don't know what to think," woman says
Haiti is most impoverished country in Western Hemisphere, plagued by violence
(CNN) -- With phone lines down and communication cut, Haitians living in America are "sick with worry" and scrambling for information about Tuesday's earthquake, while fretting about their troubled homeland and their loved ones.
"Well, we're watching the news unfold, and I just don't know what to think," said Gepsi Metellus, executive director of the Sant La Haitian Neighborhood Center in Miami, Florida.
She said her mother, who splits her time between Haiti -- she lives in Pétionville, a suburb of Port-au-Prince -- and Miami, just flew back to the island on Friday. While Metellus and others are glued to TVs, she said, "We're not learning a thing. It's just making me sick with worry."
Are you looking for loved ones in Haiti?
Haiti is the most impoverished nation in the Western Hemisphere. Plagued with "political violence for most of its history," according to the CIA World Factbook, the Caribbean island nation has suffered from colonialism, coups and corruption since becoming the first black republic in 1804.
Are you there? Submit an iReport
More than half of the country lives in "abject poverty." The nation imports more than four times the goods it exports and about two-thirds of the labor force lacks formal jobs, the CIA reports.
"You worry about everything at this point," said Metellus. She said the Haitian community in South Florida numbers from 250,000 to 500,000 people. "The basic infrastructure we're accustomed to here is nonexistent. To assess the damage is going to be a momentous undertaking."
Complete coverage of the earthquake
Disease is rampant, and it's still common for children to die from drinking and washing in fecal contaminated water. UNICEF estimates that 70 percent of Haitians do not have access to "safe drinking water and adequate sanitation."
Nyvrose Fleurent of Brooklyn, New York, works for the community outreach group Haitian American United Progress and said most Haitian immigrants in the United States have family still on the island. They often financially support family members who aren't able to leave, she said.
She said this while watching the news. Earlier in the morning she had hugged her brother good-bye before he flew to Port-au-Prince airport in Haiti. She had no idea the city would be hit by an earthquake.
Fleurent, 38, remains hopeful her family will be unharmed. Her brother and cousins reside in Cap-Haïtien, in the north, on the opposite side of the country from Port-au-Prince, the city closest to the earthquake's epicenter.
Even so, she worried about the impact Tuesday's 7.0 quake will have on her struggling home country.
"The people who live there can barely make it," Fleurent said. "They can't even eat and get money for their basic needs, so this is going to be a big blow for them. I don't know where Haiti is going to be in the future. It's already so bad."
The State Department Operations Center has set up the following number for Americans seeking information about family members in Haiti: 1-888-407-4747
CNN's John Blake contributed to this report.