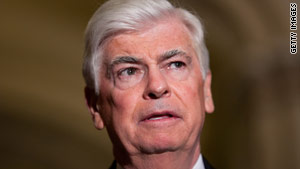 Democratic Sen. Chris Dodd has represented Connecticut on Capitol Hill since 1974.
STORY HIGHLIGHTS
Chris Dodd becomes second U.S. senator to announce retirement this week
Survivor of two nuclear attacks on Japan dies at age 93
Sandra Bullock makes Hollywood history with $200 million take
Editor's note: Every weekday, CNN focuses on a handful of people in the news. This is a chance to find out more about what they've done -- good or bad -- what they've said or what they believe, and why we think they're intriguing.
(CNN) -- Sen. Chris Dodd
The five-term Connecticut Democrat announced today that he will not seek re-election. Dodd, 65, has been winning congressional elections in his state since 1974, but he's recently been considered one of the most vulnerable Democrats seeking re-election in 2010. He has been criticized for ties to the financial industry, and several formidable challengers have been vying to challenge him in the November election.
The senator was criticized last year for his role in handing out big bonuses at American International Group after the insurance giant received taxpayer bailout money. Dodd initially denied having anything to do with AIG paying out millions in bonuses, then later acknowledged his role.
Sen. Byron Dorgan of North Dakota, a Democrat who has served in Congress for nearly 30 years, announced Tuesday he won't run again this year.
CNN: Sen. Dodd won't seek re-election
Barbara McQuade
The newly-confirmed U.S. attorney for the Eastern District of Michigan will oversee the upcoming prosecution of Umar Farouk AbdulMutallab, the Nigerian man who allegedly concealed bomb-making ingredients in his underwear on Northwest Airlines Flight 253 and started a fire as the plane came in for landing in Detroit, Michigan, on Christmas Day.
McQuade, who was confirmed by the U.S. Senate on Christmas Eve, started work this week. The Detroit News reports that McQuade has handled high-profile cases before, prosecuting Detroit-area people accused of spying for the late Iraqi dictator Saddam Hussein.
Detroit News: Terror case to challenge new U.S. attorney
Tsutomu Yamaguchi
On August 6, 1945, Yamaguchi was a 29-year-old engineer, preparing to leave Hiroshima, Japan, where he had been on a business trip. That morning, the crew of an American B-29 bomber, the Enola Gay, dropped an atomic bomb on the city, killing some 140,000 people.
Yamaguchi suffered burns but survived, and made his way back home to Nagasaki -- just one day before another B-29 crew dropped another atomic bomb on that city on August 9, resulting in another 70,000 deaths.
The New York Times reports that Yamaguchi, recognized as the only official survivor of both bombings, died on Monday in Nagasaki of stomach cancer at the age of 93.
Guardian: Japanese man survived Hiroshima and Nagasaki
New York Times: Survivor of 2 Atomic Bombs Dies at 93
Jenny Sanford
The public will get the other side of the story of South Carolina Gov. Mark Sanford's sex scandal sooner than anticipated -- the publishing date of a memoir by the governor's estranged wife, Jenny Sanford, has been moved up. Her book, "Staying True," will now hit bookstores on February 5 instead of the original April release date, the book's publisher, Ballantine Books, announced Tuesday.
Jenny Sanford landed the book deal in September, a few months after her husband admitted having an affair with an Argentine woman. In December, she released a statement saying she was filing for divorce "after many unsuccessful efforts at reconciliation."
According to a synopsis of the 240-page book on the publisher's Web site, Jenny Sanford's memoir "reveals the private ordeal behind her very public betrayal -- and offers inspiration for anyone struggling to keep faith during life's most trying times."
CNN: Jenny Sanford's book to be released early
Sandra Bullock
Move over Julia Roberts, Meryl Streep, Katherine Hepburn and Greta Garbo. Variety reports that Bullock made box-office history this past weekend. Her film "The Blind Side" has taken in more than $200 million domestically, which means it's the first movie driven solely by a female star to reach that mark.
The movie, based on a true story, tells the story of a homeless teenager who becomes a standout football player with the help of Bullock's character.
Variety: Sandra Bullock makes history
What makes a person intriguing?
There are people who enter the news cycle every day because their actions or decisions are new, important or different. Others are in the news because they are the ones those decisions affect. And there are a number of people who are so famous or controversial that anything they say or do becomes news.
Some of these people do what we expect of them: They run for office, pass legislation, start a business, get hired or fired, commit a crime, make an arrest, get in accidents, hit a home run, overthrow a government, fight wars, sue an opponent, put out fires, prepare for hurricanes and cavort with people other than their spouses. They do make news, but the action is usually more important than who is involved in the story.
But every day, there are a number of people who become fascinating to us -- by virtue of their character, how they reached their decision, how they behaved under pressure or because of the remarkable circumstances surrounding the event they are involved in.
They arouse our curiosity. We hear about them and want to know more. What they have done or said stimulates conversations across the country. At times, there is even a mystery about them. What they have done may be unique, heroic, cowardly or ghastly, but they capture our imaginations. We want to know what makes them tick, why they believe what they do, and why they did what they did. They intrigue us.