Police: Former NBA star Jayson Williams crashed SUV into tree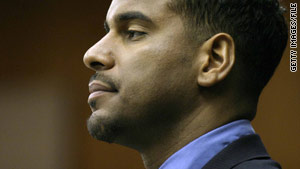 Jayson Williams, seen here in a New Jersey courtroom in 2004, retired from the New Jersey Nets in 1999.
STORY HIGHLIGHTS
Former New Jersey Net drove SUV into tree at high speed around 3:15 a.m., police say
Witnesses said they saw Williams move to passenger's seat before police arrived
Police investigating whether alcohol was a factor in crash
New York (CNN) -- Former professional basketball star Jayson Williams was hurt early Tuesday when he apparently crashed a sport utility vehicle into a tree, a spokeswoman for the New York Police Department told CNN.
Williams' black Mercedes hit the tree at a high speed after exiting the FDR Drive in Manhattan around 3:15 a.m., the spokeswoman said. He is in stable condition after being taken to Bellevue Hospital with minor injuries, she said.
Witnesses told police they saw Williams, the only person in the vehicle, move from the driver's seat to the passenger's seat before police arrived. Police said they were investigating whether alcohol was a factor in the crash.
Williams, who retired from professional basketball because of injuries in 1999, played the last years of his career with the New Jersey Nets.
He was known for his rebounding skills, and averaged 8 points and 12 rebounds per game for the 30 games he played in the 1998-99 season, according to the National Basketball Association's Web site.
He is awaiting retrial on manslaughter charges related to the shooting death of his limousine driver in 2002, and he has had other run-ins with the law since then.