STORY HIGHLIGHTS
NEW: 29 international flights had been stuck on the tarmac for over three hours at NY airports
NEW: Aircraft service personnel were unable to get to work due to roadway and public transport conditions
Head of NYC sanitation union blamed harsh winds and budget cuts on the slow response
Mayor Bloomberg said there were no cuts to the city sanitation department
New York (CNN) -- New York City Mayor Michael Bloomberg defended city efforts to clear snow amid a swell of frustration by some snowbound residents, wondering why their streets are still clogged days after a massive holiday blizzard.
"We did not do as good a job as we wanted to do or the city has come to expect," Bloomberg said Wednesday. "I can not tell you for sure why it was a lot worse this time than other times."
Many New Yorkers are still struggling to get to work or travel to local hospitals as they wait for snow plows to reach their streets in many parts of New York City's outer districts.
"It's understandable the first 24 hours," said Brooklyn resident Woody Noel. "It's day three and my street hasn't been touched."
City Council Speaker Christine Quinn said she is convening emergency oversight hearings on January 10 to examine the city's response to the storm.

NYC official: 'People did not listen'

Passengers stuck days after blizzard

Blizzard backlash

Travel nightmare at JFK airport
"People are mad and they have every right to be mad," said Quinn. "Almost every storm in memory the city has been much better" in its cleanup efforts.
Head of New York's sanitation workers' union blamed both harsh winds and city-wide budget cuts as reasons for the slow response.
"We were 400 people short," said Harry Nespoli, president of the city's Uniformed Sanitationmen's Association. "There are certain services that should not be affected," he said. "The people pay taxes for it."
Mayor Michael Bloomberg said his administration had not cut sanitation department budgets.
He noted that thousands of sanitation workers have made steady progress in clearing streets, hiring an additional 1,900 laborers to shovel sidewalks and clear roadways.
Some 50 city buses remain stuck throughout New York, Bloomberg said, while many secondary and tertiary streets remain blanketed in south Brooklyn, western Queens and Staten Island.
Nespoli said "it was one of the biggest blizzards I've ever seen," with wind conditions that severely reduced drivers' visibility and hampered cleanup efforts.
"Many of our trucks were just spinning wheels," he said, saying that more than 100 sanitation trucks had been stuck in the snow in Brooklyn alone.
On Monday, a newborn infant died in Brooklyn after the mother waited nine hours for emergency responders, said New York Fire Department spokesman Steve Rittea.
"During that time we're doing our best to prioritize the life threatening emergencies," Rittea said. "We attempted multiple times to call back this person in the hours that followed to check on their condition."
Responders later arrived after a second call reported the baby was crowning and that the mother was bleeding, he said.

iReporter catches plow crunch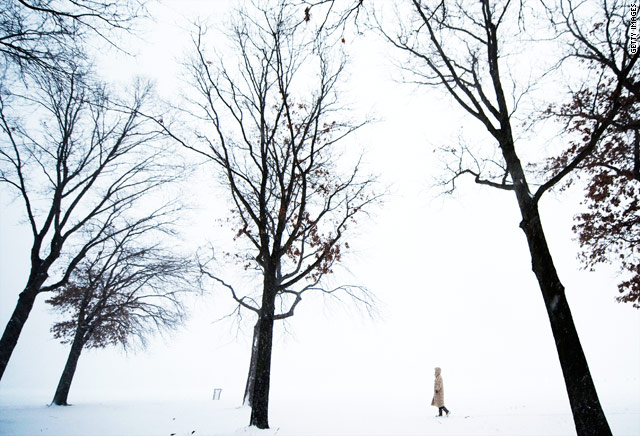 Gallery: Winter blast slams East Coast
More than 49,000 emergency calls were made Monday, overwhelming the city emergency communications system, Bloomberg said.
The mayor asked residents not to call 911 unless faced with a life-saving emergency in efforts to reduce the backlog log of calls that accompanied the holiday blizzard.
Meanwhile, air travel continued to improve in the wake of more than 10,000 flight cancellations since the weekend.
All of the main runways at New York's three major airports had opened Wednesday after a total of 29 international flights were stuck on the tarmac for over three hours since the week began, according to Port Authority spokesman Steve Coleman.
"Aircraft service personnel were unable to get to work due to limited public transportation and roadway conditions," said Lee Silberstein, a spokesman for the main international terminal at John F. Kennedy Airport. "As a result, servicing of departing aircraft was delayed."
He said that as aircraft continued to arrive, a shortage of aircraft parking positions resulted, causing delays of between one and four hours.
The wait was even longer for flights by China airlines and Korean Air which arrived at their gates more than nine hours after landing, Coleman said.
But nowhere were the travel headaches more pronounced than at JFK, where passengers on international flights had to wait up to 11 hours on the tarmac before being allowed to deplane.
Aeromexico passenger Monica Osante said that she and fellow travelers had to wait another two hours to reclaim their baggage after deplaning.
However, other international flights arrived without delay.
Passengers said a Transaero flight from Moscow to New York had no delay before reaching the gate, and two Avianca flights from Cali and Bogota reported no issues.
"We did contact the airlines and have been telling them they must not leave their point of origin without being assured of a gate," Coleman said. "Apparently, it didn't help."
It is up to the airlines and also each terminal manager to order planes to leave the gate once passengers have deplaned and the aircraft serviced to make room for other planes, he said.
"We need to keep working with the airlines and individual terminal managers at JFK to improve the situation so it doesn't keep happening," he said, referring to the aircrafts stranded on the tarmac.
The worst case involved a Cathay Pacific Airways flight from Vancouver, British Columbia.
The plane arrived in New York at 2:12 a.m. ET on Tuesday; no one got off the plane until shortly after 1 p.m. ET.
"It wasn't fun with three children sitting there," said passenger Vincent Butcher. "No one has admitted to making any mistakes."
At some point, Butcher said, there was even talk of a ladder being brought out to the runway, but that did not happen. The airline told him it may be at least 48 hours before the family gets its luggage, he said.
Cathay later apologized.
"We are particularly sorry for the great inconvenience that more than 1,100 passengers have suffered throughout their long wait inside our aircraft on the tarmac," according to a statement from the airline.
Five Cathay flights sat on the JFK tarmac from four to 11 hours.
"Our intentions to get our passengers to their destinations as quickly as possible were good, but we could not overcome the challenging conditions at JFK due to the snowstorm and as a result did not live up to our service standards, for which we sincerely apologize," the airline said.
Because the JFK flights were international, they had to be unloaded in specific customs areas to undergo screening, he said.
"There is just no place that you can dump 1,000 people in a secured area for a period of time," said Coleman.
He said the planes were stranded because the airlines brought them in without checking with terminal operations to see if there was a place to put them.
Other travel -- by rail and road -- was snarled as well.
Hundreds of people were left stranded at New York's Pennsylvania railroad station after Long Island Railroad canceled trains.
Metro-North trains have returned to full service, officials said, while Long Island Railroad was near full service on Wednesday.
Amtrak trains also resumed normal service on Wednesday, though passengers could see some delays, said Amtrak spokeswoman Christina Leeds.
CNN's Susan Candiotti, Elise Zeiger, Ric Ward, Susan Candiotti, Aaron Cooper, Allan Chernoff and David Ariosto contributed to this report.
FOLLOW THIS TOPIC