Redial, patience best tactics for stranded travelers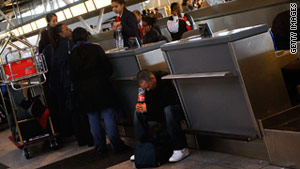 Travelers trying to rebook flights face busy phone lines and stiff competition for available seats.
STORY HIGHLIGHTS
An airline representative is a better bet than the internet for rebooking, expert said
Expect to redial and wait for service; make sure your cell phone charger is handy
Ask for a seat assignment with your new reservation
(CNN) -- Even the savviest travel tactics are no match for a massive winter storm. Good old-fashioned patience and persistence will be key for stranded travelers trying to get home.
"Those people should probably be on the redial button, continuously, working shifts," said Tom Parsons, CEO of BestFares.com.
Parsons advises travelers to call the airlines and expect to wait. Talking to a representative is likely to yield better results than trying to rebook online, he said, but staffing cuts at call centers in recent years mean you're likely to get familiar with prerecorded messages and elevator music before you find a helpful human, Parsons said.
If you're using a cell phone, make sure you have your charger handy and try to plug the phone in while you're trying to get through.
Most airlines can rebook passengers on other carriers, but space is likely to be scarce with all the flights that have been canceled. Passengers can help themselves by looking at other flights and suggesting those to agents. And don't pass on a seat, even if that flight doesn't depart for several days.
"Once you get a confirmation ... take it. But then you can continue to call back and see if you can make changes to that ticket."
Request a seat assignment with your reservation, Parsons advises, because airlines are likely to oversell some flights during the travel scramble, he said.
If you're already at the airport, get in the customer service line while you're calling the airline on your cell phone, suggests Anne Banas, executive editor of Smarter Travel.
"Because either way, there might be wait times on the phone, there might be wait times in line. But you want to be served as quickly as possible. So that kind of gives you two options," Banas said.
Severe weather is considered a "force majeure" by airlines, which means they're not obligated to provide meals or accommodations. But travelers whose flights are canceled are entitled to a full refund.
Banas said it doesn't hurt to ask for meal or hotel vouchers or some other type of compensation.
"Don't make any demands. Just ask politely, explain your situation and you might get lucky. They do have some discretion," she said.
Get to the airport early for your rebooked flight and allow at least an extra hour to be on the safe side, Parsons suggests.