STORY HIGHLIGHTS
NEW: Delta joins other carriers in cancelling flights, with more likely to come Sunday
NEW: A blizzard watch is in effect for coastal New Hampshire and Maine
Southern New England and metro NYC have a blizzard warning for Sunday and Monday
It's all part of a storm system that's causing travel headaches along the East Coast
iReport: Are you there? Send images, video
(CNN) -- Snow fell in parts of the southeast Saturday, the leading edge of a powerful storm system that has prompted blizzard warnings in New York City and Boston and threatened to cause major travel headaches at the tail end of the holiday week.
The National Weather Service has issued a blizzard warning for the New York City metropolitan area, from northeast New Jersey through Newark and New York, and including the entirety of both the Long Island and Connecticut coasts of the Long Island Sound. That warning is in effect between 6 a.m. Sunday and 6 p.m. Monday.
Forecasters predict between 11 to 16 inches of blowing snow in much of that region, bringing visibility to near zero at times. Sustained winds as strong as 30 miles per hour could hit Sunday night, with gusts up to 55 mph in parts of central and eastern Long Island.
And, starting at noon Sunday and extending through 6 p.m. Monday, a similar warning is out for all of Rhode Island and most of eastern Massachusetts. Parts of that region could see as much as 20 inches of snow, with strong winds contributing to near blinding travel conditions and likely significant power outages.
The weather service also put out a blizzard watch from Sunday evening through Monday afternoon for coastal New Hampshire and Maine, up to the Canadian border.
All this could put a wrench in thousands of travel plans.
Continental Airlines, which is partnered with United Airlines, has canceled about 250 domestic mainline and regional departures for Sunday, spokesman Andrew J. Ferraro said.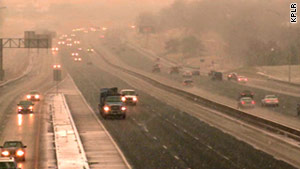 Snow falls on drivers Saturday in St. Louis, Missouri.
American Airlines spokeswoman Mary Sanderson said that the airline expected minimal delays through Sunday morning, but that it plans to cancel flights in and out of several key East Coast airports starting in the afternoon.
"Customers will be contacted through the automated re-accommodation system ... as early as tonight," Sanderson said. "We'll have a better idea tomorrow morning."
Delta Air Lines, too, has begun cancelling some flights, though it expects to have a better handle of how many cancellations will be needed on Sunday morning "once we've worked through the schedule," spokesman Kent Landers said.
Earlier, the carrier cancelled approximately 500 Christmas Day flights -- including roughly 300 in and out of Atlanta -- in an attempt to get ahead of the storm, Delta spokesman Morgan Durrant said.
Delta has joined Continental, United, American, AirTran Airways and other carriers in waiving penalties for travelers who have to reschedule their trips over the weekend.
While specific information varies by carrier, most are offering penalty waivers for passengers traveling on December 26 and 27 at airports from North Carolina to Boston and beyond. Affected customers are being urged to contact the relevant airline either by phone or online.
Winter storm warnings were in effect late Saturday afternoon and into Sunday in parts of Georgia north to Virginia, with the rest of the East Coast set to follow as the weekend progresses.
A band of light snowfall was moving across the Tennessee Valley and the southern Appalachians, according to the National Weather Service. Madison, Alabama, had received 2.2 inches of snow since Thursday.
Snowfall amounts of 3 to 6 inches were possible across North Carolina, and Atlanta was receiving afternoon precipitation.
Picturesque Asheville in western North Carolina was well on its way Saturday to notching up to 8 inches of snow.
Light flakes were falling in Washington on Saturday, a precurso to heavier snowfall expected to arrive midday Sunday. Accumulations are expected to be between 2 and 4 inches.
Forecasters, too, warned of icy driving conditions across much of the East. Much of the precipitation will fall along the Interstate 95 corridor and near the Atlantic coast.
CNN meteorologist Bonnie Schneider explained that the system is a Nor'easter, which gets its name from the continuously strong northeasterly winds blowing in from the ocean ahead of the storm and over the coastal areas.
CNN's Nick Valencia contributed to this report.
FOLLOW THIS TOPIC