Boeing resumes testing of Dreamliner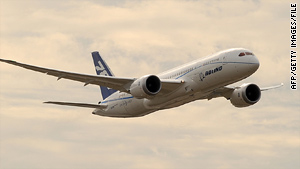 Boeing says its ready to resume testing of its next-generation passenger jet.
STORY HIGHLIGHTS
Boeing is making changes to the 787 Dreamliner's electrical system
A fire was reported during a November flight over Texas
Project manager: A new schedule will be set after assessing the changes
(CNN) -- Boeing resumed test flights of its 787 Dreamliner on Thursday, six weeks after a fire onboard one of the planes caused a power failure during a test flight.
The company issued a statement saying it has installed an interim version of updated power distribution system software and conducted a rigorous set of reviews to confirm readiness.
Video from CNN affiliate KOMO showed one of the 787s taking off in the rain Thursday afternoon at Paine Field Airport in Everett, Washington.
Once company testing is successful, Boeing will resume certification testing, said Scott Fancher, vice president and general manager of the 787 program.
Thursday afternoon's testing was to include deployment of the "ram air turbine," a small turbine that is deployed when back-up power is required.
"As we return to flight test and determine the pace of that activity, we remain focused on developing a new program schedule," Fancher added. "We expect to complete our assessment of the program schedule in January."
Boeing suspended test flights after the fire during a flight near Laredo, Texas, in November. The crew used backup systems to land the aircraft.
Engineers determined the problem started as a short circuit or an electrical arc in a power distribution panel, most likely caused by foreign debris, Boeing said last month.
The Dreamliner is Boeing's next-generation passenger jet. It is touted as a highly fuel-efficient aircraft made largely with composite materials.
The company has nearly 900 orders for the jet from around the world.