STORY HIGHLIGHTS
Early arrival of winter has made for great skiing conditions
Guidebook author recommends Snowmass, Colorado, for its variety of activities
Copper Mountain, Colorado and Alta, Utah, are among his other favorites
Yellowstone National Park offers great cross-country skiing
(CNN) -- Lots of people may be cursing the early arrival of winter this year, but the blast of snow is translating into a blast for skiers and snowboarders.
"White gold" -- as snow is sometimes called in regions where winter sports are a lucrative part of the economy -- has been abundant at many resorts, especially in the West.
"It was one of the strongest Novembers in history in Colorado," said Eric Peterson, the winter sports writer for Frommers.com and author of guides to that state and others with great skiing areas, including Utah, Montana and Wyoming.
"Everybody is just having a fantastic time."
Peterson, who lives in Denver and is an avid skier himself, has been taking maximum advantage of the early season.
He recommended the following five skiing and snowboarding destinations that will delight winter sports enthusiasts of all tastes and skill levels.
Located a few miles from Aspen in the Roaring Fork Valley, Snowmass offers a dizzying variety of mountain activities.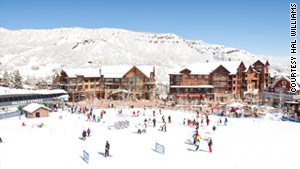 "Snowmass is just terrific. It's enormous, 3,000 acres with a more than 4,000-foot vertical drop; that's the highest in the U.S." Peterson said.
But beginners shouldn't be scared off by those stats. Snowmass has plenty of mellow slopes near the bottom for novice skiers, he added.
"You see tons of groups of 5-year-olds with their instructors and adults. Snowmass has great beginner terrain and great expert terrain," Peterson said. "You can spend days exploring this place."
Snowboarders can show off their skills on a new 12-foot halfpipe that's good for beginners, while the 22-foot superpipe is beloved by the extreme crowd, Peterson said.
If the 91 trails and 21 chairlifts at Snowmass aren't enough, you can take a free shuttle to neighboring Aspen Mountain, Aspen Highlands and Buttermilk.
Snowmass Village offers a variety of accommodations, including lots of ski in/ski out condos. For a luxurious touch, stay at the Viceroy, which opened last year, or the Silvertree Hotel, Peterson said.
In addition to being a snowboarder favorite, Copper Mountain offers skiing, ice skating, snowshoeing, snowmobiling, sleigh rides and more.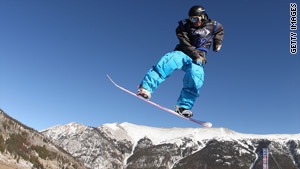 This season, enthusiasts can buy a Snow Day Pass for $99, which is valid for any day the resort gets 4 inches or more of snow. (You also get guaranteed access on two days in 2011: Super Bowl Sunday and tax day.)
But the mountain, 75 miles from Denver, is busy even when it's not snowing. Adventurers flock to the area year-round to attend the resort's unique training facility: Woodward at Copper.
"It's for kids to learn how to do the extreme tricks," Peterson said.
Foam pits allow snowboarders and skiers to practice flips and tricks in a safe environment before trying them out on the slopes.
Stay at the resort or in nearby Frisco, a town that's convenient to other great ski areas. Breckenridge and Keystone are all within a 20-minute drive, Peterson said. Hotel Frisco, whose origins date to the 1880s, is worth checking out, he added.
3. Northstar at Tahoe Resort, California
Located six miles north of Lake Tahoe, the resort offers 92 ski trails spread across 3,000 acres.
"Northstar is not as high-profile as some of the other Tahoe resorts, but it's definitely got a bright future," Peterson said. "It's a great place to ski right now."
Especially this week, when the summit received an impressive 24 inches of fresh powder -- and even more snow is on the way. The area also offers snowboarding, cross-country skiing, snowshoeing and tubing.
After a day on the slopes, you can relax at the resort's lodges, family-friendly condominiums or cozy mountain homes, or go for total luxury at the Ritz-Carlton, Lake Tahoe.
4. Alta, Utah
One of the oldest ski areas in the United States, Alta is also one of the few that does not allow snowboarding.
"They'll also shut it down once a certain number of skiers come on a busy day," Peterson said. "They want to keep it a very good experience so it's not a crowded spot."
Alta is part of the Ski Utah Interconnect Adventure Tour, a treat for advanced and expert skiers. For $295 per person, adventurers can follow guides through the Wasatch Mountain backcountry via routes in and out of up to six ski resorts.
"So you're going over the tops of these mountains," Peterson said. "It's very easy to get from one to another if you know what you're doing and are in good shape. ... I don't know of any other place in the country where you can hit six resorts in one day without getting into your car."
Most people think of America's first national park as a summer destination, but it's also unforgettable in the winter, blanketed by snow and blissfully quiet.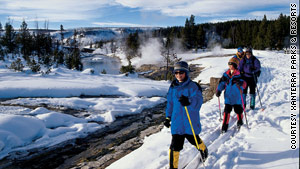 "I am a huge fan of Yellowstone, and going there in the winter is a really special experience," Peterson said.
"It's just pure solitude. It's a great place to cross-country ski and snowshoe."
Visitors can take cross-country skiing lessons or go on guided trips through the park.
Stay at the Old Faithful Snow Lodge, which opens December 18.
If you want to take a rest from winter sports, take a snowcoach tour that puts you close to the wildlife of Yellowstone.
"The bears are asleep, but everything else -- the wolves, the bison, the moose -- they're all wide awake. So there's a lot to see, and it just puts this brilliant, new face on the park," Peterson said.
FOLLOW THIS TOPIC