AAA expects 3.1% increase in holiday travel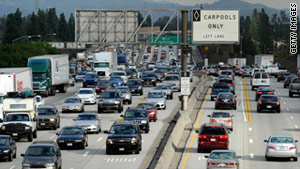 Traffic backs up on a freeway near Los Angeles during the Thanksgiving holidays.
STORY HIGHLIGHTS
AAA says that "modestly improved economic environment" contributes to more travel
The projections are for travel between December 23 and January 2
The average distance for travel is expected to increase by 33%
(CNN) -- Americans traveling to see family and friends during the upcoming holiday season will have more company on the roads and in the skies, according to projections by AAA.
About 3.1% more Americans will travel at least 50 miles from home compared with last year, the AAA said Wednesday. The group expects 92.3 million Americans to travel at least 50 miles from December 23 to January 2.
"After a challenging year in 2009, a modestly improved economic environment and pent-up demand resulted in more Americans traveling in 2010, and the year-end holidays are no exception," a AAA statement said.
The average distance for travel is expected to increase by 33%, the number of air travelers by almost 3% and median spending about 3.5%, to $694, AAA said.
About 85.7 million people will drive to holiday destinations, compared with 83 million last year, AAA said.
"This is the fifth consecutive holiday period this year in which AAA has predicted a year-to-year increase in the number of travelers," Glen MacDonell, director of AAA Travel Services, said in the statement.
In addition, AAA said, airfares are expected to be 3% less than last year, with an average lowest round-trip rate of $174 for the top 40 U.S. air routes. Weekend daily car rental rates will hold steady at an average of $50, the group said.
FOLLOW THIS TOPIC


Part of complete coverage on

What is a "Shweeb?" Why did Google award its inventor $1 million? Can it "change the world?"

2010's most exclusive cars from the Paris Auto Show and the Automobile X Prize competition include some new practical considerations.
In as soon as 18 months, the space tourism industry could skyrocket. Private firms are poised to rocket people and space stations into orbit.

New electric vehicles are about to hit the market. But where can EVs get a charge in a nation full of gas stations?


Most popular stories right now