STORY HIGHLIGHTS
Britain's Prince William and Kate Middleton are set to marry on April 29
The royal wedding has created a bonanza for hotels in London, England
Many hotels are sold out for late April, British Hospitality Association says
Some companies are offering package deals for the wedding
(CNN) -- Call it the love story that's launched at least a thousand hotel reservations.
Barely three weeks after Britain's Prince William and his longtime love, Kate Middleton, announced they would marry in the spring, the engagement has created one of the world's hottest commodities: an available London hotel room in late April.
Not content to watch the wedding on television but eager to glimpse the couple for themselves and take part in the excitement of the romantic spectacle, visitors from all over the globe are expected to pour into the city.
That's translated into a bonanza for London's hotels, especially those close to Westminster Abbey, where the couple will exchange vows on April 29.
"Demand is sky-high," said Susie Worthy, the chairwoman and CEO of Noteworthy Events, a travel agency that specializes in the United Kingdom.
"I have an office of seven or eight ladies in London who are all working feverishly to set up [accommodations] for visitors."
Worthy has not only been hunting for hotel rooms, but also private venues from which clients will be able to watch the wedding procession, she said.
London tips from CNN cameraman's point of view
The demand for rooms will likely be off the charts for a few days surrounding the wedding date, said Jan Freitag, vice president at STR Global, a company that tracks data for the hotel industry. He compared it to a spike in bookings that takes place in Washington during presidential inaugurations.

Kate 'shocked' by proposal

Will and Kate pick Westminster in April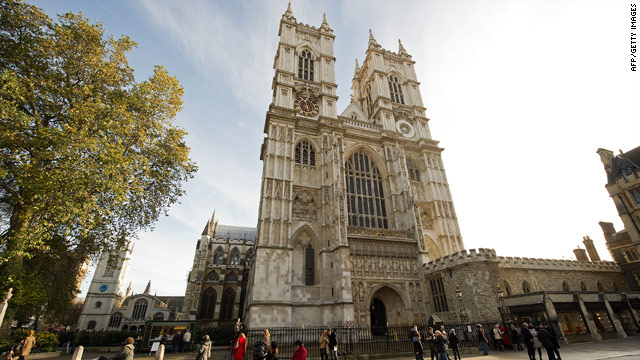 Gallery: History of Westminster Abbey
"There will always be a room available. The question is just what do you want to pay for it?" Freitag said.
Hotels charge 'Kate rate'
People eager to travel to London for the wedding started calling right after the couple announced the venue and the date of the nuptials, Worthy said. It didn't take long for the high interest to lead to high prices.
Visitors should expect to pay what's been dubbed the "Kate rate" at some of the ritzier hotels, where room prices for stays in late April have doubled, The London Evening Standard reported.
"We have seen unprecedented demand; we have been swamped with requests," a spokeswoman for the Maybourne Group -- the parent company of Claridge's, The Connaught and The Berkeley -- told the newspaper.
Prices are reaching hundreds of pounds a night at some upscale properties. (One British pound equals about $1.60 in U.S. currency.)
Meanwhile, the value added tax that is tacked on to hotel room bills in the United Kingdom is expected to add to the sticker shock. The tax stands at 17.5%, but increases to 20% on January 1.
Still, London hotels have had a very heavy surge in bookings for the royal wedding, and many are now sold out, confirmed Miles Quest, a spokesman for the British Hospitality Association, in an e-mail.
But there is no evidence of price gouging, he said.
"If accommodation is difficult to find, our advice is to stay out of town and come up to the capital on the day of the wedding. There's a huge selection of hotels at all price levels within easy traveling distance of the center of London with good transport links," Quest said.
Package deals
Some companies are also touting special offers timed to the nuptials.
British Airways is offering "Royal Wedding weekend" vacation packages starting at $819. The price includes a round-trip flight from New York and a three-night hotel stay in London.
Go-today.com, an online travel agency, is offering a package that includes roundtrip airfare from New York and six nights at a London hotel from $1,099.
If you decide to stay outside of London, Worthy recommended making a vacation out of it and finding lodgings in picturesque towns such as Henley-on-Thames or Marlow -- both about 30 miles from the city -- then taking a car to a London Underground station when you want to go to the city center.
Above all, be aware you will have lots of company in your quest to see the historic occasion and will be visiting England during a time of an extraordinary tourist boom for the country.
The wedding comes a year before London hosts the 2012 Summer Olympic Games and Queen Elizabeth celebrates her Diamond Jubilee, marking 60 years as Britain's monarch.
"[It] is a happy coincidence with the publicity around the marriage creating a 'halo effect' that will carry over to the celebrations of the following year," said VisitBritain, the country's national tourism agency, on its website.
FOLLOW THIS TOPIC